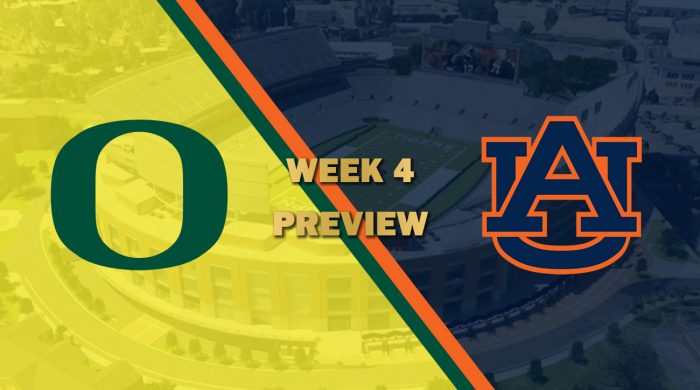 Week 4: Oregon at Auburn Preview
By: HornsNation05
Oregon (1-2) comes into this came coming off a loss against Iowa 38-31. In that game, dual-threat QB Jay Smith threw for 117 yards and rushed for 102. He also had one interception, and one rushing touchdowns. HB Randy Moore struggled to gain yards on the ground with on 60 yards, but did have two scores. Oregon only managed to gain 285 yards of offense, while allowing 485 yards to Iowa. The Ducks are ranked at the bottom of the league in points, as well as total offense per game.
Auburn (2-1) looks to rebound after losing to Notre Dame again. This time the score was 45-35. Blake Moon was held in check with only 192 yards in the air and 90 yards on the ground. Brandon Davis Jr. continues his stellar season with 123 yards on the ground to go with three touchdowns. Auburns defense was led by MLB Tony Bryant with 10 tackles. Auburn currently ranks in the middle of the league in offense, as well as defense. The Tigers also have given up the most sacks with 18 so far this year.
WHAT TO WATCH FOR
Currently the Ducks are third in the league in rushing. The read option has worked well so far for Jay Smith and Randy Moore. On the other side of the ball, Auburns defense is second in the league in rushing defense. Oregon can stay in this game if they can successfully run the ball. Auburn can win this game by forcing Jay Smith to pass the ball downfield.
KEY MATCHUP
QB Blake Moon vs DT Ben Marquez
While there are other intriguing matchups in this game, like Brandon Davis Jr. vs Noah Lopez, Moon vs Marquez gets my vote. So far this season, Moon has been sacked 18 times. If this Oregon line, led by DT Ben Marquez, can get to Moon, it could be a long day at the office.
QUOTABLE QUOTES
"We added a new piece on defense that should help contain Blake moon a little bit. We just have to play solid fundamental defense stay gap disciplined and just be lock down!" – Oregon's AD on slowing down Blake Moon.
"Tonight Moon and this tigers go hunting for ducks. Quack attack will fly with southwest back with no wings. Moon will eat up that defense and head back to the Temple of greatness with a full stomach.
This is for Michigan. Moons temple is sitting on their front yard." – Blake Moon on tonights game.
PREDICTION
Oregon so far this year has struggled to find a rhythm on offense. Jay Smith has yet to find the end zone in the passing game, and Auburn will likely key in on the run in this game. If Jay Smith is able to find his receivers, Oregon could make it close, but not against Moon magic. Auburn wins this thanks to Brandon Davis
Auburn 34, Oregon 21