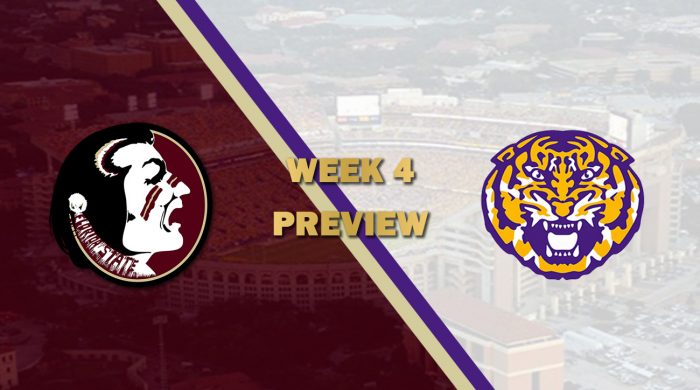 Florida State
Offense
The Seminoles travel to Death Valley with the memory of last week still trailing them. It's one thing for your defense to give up 70 points, another to only put up 21.Quarterback Elias Gonzalez's three interceptions didn't help matters. While he was efficient otherwise, the turnovers need to be cleaned up and quickly. He's tossed a total of four on the season, and is only completing 61% of his passes. Wide receiver Trevor Golinar has done what he can with 14 catches to his name, but the Seminoles need more help. While halfback Michael Kovach is a known commodity, he hasn't been as dominant as he was a season ago. Where Kovach averaged nearly five yards a carry, he's now much closer to four and a half yards, with only two touchdowns. Bottom line, something has to change offensively for the Seminoles to find success.
Defense
How do you recover from giving up 70 points? For starters, Florida State has a new defensive coordinator and he's got his work cut out tonight. There is a bright side though, there are some athletes on this defense. Corner Brum James, safety James Dunn, and linebacker Tony Steel can all play, with several other contributors. Steel accounted for eight tackles last week and Dunn had an interception. But they need to be able to do more. It's hard to identify a leader on this defense who's willing to take a game over, and they need to find him fast.
LSU
Offense
Quarterback Ray "Voodoo" Tatum worked his magic in the win over the Buckeyes last week. Tonight, Tatum may not have to try as hard, but he needs to play clean. He went 38/50 last week, for over 400 yards and three touchdowns with an interception. If he can get some help from his receivers, Gage Bitzer and Jared Tetonis, this can be a blowout. Halfback Jack Brown has been an unsung hero to this offense but is an effective contributor to the receiving game. If drops are limited and Tatum can clean up some of the decision making, this offense is even more explosive.
Defense
To slow down and shut down the Buckeye offense was impressive, but this unit shouldn't have allowed Ohio State back into the game. Corner Tyrell Mathieu is starting to find his rhythm, and defensive end Michael Sudeikis needs to help him. If Sudeikis can get pressure on the league's most inaccurate quarterback, then Mathieu can break out. Still, it's a team effort, and linebackers Ryan McMasters, Tank Jennings, and Aeneas King need to continue their play. They combined for 11 tackles last week and need to continue that cohesion.
What to Look For
Hard to picture LSU going to Jack Brown in the running game. Expect them to put it in Tatum's hands and let him air it out. The Seminole pass rush isn't great and Tatum has the weapons to pick this secondary apart. Tatum should have an explosive night through the air, with Bitzer and Tetonis each having a touchdown.
Key Matchup
WR Trevor Golinar v. CB Tyrell Mathieu
Of course the LSU Tigers have Mike Teo as a corner as well, but I imagine Golinar will square off with Mathieu. If Mathieu can keep Golinar quiet, this Florida State offense is in big trouble. However, Golinar has been explosive, with almost 250 yards in receiving and two touchdowns. It doesn't sound impressive, but if you don't believe Golinar can make plays, you're blind.
Prediction
Weird things happen in Death Valley, add a little "Voodoo" to the mix and it makes things worse. Ray Tatum is poised for an impressive showing, and there's little more than cardboard standing between him and 450 yards passing tonight. Florida State will come out to play, but how long can they hang around? Hard to see this game ending in anything less than LSU victory.
Florida State 24, LSU 34