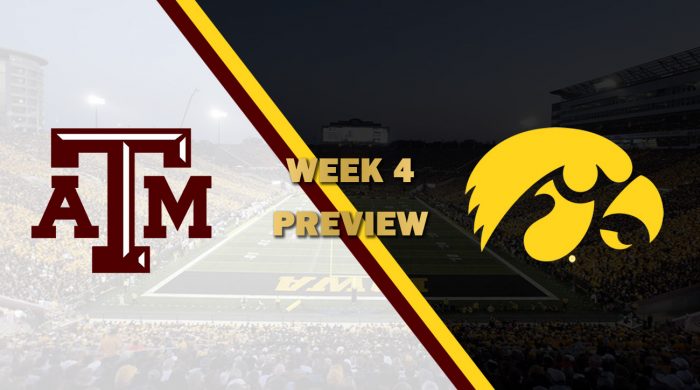 Texas A&M
Offense
Quarterback Daniel Murphy has looked phenomenal. He's completed 72% of his passes with seven touchdowns and only two interceptions on the young season. Keep in mind, his biggest targets have been receivers Horace Lynch and Blake Herrington. Take nothing away from either of them, as Murphy has made them out to be studs. While, halfback Tim Riggins has looked even better than he did at Hawaii. Riggins has amassed 50 carries for 367 yards and three touchdowns on the season. However, the Aggies still have a glaring concern. Where is Alex A Cook? The wide receiver has been kept under lock and key, and this offense hasn't quite figured out how to use major threat at wide receiver. They'll need to find Cook tonight, and find him fast, the Iowa secondary is no joke.
Defense
This Aggie defense held Boise State to under 400 yards last week, and under 150 rushing yards. That's important, because Iowa, offensively, is eerily similar to the Boise State Broncos. Defensive ends Vladimir Drago and Joshua Kiper need to develop some chemistry tonight. If they can turn up the heat effectively and play well against the run, it'll help this linebacker corps which is a weakness. This secondary is led by safety Kalu James who had four tackles and interception last week. He needs to fly tonight and be involved in both the run and the pass for the Aggies to have a shot.
Iowa
Offense
Meanwhile, quarterback Justin Meis had an efficient outing last week, 23/26 for two touchdowns and no interceptions. That's the performance they need out of him passing wise, not big numbers, but mistake free. The reason? This rushing attack is fierce. Meis had 74 yards rushing last week against Oregon, but the real treat was the Hawkeye halfback. Bob Smith took control for the Hawkeyes last week, 30 carries, 235 yards, and three touchdowns. If the Hawkeyes can continue to lean on Smith and the read option with Meis, this offense will be just fine.
Defense
Anytime you can hold a team to under 300 yards of offense, it's a plus. But, the Aggies have a much better offense than the Ducks. Linebacker Jerry James and safety Bob Sanders Jr. will need to light things up again. James had six tackles and a pick last week, while Sanders led the team with ten tackles and a tackle for a loss. This secondary is the heart and soul of the Hawkeyes and will need to continue to play well together against a strong quarterback.
What to Look For
The rushing attack worked well last week, and the Hawkeyes should stick with it. This read option combo is deadly between Meis and Smith. It can open up play action and prevents Meis from having to do much in the passing game. It also chews up a lot of clock. This puts pressure on quarterback Daniel Murphy, who will need to score fast tonight and the best way to do that? Get Alex A Cook open.
Key Matchup
HB Tim Riggins v. MLB Jerry James
Riggins may not get a lot of touches tonight, but when he does, Jerry James will be waiting. These two clashed last season, and tonight, they square off again. Riggins has looked great all season and hopes to continue that tonight. To put added pressure on Murphy, James needs to shut Riggins down.
Prediction
Tonight should be a close outing, but this Iowa defense might be too much for the Aggies. However, the concern is Meis. If he starts throwing interceptions, the Aggies could get ahead. Meis can play catch up, but the Hawkeyes really don't want to be in that spot. The read option should guide the Hawkeyes over Murphy and the Aggies tonight.
Texas A&M 31, Iowa 34