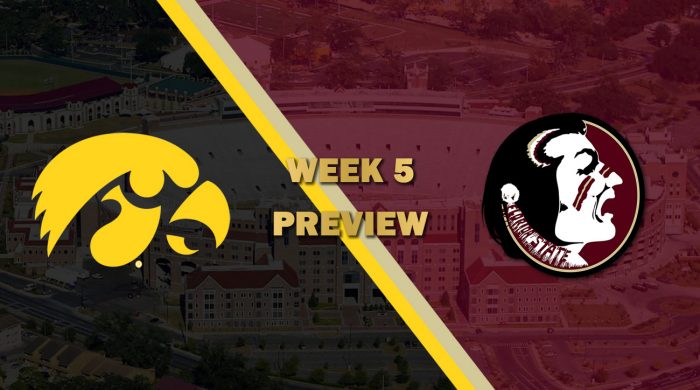 WEEK 5 PREVIEW: #10 IOWA AT #11 FLORIDA STATE
By: HornsNation05
In what is the least talked about game tonight, #10 Iowa (1-3) heads to Tallahassee to take on #11 Florida State (1-3).
---
---
#10 Iowa
Iowa comes into tonights games after a blowout loss last week to Texas A&M, 38-23. Iowa's offense failed to find the endzone in the second half, and only gained 301 yards of total offense. Once again, running back Bob "The Bulldozer" Smith led Iowa with 144 yards rushing and two touchdowns. Quarterback Justin Meis struggled in this game, only throwing for 132 yards passing and one touchdown.
On defense, Iowa was led by defensive end Alvin Mack. Mack contributed nine tackles, with two coming by loss. In the secondary, Bob "The Hitman" Sanders, assisted with seven tackles. Sanders also had six kick returns for 168 yards. Iowa currently ranks in the second half of the league in defensive categories, and debuts on the AD poll at #10.
#11 Florida State
Florida State was able to bounce back and defeat LSU, 41-34. In that game, the 'Noles were able to lean on their rushing attack with Michael Kovach. Kovach rushed 34 times for 183 yards and three touchdowns. Elias Gonzalez had the efficient game with 29 completions out of 35 for 259 yards passing. Gonzalez also had one rushing touchdown.
Defensively, Florida State's Tetonis got the better of his brother with a game ending interception. He also contributed with four tackles, one for a loss, and two pass deflections. Garry Gator was able to secure another three sack game, his second, in three games. Florida State still struggles against the pass, allowing a league high 327.3 yards per game. The Seminoles were ranked #11 in the first edition of the AD poll.
---
---
WHAT TO WATCH FOR
The first couple weeks, Florida State struggled to find an identity. Last week against LSU, they went back to their roots and ran the ball successfully. In order for success going forward, FSU will need to lean on their HB Kovach, which will allow the passing game to open up with play action. Currently Iowa allows 205.8 rushing yards per game, which is ranked 9th in the league.
For Iowa, they will need to continue to lean on Bob Smith. Smith leads the league in rushing with 690 yards, and averages 172.5 yards a game, a league best. Smith also has 10 touchdowns on the ground. Florida State struggles against the run, giving up 249.3 yards per game, a league worst.
---
---
PLAYER MATCHUP
HB Bob Smith vs MLB Tony Steel
RB Bob Smith is arguably the best running back in the CFSL. He currently is leading all running backs in yards, yards per game, average yards per carry, and touchdowns. In order to stop Bob Smith, Florida State will need to lean on MLB Tony Steel to fill the gaps, and meet Smith at the line of scrimmage. This will be an interesting matchup, as teams in the previous weeks have not been able to slow down this wrecking ball.
---
---
QUOTABLE QUOTES
"Gotta get back to fundamental football after last wks loss to A&M …got two one sided for us so we need to ensure we can remain two dimensional … plan to focus on exploiting mismatches tonight vs Seminoles … quality coach that always has his team prepared and focused … we have to match that tonight along w brining some intensity and aggressiveness to the fight" -Woodsmall (AD Iowa) on facing FSU tonight.
"Meis will be a challenge to stop, as game planning for him has been… frustrating. He makes plays with his arm and his feet, always moving the chains and keeping them in the game, even when they get down by multiple scores. I do feel FSU has the ability to contain their offense, as some schematic changes have been implemented, which should make an impact. And, as those who follow the CFSL know, if FSU gets the lead, prepare for large doses of Kovach. " -EastCoastHusker (FSU DC) on the challenge to slow Iowa down tonight.
---
---
PREDICTION
Both these teams have shown the ability to run the ball successfully this season. Iowa ranks near the top of the league in rushing offense, and even though FSU started this season off slow, they have a similar attack on offense. This game will likely be a ground it out type of game, with both offenses being on the field for a lengthly amount of time. The tempo might not be pretty, but Iowa gets it done in Tallahassee on back of Bob Smith.
Iowa 24, FSU 14