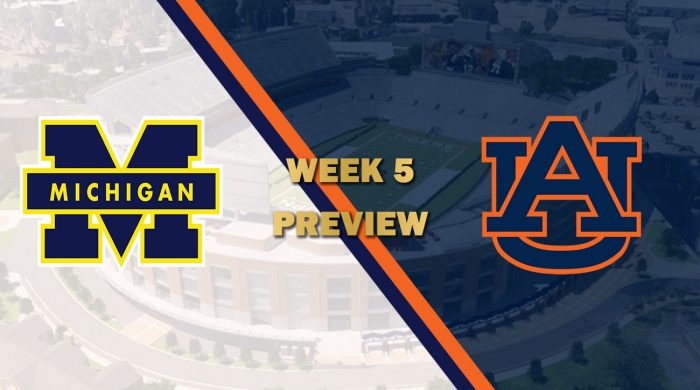 WEEK 5 PREVIEW: #1 MICHIGAN AT #4 AUBURN
By: HornsNation05
Auburn (3-1) stays at home to take on Michigan (4-0). Both of these teams won close games last week. Auburn escaped a last minute comeback by Oregon and won 38-35. Michigan was able to hold on against Hawaii, 26-24. Michigan debuts at #1 in the AD poll, while Auburn comes in at #4.
---
---
#1 MICHIGAN
Michigan comes into this game leading the league in almost every category.  Both offensively and defensively, Michigan has looked unstoppable. Leading the Michigan attack on offense is the "game-manager" quarterback Javon Mack. Last week Mack went 20 for 28 with 196 yards passing. Mack also had 93 rushing yards and two touchdowns. Leading the rushing attack was Leeroy "Leeerrrooyyyy" Jenkins. Jenkins ran for 137 yards on the ground on 22 carries.
Defensively, Michigan will lean on MLB Nate Jones. Jones, the all purpose linebacker, currently has 36 tackles on the year with one interception, one forced fumble, and three pass deflections. Helping him on defense will be the other "Mack", Joshua Mack. Mack lead the Wolverines with two pass deflections last week.
#4 AUBURN
Auburn is led on offense by the polarizing player in Blake Moon. As each week passes, Moon continues to look better and better in season 2. Moon has been able to keep Auburn in games, thanks to his dual threat capabilities. So far on the year Moon is completing 77% of his passes with 1043 passing yards, 398 rushing yards, and 12 total touchdowns. The only knock on Moon in season 2, is the number of sacks that he has taken. Currently Auburn has allowed 18 sacks on the year. Assisting Moon on offense is his dual threat running back, Brandon Davis Junior. Dubbed the "Georgia Express", Davis currently has eight total touchdowns on the year to go with 408 rushing yards and 158 receiving yards. Catching passes from Moon are his standout wide receivers, Ethan Smoker and Devonta Duncan.
Leading Auburns defensive attack is DPOW candidate SS Eric "don't throw near" LeClear. LeClear, like Blake Moon, seems to make the biggest plays at the biggest moments. In week 1, LeClear sealed the Tiger win with an endzone interception. Last week, it was his 11 tackles, one sack, and an important interception that helped Auburn win over Oregon. Helping out LeClear in the secondary is FS Taitum Callup. Callup was able to provide 10 tackles and one pass deflection last week.
---
---
WHAT TO WATCH FOR
This game will come down to quarterback play. Everyone knows how good Moon is. He has led Auburn back plenty of times, but Auburn has yet to face a team like Michigan this year. Michigans success is built on the run, and they lean on the decision making ability of their quarterback, Javon Mack. Both QB's will have a difficult time with the opposing defenses. Auburn currently sits 3rd in rushing defense, while Michigan leads the league in rushing at 332.3 rushing yards per game.
Offensively, Auburn will need to figure out this Michigan defense. Michigan leads the league in almost every category on defense. Some good news for Auburn will be that Michigan only has a 3-star defensive tackle on the line. This could allow Moon to escape the edges and gains some yards rushing. Michigan will need to find a way to keep Moon in the pocket. Michigan so far this year has struggled with rushing QB's, giving up 117 yards to Boise's Aidric Berry in Week 2.
---
---
PLAYER MATCHUP
QB Javon Mack vs QB Blake Moon
These two polarizing players will not face each other on the field, but they will be counted on to lead their teams to victory. There has been quite a bit of talk of which QB is better, and this is their chance to settle it. If Javon Mack can keep Michigan's rushing attack going, it could force Blake Moon to again try and win the game for Auburn in the end. If Moon can build on his OPOTW performance last week, it could force Mack to abandon the rushing game and try and win it with his arm.
---
---
QUOTABLE QUOTES
"Michigan is a tremendous team. Mack is a superstar. We have to play a mistake free game to stay in it. We're lucky to be at home, but that isn't gonna get us by. We have to beat the only team that hasn't lost. They aren't gonna beat themselves. I hope we can keep it close and make a play to pull it out. It's gonna be a tall order. War Eagle." – Pack1797 (Auburn AD) on facing Michigan tonight.
"To be honest I'm not game planning against the Legend Moon, I'm game planning against the player. And this Auburn team is probably the most balanced team in the league. This game will come down to who makes the plays." -Neversatisfied (Michigan AD) on facing Blake Moon and Auburn tonight.
---
---
PREDICTION
Facing the tall task of predicting a game like this is never easy. Michigan is undefeated this year for good reason. They have beaten Notre Dame, Boise State, Florida State and Hawaii. At times they have looked unstoppable, and other times maybe too close for comfort. Their ability to run the ball is the best in the league. Michigan did struggle last week in the second half, only scoring six points, and that allowed Hawaii to make a comeback.
For Auburn, Blake Moon is used to making big plays in the most clutch situations. The only loss for Auburn was against their rivals, Notre Dame. In that game, Blake Moon looked human, and Auburn had to rely on their tailback Brandon Davis Jr. Auburn will need a focused Blake Moon tonight if they want to win.
This game will be back and forth, like two heavy-weights in a bout, but I think Michigan's team will be well prepared for Moon. Look for Michigan to put the game away early, and hold off Moon at the end.
Michigan 45, Auburn 35