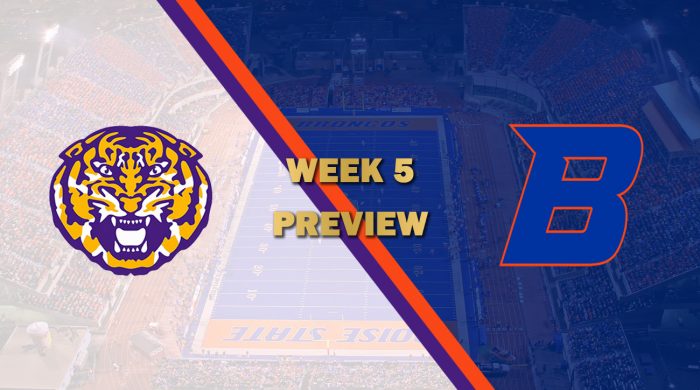 A showdown between two, bottom four teams. May feel like something that's difficult to get excited about. For one team though, they're looking to fight their way back to the top of the conference. LSU (1-3) wants another win to try and climb into a better bowl game by the end of the season. Boise (0-4) just wants a win. They almost had one last week until a pick-six turned the tables on them. Boise is becoming desperate and they're hungry. So, who wants it more?
#8 LSU
As the eighth ranked team in the nation, the LSU Tigers have something to prove. They sit right now at 1-3, near the bottom of the SEC. They fell short against the Seminoles last week, 41 to 34. Quarterback Ray "Voodoo" Tatum played fairly well, but didn't have enough magic to come away with the win. Two interceptions can do that to a team, and it's something that Tatum has struggled with. As fans will recall, Tatum threw his second interception late in the game to corner Nathan Tetonis. Unfortunately for the Tigers, this has been a trend of Tatum's outside of his clash with the Buckeyes where he orchestrated several fourth quarter drives. Here's what would help though, a running game. The Tigers amassed ten total yards of rushing as an offense. While Tatum passed for over 400 yards, he'll take a beating without a running game.
Defensively, the Tigers have had stretches of great play by a few units, but they need more. The linebackers played out of their minds, combining for 23 tackles, five tackles for a loss, and a sack. Middle linebacker Tank Jennings played like an animal, and the Tigers are hoping he continues that play. This defensive line started strong, recording 11 sacks in week one with defensive end Michael Sudeikis accounting for eight of them. However, they've tapered off since and Sudeikis hasn't recorded a sack in two weeks. A complete game from the defense would be a great help for these Tigers, something that the CFSL has waited to see.
#12 BOISE STATE
It's week five, and the Broncos are still looking for a win. They had an opportunity last week to unseat the Buckeyes and leap ahead in the Big Ten, but fell short. Quarterback Aidric Berry was clicking, passing for over 350 yards, and doling out three total touchdowns. He also threw an interception, which on paper isn't horrible, but against the Buckeyes, it was game changing. It turned into a pick-six and marked the start of an Ohio State comeback to overcome the challenge. Now, they face an LSU team that managed to beat the Buckeyes. Berry and running back Joe Friedrich need to be dominant once again. A balanced attack would be great, and avoiding turnovers would be a plus.
On the other hand, that's exactly what this defense needs: turnovers. Ray Tatum is prone to mistakes, but to do so, Boise needs to apply pressure. Through four games, the Broncos defense have forced a turnover and a sack. One of each, nothing more. The good news? They've got a talented group. Corners Darius Bowman and Darwyn Garcia are some of the best, holding quarterback D.J. Moss to just over 250 yards passing when he's been averaging a little over 300 a game. Turnovers should be manageable, the pressure though? Unless Boise finds a way to get creative and send either of their linebackers it could be a long night. Linebackers T.J. White and Tylar Jones-Drew are going to be tested in coverage, but if they can get home on a blitz or too, their secondary might be able to catch a few breaks.
WHAT TO WATCH
Unless Boise gets creative, Tatum should have some time in the pocket. Time leads to plays and despite Boise's secondary, somebody is going to get open. Ray Tatum should be able to hit, or at the very least get close, to 300 yards passing. He may throw an interception or two though, so be wary.
X-FACTOR
HB Jack Brown
The Tigers had ran for a total of ten yards last week. That's in spite of Jack Brown's 22 yards on five carries. On the season, Brown hasn't seen 50 carries as he's been utilized as a scat back, a receiver out of the backfield. He's barely ran for more than 200 yards, although he is averaging a little over four yards per carry. If LSU can find a way to lean on Jack Brown in the running game a little bit more than they have, it could help control the game.
PLAYER MATCHUP
WR Jared Tetonis v. CB Darwyn Garcia
Wide receiver Jared Tetonis is in for a tough night. Last week, he had ten catches for almost 200 yards and a touchdown. Tonight? He's going up against better corners in Garcia and Bowman. Darius Bowman is a proven commodity, as is Garcia. It's Garcia though, who's going to need to be active tonight. Last week he had two tackles and neither Bowman nor Garcia had a pass defensed. Jared Tetonis can eat you if he gets behind you, and while Bowman has been at this for a season, Garcia needs to be on his toes.
PREDICTION
LSU is frustrated, and so is Ray Tatum. The turnovers late are driving him, his team, and his fans nuts. That streak, unfortunately, won't end tonight. Boise seems to have found their secret sauce, and that spells trouble for the Tigers. I imagine Boise has a lead late and Tatum is called upon to have to drive down the field and score, on the road mind you. I think the late game interceptions have eaten at him to the point that it's in his head and here tonight, it happens again. Boise nails down their first win of the season.
LSU 31, Boise State 34