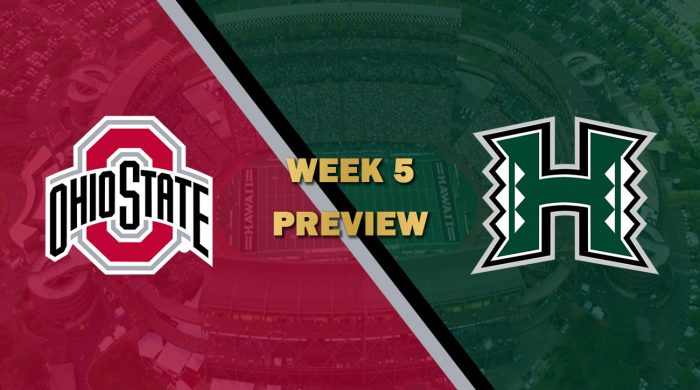 Two teams that have a lot of questions surrounding them and both are seeking a statement win. Ohio State (3-1) lost to an eighth ranked LSU team and should have lost to twelfth ranked Boise. Their other wins? Florida State and Oregon, not awe-inspiring. But they sit near the top of the Big Ten, looking to silence doubters. Hawaii (2-2) is looking for a statement win. They beat the Hawkeyes in overtime, but lost to the Oregon Ducks. They lack a big win as do the Buckeyes. Tonight, there's only one question on the CFSL's minds: which statement is going to be louder?
#3 OHIO STATE
October is closing in, meaning escape rooms are more haunted. Speaking of escapes, the Buckeyes did just that against Boise last week. The score was 49-45, but D.J. Moss was held to just over 250 yards passing. Moss did throw two touchdown passes though, and he ran for another. While he won Buckeye of the Week honors, it was Adric Khaan who looked even bigger. 18 carries, 139 yards, and a touchdown of his own. It was the most balanced Ohio State's offense had looked, and they barely scraped by a winless Boise team. It's why they have a few questions around them. The biggest one? Can Ohio State look this good against a top five team? That question will get answered tonight.
Defensively, they gave up a lot of yards on the ground, but even more through the air. This Buckeye defense allowed 382 yards passing to Boise State and couldn't find a way to shut them down. It wasn't until the fourth quarter when cornerback Max Powers gave Ohio State an answer. A jumped wide receiver screen became a 54 yard touchdown for the Buckeyes on the interception. It's why Powers was given Buckeye of the Week honors. Hard to say if he repeats that performance but it's clear that Ohio State doesn't want to need game changing plays to win. Linebacker Kobe King and safety Cam'Ron Lawson have made plays, but they'll need to ramp their game up even more tonight.
#5 HAWAII
Tough loss to the current number one team in the nation, although that could change after last night. Still, the Warriors were neck and neck with the Wolverines, in spite of quarterback Doug Ohle's three interceptions. It speaks to the nature of this defense and the way they've played all season. Wide receiver Finn Ryan had ten catches for over 100 yards, and a touchdown. Similarly, wide receiver Ace McFreely had a touchdown with 96 yards receiving on just five catches. If there's a point of concern with this offense it's the following: Ron Dayne Jr. had seven carries for 20 yards. Yikes! They'll need to find a way to get Dayne going to try and open up the passing game. Dayne should be able to make those plays.
As mentioned, when your quarterback throws three interceptions it can make things tough for a defense. Still they held Michigan to just 26 points, in spite of those turnovers. Safety Mason Ryan led the way for this defense with 13 tackles, three tackles for a loss and and a pass defensed. Linebacker Dejounte Wilson has been an incredible gem, recording nine tackles and three tackles for a loss last week. Even defensive tackle Jimmy Sutherland has had bright spots, being a player of the week back in week two. Still, the offense they face tonight is no slouch and one of the more balanced in the league. Fun fact: the week Jimmy Sutherland won player of the week was the same week Ohio State quarterback D.J. Moss won his player of the week. They'll need to find a way to slow down Moss and Khaan and that's a tall order.
WHAT TO WATCH
Ohio State has shown they're willing to attack strengths of teams, and likely tonight it will be the same. If Hawaii can lean on Ron Dayne Jr. then this Buckeye offense will have to find ways to score quickly, something they can do, but likely would rather avoid. If the Warriors can control the clock, they can send Ohio State sliding in the polls, and the Big Ten.
X-FACTOR
Cornerback Josh Corbon
Josh Corbon has started strong, 13 tackles, three interceptions and a pass defensed through four weeks. Last week, he had two of those 13 tackles, meaning that he's been going quiet. Hawaii needs him and needs him to play well. Corbon will be facing a talented wide receiver in Draeton Fasone as well as proven receiver Hunter Warren. If Corbon doesn't bring his A-game tonight it could be a rough showing for this defense.
PLAYER MATCHUP
HB Adric Khaan v. HB Ron Dayne Jr.
Two top tier running backs are squaring off tonight, one of whom has a slightly easier path to a big game. Khaan is a proven commodity and has been used in intriguing ways, but at the heart of it all, he can do major damage against a linebacker in Dejounte Wilson who may not be able to slow him down. Dayne? He'll be running into a bevy of linebackers for the Buckeyes, headlined by Kobe King who has been a sensation. Dayne will need to have a massive game and win his collisions with King.
PREDICTION
Two teams who are eager to make a statement battle way out on the Pacific. It's a marquee matchup and one that should be exciting throughout. This high-powered Hawaii offense is the deadliest the Buckeyes have faced so far and will be their first true test of the season. The Warriors had theirs last week and are ready for tonight. If Ohio State can slow down Hawaii and control clock, this should be their game and it's as close of a preview the Buckeyes will get for their date with Michigan at the end of the season. Hard to see the Buckeyes not finding a way out of Hawaii without a win.
Ohio State 38, Hawaii 35