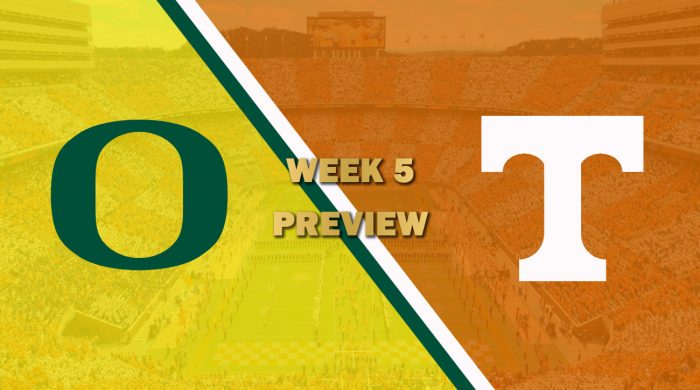 Big Ten versus SEC, that's what we have here. Oregon (1-3) is not in a good spot among their conference. They're near the bottom, ahead of only Boise as it stands and need help for a Rose Bowl or Orange Bowl berth. Tennessee (2-2) middle of their conference and can make a run with opportunities to unseat the teams ahead of them, not only in their conference, but also in the AD Poll. They may not be in the same conference but this game is still critical for both.
#9 OREGON
The Oregon Ducks venture to Knoxville with their only win over Hawaii. Since then, their offense has steadily picked up steam, but maintaining that is a different matter. Quarterback Jay Smith was efficient last week against Auburn, with 223 yards passing, a touchdown, and an interception. Smith, as many know, is not known for his proficiency as a passer, but as a runner. Smith posted 78 yards running the ball with two more touchdowns. Running back Randy Moore has seen his production rise as well, picking up 96 yards on the ground against a stout Auburn defense. Through four games, Moore has rushed for over 300 yards, averaging 4.9 yards per carry with seven touchdowns to his name. These two will be heavily tested this week and will need to find ways to make plays efficiently.
For the defense, they've been struggling stopping the run. They're giving up almost 250 yards rushing a game, only Florida State is worse against the run. Linebackers Noah Lopez and Justin Boudreaux will need to find ways to step up and make plays. The good news for Oregon though, is that their secondary is one of the best in the league talent-wise. But the runs that get to the secondary need to stop, especially against the bigger backs of the league. Cornerbacks Israel Cassius and Thor Odinson will need to do their job against some very talented Tennessee receivers.
#7 Tennessee
The Volunteers are in a pretty good spot compared to a season ago. By this point last season, Tennessee was winless. Now? They sit at .500 and are vying for ways to climb the SEC. The road there starts with quarterback Kyle Miller, continuing to grow and improve. He's done well this season, and is third in quarterback rating, clocking in at 149.2. The big story, of course, is wide receiver Ty Jones. Jones is second in receiving yards among the CFSL, with 426 yards on 26 catches. Both Jones and fellow receiver Drew Eggers will need to find ways to create separation for Miller as this running game has struggled. The Volunteers have averaged 72.5 yards per game rushing, where only LSU is worse.
Defensively, the Volunteers have been touted as one of the best in the league. They're second in points allowed at 28.5, and in first downs allowed at 19.0. They're one of the best on defense to the point that even Notre Dame struggled offensively last week. Yes, Notre Dame put up 30 points, but also went four of 13 on third downs. That's a conversion rate of just 30%. It's why the Volunteers are so good on defense. The reason? Corner turned safety Aaron Smith and fellow safety Josh Bradley. The two of them have combined for the following: 80 tackles (40 each), five tackles for a loss, and a sack. Bradley and Smith are both averaging ten tackles a game, meaning that they're playing heavily around the line of scrimmage and are being utilized uniquely. If their play continues, Oregon could be in for a long night.
WHAT TO WATCH
Oregon has to figure something out offensively, and they need to do it fast. They're towards the bottom of the league in points and first downs and their running game has been a far-cry better than their passing game. Which isn't the worst thing, but if your passing game can't get rolling this defense is going to have a field day. Jay Smith needs to prove, now or never, that he can push the ball downfield and make plays through the air. Not just with his legs.
X-FACTOR
Halfback Mitchell Kennedy has to step up tonight. He's been effective and efficient, but has also been quiet. These wide receivers will have to fight to get open, making Kyle Miller's job difficult. Kennedy can make those throws easier if he can get rolling and make plays out of the backfield. This would allow Miller to take some shots down field to his big time targets. If Kennedy can't finally breakout, we may see the Kyle Miller of last season on display tonight.
PLAYER MATCHUP
HB Mitchell Kennedy v. MLB Noah Lopez
Kennedy is the key to offensive success for Tennessee in this one, simply by opening the passing game up with some success. This means Lopez has to find a way to stop Kennedy. It's not impossible but this is the matchup that could decide the outcome of this one. Should be a fun matchup to watch.
PREDICTION
Oregon has their work cut out for them, going up against a rough defense and an offense that can score. Smith is going to have to play a great complete game. Unfortunately, against this defense, that's a tall order. If this Tennessee offense can stay balanced and the defense play as well as it has all season. Hard to see much more than a Volunteer win.
Oregon 24, Tennessee 31