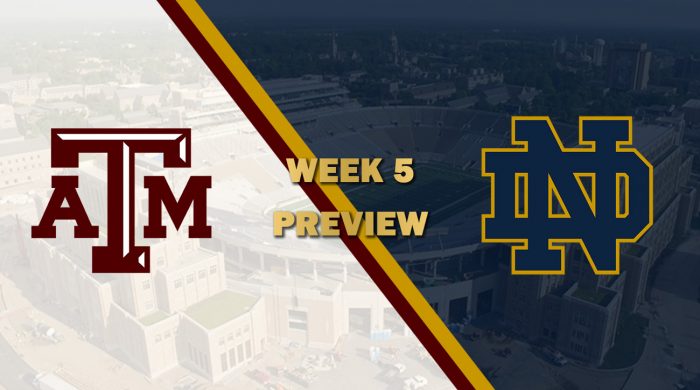 The SEC versus Big Ten matchups continue, and unfortunately, the Big Ten hasn't done well. Big Ten teams this week have been 1-4 against the SEC. Tonight, it's a showdown between two teams who have aspirations to be ranked number one, and to win their conference. Both teams come into this with a winning record of 3-1 and hope to improve to 4-1. However, a dogfight and four quarters sit between these two teams and that outcome.
#6 TEXAS A&M
The Aggies come in with a 3-1 record, in part due to the breakout of running back Tim "Big Rig" Riggins. In last week's win over the Iowa Hawkeyes, Riggins posted 35 carries for 201 yards and four touchdowns. Translation: quarterback Daniel Murphy just had to avoid mistakes. And avoid mistakes he did, going 16 of 23 passing for 153 yards. A quiet and efficient night was all that was needed from Murphy. This offense as a unit has been solid, averaging 485.5 yards per game, and doing so quite balanced. A trend that will need to continue for a win tonight. However, there has been a lot of noise around the league regarding wide receiver Alex A Cook. Many have come to wonder when, or even if, Cook will be utilized in this offense. Cook's been on kick returns so far, but has yet to make a splash there.
Texas A&M has been pretty solid on defense as well. They're fourth in the league in points allowed, giving up only 30.3 per game. Linebackers McKinley Hall and Paul Cunningham have played a sizable role in this performance. They've combined for 43 tackles, seven tackles for a loss, two sacks, a forced fumble, and two passes defensed. Hall and Cunningham both have at least 21 tackles and three tackles for a loss and have proven that they're hungry for more. Maybe the bigger story, though, has been safety Kalu James. James recorded 13 tackles and a tackle for a loss last week, showing unbelievable dominance in his ability to find the ball carrier. It's a level of play that the Aggies hope travel to South Bend in the hopes of reaching their fourth win.
#2 Notre Dame
The Fighting Irish (3-1), look to be back to their standards that they set a season ago when they were National Champions. Quarterback Ty White has improved, completing 74% of his passes for 838 yards and five touchdowns with only two interceptions. As far as CFSL quarterbacks go, White may be one of the most underrated and it's a shame. White is not alone though, as there's help on offense. Running back Jacob Philhart and wide receiver Brody Bodine have played some pretty big roles in this offense. Philhart has ran for over 450 yards and six touchdowns on the season, while Bodine has 135 yards on just eight catches with two touchdowns of his own. White will once again need to guide this offense to the endzone, and a win.
The defense, however, is the reason that White may be overlooked. After all, this defense is phenomenal, as they are top five in five of the eight statistical categories. This defense ranks top four in: points per game (29.5), total yards per game (393.3), rushing yards per game (150.5), takeaways (4), and sacks (13). This front seven is solid, with defensive end Shane Razorback and defensive tackle Tyson Ali being the headliners. Ali was an All-American last season and doesn't appear to have slowed down any. He's got 23 tackles, ten tackles for a loss and five sacks. He's even paved the way for Razorback to record six sacks of his own while earning 15 tackles and eight tackles for a loss.
WHAT TO WATCH
The Aggies need to win against this strong defense, and to do that need them to make mistakes. Expect A&M to go to the "Big Rig" early so that the play action game can be opened up downfield. Ideally, that means Alex A Cook will see major action in the receiving game tonight but it boils down to getting Notre Dame to make mistakes. That's not an easy thing to do, and it's why they won a National Championship last season.
X-FACTOR
Wide receiver Brody Bodine is a big time talent, but his brother doesn't get a lot of praise and he should. Tight end Trent Bodine has gotten the bulk of receptions for this offense. Trent has 31 catches for 311 yards through four games entering into tonight's contest. He's been the unsung hero and security blanket of the offense and will need to continue that level of play tonight to help Ty White lead the Irish to the endzone.
PLAYER MATCHUP
QB Daniel Murphy v. SS Antjuan Curry
Daniel Murphy has been impressive this season and is one of the rising quarterbacks in the league. However, he has to get through this Notre Dame secondary before he can lay a claim to inherit the Temple of Greatness. Safety Anjuan Curry is an All-American from a season ago and has balled out this season. He's recorded 24 tackles, five tackles for a loss, an interception and two passes defensed. Curry will be flying around the field tonight, and Murphy will need to best him.
PREDICTION
Two teams are desperately looking to leap ahead given the shakeups this week. The Aggies came close to beating Auburn earlier this season, but the Irish have beaten Auburn before and more than once. If the Aggies can lean on Riggins early before airing it out, then Texas A&M can win it. Unfortunately, this defense and this team, are too good and too hungry for that to happen. The Aggies will keep things close, but the Fighting Irish will win back some dignity for the Big Ten tonight.
Texas A&M 31, Notre Dame 38