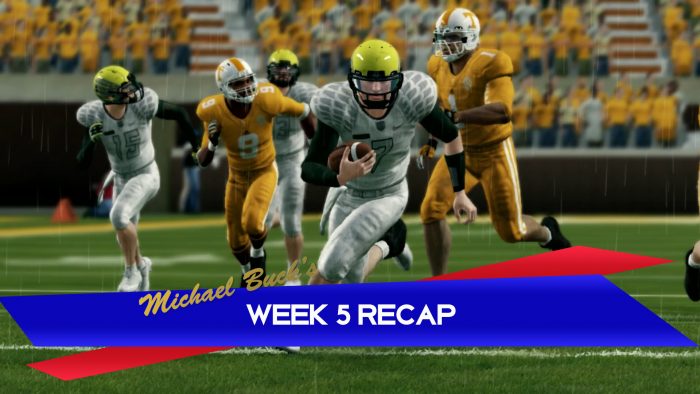 WEEK 5 RECAP
By: HornsNation05
There were a lot of unexpected upsets and blowouts this week. Blake Moon did Blake Moon things, but outside of that, Michigan, Ohio State, and Notre Dame all lost. Boise continues its freefall this season and Florida State cannot seem to find a rhythm week to week. Ray "VooDoo" Tatum nearly broke Moon's passing record and Doug Ohle's performance will make a tough OPOTW vote. Let's look at recap of this weeks games and a complete non-biased power rankings.
---
---
AUBURN 38, MICHIGAN 31
Auburn (4-1) and QB Blake Moon were able to bounce back after a tough loss against Notre Dame by beating previously undefeated Michigan (4-1). Blake Moon shined again, this time accounting for over 400 total yards and three touchdowns. Brandon Davi, Jr. accrued over 100 total yards with 66 receiving yards and 58 rushing yards and two touchdowns. Defensively, Auburn was able to hold Michigan under its game average in total yards with 365. The defense was also able to keep Michigan off the board in the 4th quarter. Linebacker Billy Carter led the Tiger defense with eight tackles and two tackles for loss. Auburn plays host to Ohio State next week.
For Michigan, they fell behind early and were not able to complete the comeback, failing to score in the 4th quarter for the first time this year. Javon Mack led Michigan with 224 yards passing and four total touchdowns. Leeroy Jenkins was not able to get much going on the ground with only 87 yards rushing on 17 attempts. Michigan was led on defense by CB Dee Parker with eight tackles. Michigan heads to Oregon next week to take on the Ducks.
Game Ball:
Auburn QB Blake Moon 31-41 for 309 yards 1 Pass TD, 17 carries 96 yards 2 Rush TD
Fun Fact:
Blake Moon now has 1,352 passing yards on the season, last season he had 2,413 passing yards.
---
---
IOWA 55, FLORIDA STATE 14
Iowa (2-3) was able to get on a roll early by leaning on their running game and forcing Florida State to play catch up. QB Justin Meis had a massive day accruing over 400 total yards and four touchdowns. HB Bob Smith continued to add to his league leading rushing total with another 172 rushing yards and two touchdowns. In this game, Iowa ran for almost 400 yards collectively, and was a yard shy of 600 total yards. On defense, Alvin Mack could not be stopped. Mack was able to garner four sacks and six tackles overall. Iowa will head to death valley to take on LSU next week.
Florida State (1-4) struggled to get anything going on offense and the defense looked lost against this powerful Iowa rushing attack. Not much happened on the offensive side of the ball as Elias Gonzalez was forced to throw the ball 40 times with only 24 completions. Michael Kovach struggled on the ground after an impressive week last week rushing only 13 times for 50 yards. Brum James led the FSU defense with seven tackles. Florida State stays at home to take on lowly Boise State next week.
Game Ball:
Iowa QB Justin Meis 24-39 for 205 yards 1 Pass TD, 15 carries for 208 yards 3 TD.
Fun Fact:
Iowa now leads the league in scoring average with 41.8 PPG.
---
---
LSU 45, BOISE STATE 14
LSU (2-3) finally had the complete game they were looking for and defeated Boise State 45-14. QB Ray Tatum completed 40 passes for 467 yards and six touchdowns. He was able to find connections with all his receivers as Jared Tetonis, Gage Bitzer and Brendan Jefferson all had over 100 yards receiving. Jack Brown came out of the backfield with 12 carries for 62 yards and 13 receptions for 75 yards and a touchdown. On defense, LSU was able to hold BSU scoreless until the fourth quarter. Aeneas King moved from OLB to MLB before the game and was able to contribute with eight tackles and one for a loss. LSU will play host to Iowa next week.
Boise State continues to remain winless in season 2, falling to 0-5. Aidric Berry could not figure out this LSU defense and struggled throwing the ball. He was able to complete 30 out of 44 attempts for only 218 yards. Most of those yards came via the check down to Joe Friedrich. Friedrich had nine receptions for 46 yards. Michael Patterson led the Bronco defense with 13 tackles and was the lone bright spot among the 5-star studded secondary. Boise State will get a chance at a win against Florida State next week.
Game Ball:
LSU QB Ray Tatum 40-50, 467 yards passing, 6 TD's
Fun Fact:
QB Ray Tatum has now thrown for 2,049 passing yards and averages 409.8 a game.
---
---
HAWAII 66, OHIO STATE 21
In what was previewed as an evenly matched game, Hawaii was able to completely dominate this Buckeye. Hawaii was able to put up 609 yards of total offense. QB Doug Ohle completed 24 out of 26 passes for 345 yard and three touchdowns. Ohle also showed off his wheels, gaining 87 yards on the ground and three touchdowns. Ron Dayne, Jr. carried the ball 31 times for 177 yards and two touchdowns. Hawaii was able to run 78 plays and hold onto the ball for over 21 minutes. DeJounte Wilson was able to pad his stat line with six tackles, one for a loss, one sack, and one INT. Hawaii will head to South Bend next week to face the Irish.
This game was a bit of a head scratcher for Ohio State. The Buckeyes came into the game 2nd in total offense in the league but struggled to move the ball against the Hawaii defense. Ohio State was only able to garner 332 total yards of offense as they struggled on 3rd downs completing only 40% of attempts. DJ Moss could not find a groove, only completing 18 of 34 attempts for 248 yards. Moss also threw two interceptions. Superstar Adric Khaan only carried the ball eight times for 41 yards and caught seven passes for 64 yards. Cam'Ron Lawson was the only answer for the Buckeyes on defense, securing a league record 24 tackles and two for a loss. Ohio State heads to the temple of Moon next week against Auburn.
Game Ball:
Hawaii QB Doug Ohle 24-26 for 345 yards and 3 TD's passing, 20 carries for 87 rushing yards and 3 TD's rushing.
Fun Fact:
Ohio State is the only team with a winning record that has allowed teams to outscore them in season 2. Ohio State has 196 points scored this season and has allowed 215 for a -19 differential.
---
---
OREGON 45 , TENNESSEE 38
In an evenly matched game, Oregon was able to pull out a win over Tennessee in overtime, winning 45-38. The running game worked for Oregon this week as they were able to gain 331 yards on the ground. Jay Smith ran for 149 yards and two touchdowns and passed for 171 and three touchdowns. Randy Moore also carried the ball 31 times for 175 yards and one touchdown. MLB Justin Boudreaux came up with 12 tackles, two for a loss and one sack. Israel Cassius had a massive day on special teams with six kick returns for 217 yards. Oregon plays host to Michigan next week.
Tennessee continues their losing streak which is now at three games. Kyle Miller led the Vols with 253 yards passing and three touchdowns. Mitchell Kennedy came out of hiding for 122 yards on the ground and one touchdown. Ty Jones was held to only 77 yards receiving and one touchdown after monster games the past couple weeks. Aaron Smith led the Tennessee defense with 11 tackles and two kick returns for 46 yards. Tennessee was able to hang with Oregon while only totaling 386 yards of offense. They will head to College Station to take on the Aggies next week.
Game Ball: 
Hawaii QB Jay Smith 19 for 29, 171 passing yards, 149 rushing yards, 5 total TD
Fun Fact:
 After starting 2-0, Tennessee has now lost the past three games by a combined total of 21.
---
---
TEXAS A&M 24 , NOTRE DAME 21
Texas A&M were able to come from behind, scoring 17 unanswered points to beat Notre Dame 24-21. The Aggies were led by HB Tim Riggins with 134 yards on the ground and 58 receiving yards. Riggins was also able to get into the end zone once. QB Daniel Murphy was able to do just enough, passing for 177 yards and rushing for two touchdowns. The Aggie defense were able to pick off Ty White twice. Vladimir Drago had another impressive showing with eight tackles, two for a loss and one sack. Second-half adjustments were key, as A&M rebounded with all 24 of their points in the 3rd and 4th quarters. A&M moves to a surprising 4-1 and they head home to take on Tennessee next week.
For Notre Dame, this was a game of failed opportunity. Notre Dame was able to make the game 21-7 on a Ty White rush but could not score after that. White was able to gain over 300 yards in total offense, but two INT's came back to haunt him. Jacob Philhart ran for 109 yards and one touchdown on the ground for the Irish. Defensively, Tyson Ali had a quiet day at the office with only four tackles and one for a loss. Notre Dame had an opportunity to take advantage of a Michigan loss but could not pull through. The Irish will fall to 3-2 and take on Hawaii next week in South Bend.
Game Ball:
Texas A&M RB Tim Riggins 26 carries for 134 rushing yards and one touchdown, 6 receptions for 58 yards receiving.
Fun Fact: 
Texas A&M remains tied for the SEC conference lead at 4-1 with Auburn, however Auburn has the tiebreaker after a head-to-head win.
---
---
POWER RANKINGS
Auburn (4-1)
TAMU (4-1)
Michigan (4-1)
Hawaii (3-2)
Notre Dame (3-2)
Ohio State (3-2)
Iowa (2-3)
LSU (2-3)
Oregon (2-3)
Tennessee (2-3)
Florida State (1-4)
Boise State (0-5)