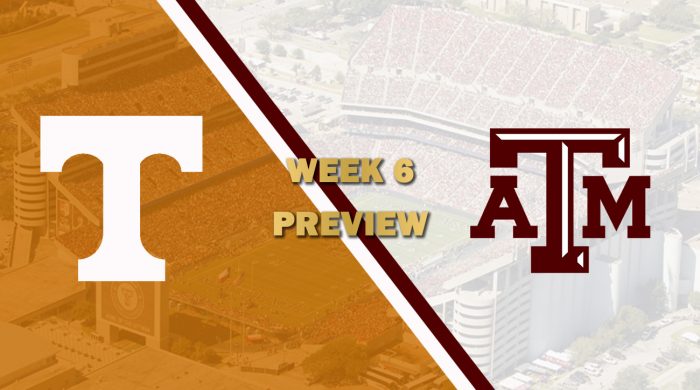 Vegas has A&M 6.5 point favorites over the Volunteers. The Volunteers lost in overtime to the Ducks after all, but don't sleep on them like folks have been sleeping on A&M. Tennessee can absolutely win this game. But A&M has a lot to prove and need to keep up with Hawaii and Auburn in the SEC. Tennessee is trying to avoid falling further behind. This means that the Volunteers should be desperate but the Aggies are on fire. Number ten in the country versus number three in the country sounds boring, but trust me, it's anything but.
#10 TENNNESSEE
This Volunteer offense started out great, they just took their foot off the gas last week. Quarterback Kyle Miller had potentially one of his best games of the season, going 34 of 43 for 253 passing yards and three touchdowns with no turnovers. Running back Mitchell Kennedy had himself a game as well, with 16 carries for 122 yards and touchdown of his own. Kennedy even got involved in the receiving game, with nine catches for 22 yards and one of Miller's three passing touchdowns. Wide receiver Don Keebals looked good in his start with seven catches for 56 yards. The Volunteers, though, need to clean up third downs. They converted 46% of the time, which was decent, but conservative play late kept them from the win.
Defensively it wasn't their best showing. They gave up over 300 yards on the ground, not exactly championship caliber. Similarly, their third down defense needs cleaned up. They allowed Oregon to convert on third down 53% of the time. They'll need to step it up tonight to have a shot. Linebacker Caleb Tuiasosopo will be one of those called upon to make plays. He had six tackles and two passes defensed last week, which is good, but Tuiasosopo is better than that. He'll need to play better tonight. Safety Aaron Smith had himself a game, totaling 11 tackles but not much else. Fellow safety Josh Bradley had three tackles and a interception. Smith will be active as always, but this defense needs to create some turnovers.
#3 TEXAS A&M
The Aggies offense had the rare experience of a slow night from quarterback Daniel Murphy. He went 19 of 29 for 177 yards and tossed an interception with no touchdowns. It was only the second time all season where Murphy didn't pass for over 200 yards and have at least one passing touchdown. Despite that, the Aggies have to be feeling pretty good about running back Tim "Big Rig" Riggins. Riggins dashed for 134 yards last week in a come from behind win against the Fighting Irish. The Aggies scored 24 points in the second half, 17 of which went unanswered. This offense has been strong, but they're lacking something. Wide receiver Alex A Cook continues to be an enigma in this offense, and the longer he goes quiet, the more the league begins to wonder.
On the defensive side, it was a pretty solid showing. Holding Notre Dame to just seven points in the second half, and coming up with two interceptions. Several players on this defense made plays and had major impacts on the game. Linebackers Paul Cunningham and McKinnley Hall combined for ten tackles while Cunningham had an interception. Cornerbacks Gator Niclause and Marvin Lynch combined for eight tackles and three tackles for a loss. It's this kind of cooperation that will help this defense to come up with all kinds of plays, but they'll need to do it consistently. That means not spotting your opponent 14 points early.
WHAT TO WATCH
Tennessee needs to ride Mitchell Kennedy and get both wide receivers Ty Jones and Drew Eggers involved. Eggers only had two catches last week, he'll need to be involved a bit more. A balanced attack can do major damage to any opponent and keep defenses honest. But maybe more importantly, the Volunteers need to stay aggressive on offense, especially against an Aggies team that roared to life in the second half last week.
X-FACTOR
Wide receiver Alex A Cook is a threat on offense. He's also been a carefully guarded threat, like a confidential envelope. If it weren't for a few kickoff returns it would be difficult telling you that he played for the Aggies. For that reason, he's the x-factor. If Cook can spring open, make some plays, even if it's running the ball in creative ways, then the Aggies could be in for a fun night offensively.
PLAYER MATCHUP
FS Aaron Smith v. SS Kalu James
It's rare to see two defensive studs like this go against each other but, here we are. Smith has been a dominant commodity all across the board, dating back to early last season. Safety Kalu James is new to the scene, but he entered with a bang. These two safeties flying across the field should make for a lot of entertainment tonight and it will be interesting to see who's the best out of these two.
PREDICTION
The Aggies are 6.5 point favorites, but I don't buy the spread. This defense is tough, much like Notre Dame, and the Aggies one that by three. The Volunteers can win if they play aggressive, but it hasn't been their calling card. Expect Tennessee to keep this game exciting and fun, but don't be surprised when they go back to Knoxville 2-4.
Tennessee 28, Texas A&M 31