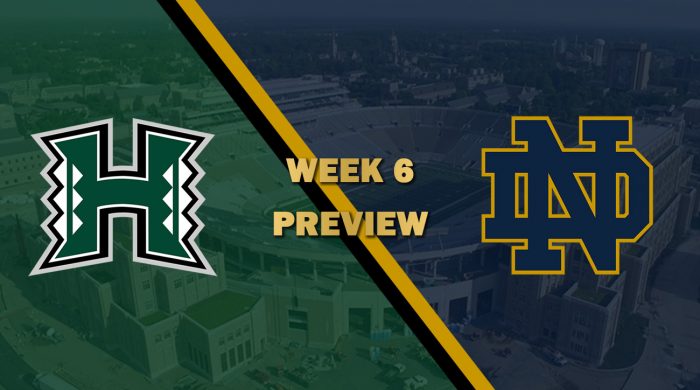 Two teams with some history between them take the field tonight. Notre Dame and Hawaii will be squaring off for the fourth time in two seasons. They played each other twice in the regular season last year, splitting the series 1-1 each. The Fighting Irish and Rainbow Warriors would meet again in the playoffs where Notre Dame would win handily to advance to their National Title berth. The rest of that story lives in CFSL history. Tonight just adds another page to the chapter and Hawaii is looking to even the score.
#4 HAWAII
The Rainbow Warriors journey to South Bend with a 3-2 record, coming off a rout of the Buckeyes. Quarterback Doug Ohle made history in that game. He went 24/26 for 345 passing yards with three touchdowns and an interception. Add that, of course, to his three touchdowns on the ground with another 87 yards rushing. Ohle wasn't the only one to go off though, as halfback Ron Dayne Jr. had a game himself. Dayne put up 177 rushing yards on 31 carries with two touchdowns of his own. Through Dayne and Ohle's efficiency, this Hawaii offense converted 90% of their third downs, a CFSL record. It's this kind of performance that can carry Hawaii past Auburn in the SEC and into a berth at the Orange Bowl.
Don't sleep on this Hawaii defense though. They held a Buckeye offense to just 21 points and made quarterback DJ Moss look like the freshman he is. This defense limited Ohio State to under 90 yards of rushing offense, and under 250 yards passing. They also forced two interceptions. The star? Surprisingly it wasn't safety Mason Ryan, although he did make several big plays. Instead, linebacker Dejounte Wilson stepped up for the defense. Six tackles, a tackle for a loss, a sack, and an interception all by the young linebacker. That was at home though, we'll see if this defense can maintain that performance on the road.
#5 NOTRE DAME
Last week wasn't the kind of statement quarterback Ty "El Presidente" White had in mind. What was supposed to be an explosive air attack, ended up imploding. White had 161 yards passing with two picks in the loss to Texas A&M last week. White did put on a clinic on running the ball though. 115 yards rushing on just 15 carries for two touchdowns. All White needs to do is get back on track passing and balance it with his running game and Notre Dame will be incredibly dangerous. Running back Jacob Philhart has proven to be a running threat, 18 carries for 109 yards and a touchdown of his own. He hasn't been asked to do a whole lot, but he's been explosive when need be.
Defensively, it's hard to be disappointed in the way they started. The Aggies were scoreless by halftime after all. It was the second half where things changed. This defense, considered as one of the best, gave up 24 points in the second half and seemingly had no answer for the running game. They gave up 152 yards on the ground, 134 of those going to running back Tim Riggins. There is a bright side though. Linebacker Bobby Slovak had ten tackles and a tackle for a loss while defensive tackle Tyson Ali and defensive end Shane Razorback combined for nine tackles and a tackle for a loss. This front seven will need to step up and this defense as a whole will need to put together four whole quarters tonight.
WHAT TO WATCH
Ty White wants to establish air dominance, and to do that wide receiver Brody Bodine will need to be leaned on. Bodine only had two catches last week for 12 yards. He'll have to really go off tonight to give White an opportunity at shots downfield. The only issue is that Hawaii is only giving up 235.5 passing yards a game. White and Bodine have their work cut out for them. Although wide receiver Andre Stanton and tight end Trent Bodine will be viable contributors to the air game as well.
X-FACTOR
Hawaii's safety, Trevor Martell, was pretty impressive last week. He had seven tackles and a pass defensed. For tonight, Martell will be called upon to make plays. The league knows about Mason Ryan, but Martell is not as well known. The Irish are looking to bounce back, and Martell will be called upon to slow the two Bodines of Notre Dame. If Martell can make plays and come up big then the Warriors can return to the Pacific with another win under their belts.
PLAYER MATCHUP
QB Doug Ohle v. QB Ty White
Two quarterbacks who are looking to establish themselves. White wants to prove that he can air the ball out and Ohle wants to prove he should be in the same conversation as Blake Moon for being the best. It adds to the history between Notre Dame and Hawaii and should make for an exciting contest. If things go the way they should, fans are in for a shoot out and only one of these two quarterbacks will get to walk out of the stadium feeling pleased tonight. Buckle in folks, tonight could get wild.
PREDICTION
Want to make things more wild? Bet your chips on Hawaii tonight. Vegas has set the line for the Irish to be 2.5 point favorites. The issue? Hawaii is hot and wants to not only get revenge for an early exit from the post-season, but wants to put the pressure on Auburn in the SEC with a win tonight. Expect Doug Ohle to put on another passing clinic, better than even last week and against a stronger defense. Ty "El Presidente" White will do all he can, but his limited weapons in the receiving game will show up and the Fighting Irish won't be able to keep up. The Warriors win it in a wild one.
Hawaii 45, Notre Dame 42.