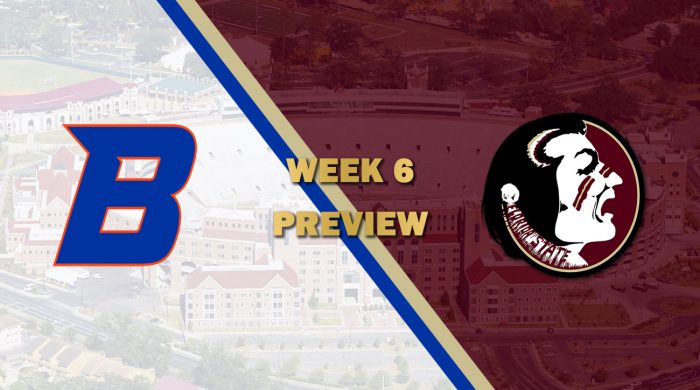 WEEK 6 PREVIEW: #12 BOISE STATE VS #11 FLORIDA STATE
By: HornsNation05
The final day of week six is now upon us. The first battle tonight will be between the twelfth-ranked Boise State Broncos and the eleventh-ranked Florida State Seminoles. Many players in the league have dubbed this the "toilet bowl".
Boise State enters the game currently winless on the season. Last week many projected a win for this Bronco squad, but they were unable to put together any offense until the 4th quarter, falling to LSU 45-14. Boise State was only able to manage 305 yards of total offense and struggled to convert 3rd downs, only completing 40% of their attempts. The rushing attack of Berry and Friedrich only manage 87 yards on the ground. Berry also had 218 yards passing and was sacked three times. Defensively Michael Patterson was the lone bright spot, securing 13 tackles with one coming by loss. This Bronco defense, which carries four 5-star players, continues to struggle against the pass by ranking 11th in the league by allowing 323.6 yards a game.
For Florida State, the struggle continues to stay in games. After a complete dominant win over LSU in week four, the Seminoles were blown out against Iowa 55-14 last week. The defensive coordinator for Florida State must have been MIA last week after Iowa gained almost 600 yards of total offense. The Hawkeyes ran through the Seminole defense like a turnstile, gaining 394 yards on the ground. Surprise defensive standout Garry Gator was completely taken out of the game with no tackles recorded. On the offensive side of the ball the Seminoles went away from giving their best player the ball, as Michael Kovach only rushed for 50 yards on 13 carries.
---
---
WHAT TO WATCH FOR
Both these teams are hungry. Boise State has yet to win a game this season and Florida State has been blown out multiple times the past couple weeks. For these teams to secure a spot in a good bowl game, they both will need to have a good game plan. Boise State has lost a couple close games, but they also were blown out last week. The same can be said about Florida State, but they have been on the opposite end of blowout wins. Both teams struggle to score but this could be a high scoring game if the defensive coordinators take another week off.
For Florida State to win, they need to run the ball. Last week's play calling was questionable on offense. Elias Gonzalez can win a game for Florida State if they need to, but the key is Michael Kovach. If they can successfully run the ball it will open up the passing game for Gonzalez to pick apart this Bronco defense.
In order for Boise State to win, they will need exceptional play by their leader Aidric Berry. Berry has been able to keep Boise in games if he can find his receivers. The read-option will also need to work in order to allow some running room to open for HB Joe Friedrich.
---
---
TEAM MATCHUPS
QUARTERBACKS:
BSU Aidric Berry VS FSU Elias Gonzalez
Both quarterbacks come into the game in similar yardage in passing. Rushing the ball Berry has a leg up on Gonzalez. Gonzalez does hold the edge in total touchdowns with 11 to Berry's 9. Both are completing less than 70% of their passes. I go with Berry in this matchup due to his dual-threat ability.
EDGE: Boise State
RUNNING BACKS:
BSU Joe Friedrich VS FSU Michael Kovach
Joe Friedrich has rushed for similar yardage on less attempts than Kovach. The Boise HB also has scored eight touchdowns on the ground with one receiving touchdown. Kovach only carries six touchdowns into this game with three touchdowns in week four. While Kovach is a monster at halfback, I go with Friedrich in this matchup as he has shown to have a nose for the endzone.
EDGE: Boise State
RECEIVING:
BSU Ricky Jordan, Agustin Hernandez and Tristan Cantu VS FSU Trevor Golinar, Matt Gerhart and Daeshawn Jackson
Boise State has not used their recruited wide receivers much this season so far. Jordan and Hernandez only have 36 receptions between them for 425 yards total. TE Tristan Cantu is the only recruited tight end in this matchup but has been a non-factor for BSU this season. Florida State has a star in Trevor Golinar who has 341 yards receiving on 25 receptions. All three of FSU's wideouts are averaging over 10 yards a catch. I go with Florida State here for their big play ability.
EDGE: Florida State
DEFENSIVE LINE:
BSU Daequan Jackson VS FSU Garry Gator
Daequan Jackson comes into this game with 12 tackles and three tackles for loss. He has not provided much impact on the defensive line like Garry Gator has for Florida State. Gator has two three sack games to his credit, but was shut out last week. I go with Garry Gator in this matchup for his ability to disrupt the passing game.
EDGE: Florida State
LINEBACKERS:
BSU Tylar Jones Drew and T.J. White VS FSU Lavonte Davidson, Tony Steel and Paxton Murray
Tylar Jones Drew and T.J. White have been leaned on heavily so far this season for BSU. Both are double digits in tackles and they play a factor in the coverage game as well with three pass deflections and one interception. Florida State's linebackers haven't done much outside of MLB Tony Steel. Steel currently has 23 tackles with four for a loss and one pass deflection. I go with Boise State's 5-star playmakers in this matchup.
EDGE: Boise State
SECONDARY:
BSU Darius Bowman, Darwyn Garcia and Michael Patterson VS FSU Brum James, Nathan Tetonis and James Dunn.
Boise State currently has four 5-star players in their secondary, but were embarrassed last week against Tatum and the LSU Tigers. On the other side, Florida State's secondary has had some impressive games when they are not being blown out. FSU Brum James is the difference maker in this matchup with his ability to find the ball and his kick return skills.
EDGE: Florida State
SPECIAL TEAMS:
BSU AD Teo VS FSU Kody Hill
Boise State Teo has been perfect so far this season with five field goals made and 17 extra points. Florida State's Hill has struggled with field goals only converting six out of nine attempts. I go with Teo in this matchup for his golden leg.
EDGE: Boise State
---
---
QUOTABLE QUOTES
"I feel the game plan is solid. I built a lot of it from heavy statistical analysis, from past games, which does not account for the possibility of randomness. If they go run heavy, it will be a challenge. If they stick to what they've been doing, I feel incredibly confident we will be victorious." -EastCoastHusker on his game plan for the week.
"I'd feel better changing things up but being this is first game as I'm looking over things I'm still learning" -Apex2333 on slowing FSU's rushing attack.
---
---
PREDICTION
Both teams have struggled this season, but they both have been shown to stay in close games against stronger competition. The key to tonight's success will be the gameplans by both AD's. If they can rely on their stars tonight, we could be in for a shootout. I favor Boise in this matchup with Berry being the difference maker.
Boise State 38, Florida State 28