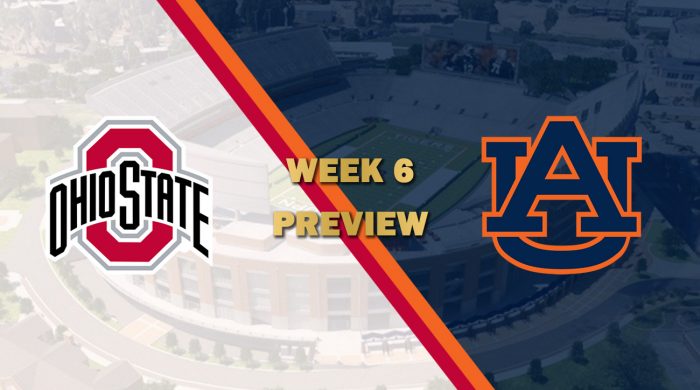 WEEK 6 PREVIEW: #6 OHIO STATE VS #1 AUBURN
By: HornsNation05
The final game of week six should be a good one as Ohio State takes on Auburn. Ohio State comes off a major loss at the hands of Hawaii, and Auburn comes into this game off of emotional win over Michigan. Both teams game plan well and there already has been a ton of friendly talk in the chat room.
Ohio State needs to get back to the basics after being embarrassed last week against Hawaii, 66-21. Their AD must have spent too much time in the booth and not enough time preparing his team as it was one of the worst losses in Buckeye history. Offensively, Moss and company could not figure out the Hawaii defense. Moss struggled in the passing game by converting only 18 passes in 34 attempts. Adric Khaan was able to rack up another 100 total yards, but was limited in his big play ability. On the defensive side of the ball, free safety Cam'Ron Lawson was the only answer the Buckeyes had. Lawson set a CFSL record with 24 tackles. Most of those tackles came in the secondary as Ohio State's front seven could not stop the Hawaii attack.
Auburn comes into this game fresh off a big win over Michigan. In that game, Blake Moon rose to the occasion again, this time with 309 yards passing and 96 rushing yards. He also accounted for three more touchdowns and added to his league leading completion percentage of 77%. Moon was able to find all of his receivers in this game including HB Brandon Davis Jr. Defensively, it was an all around effort to stop the high powered Michigan attack. Both linebackers Tony Bryant and Billy Carter had 15 total tackles together. They were able to limit Michigan to just 365 yards of total offense.
---
---
WHAT TO WATCH FOR
Both AD's are successful in their game planning, and that will be on full display tonight. Moon continues to have big games against big opponents not named Notre Dame. Ohio State has shown that they can play well but will need their defense to rise to the challenge of stopping Moon, which has not been easy this season.
Ohio State will need to get Adric Khaan the ball more often. Khaan has shown to be lethal in space and has the speed to outrun these defenders. Kobe King and Noah Mason will be tasked with keeping Moon from escaping the pocket and limiting his big plays.
For Auburn, this game will come down to Brandon Davis Jr. We know what Moon can do but if Ohio State is able to limit Moon, that will open the door for Davis. On defense, Brett Peters makes his debut at defensive tackle and could really give this defense a boost.
---
---
TEAM MATCHUPS
QUARTERBACKS:
OSU D.J. Moss VS Auburn Blake Moon
This is not much of a question. Blake Moon is a polarizing player in this league, and considered the best. D.J. Moss can do his best to replicate Moon, but has struggled completing the ball this season. Currently Moss has a 65% completion rate with 1516 passing yards and 288 rushing yards. Moon currently leads the league with 77% completion rate and 1352 yards passing. Moon also has carried the ball for 494 yards and six touchdowns. I go with Moon here for obvious reasons.
EDGE: Auburn
RUNNING BACKS:
OSU Adric Khaan VS Auburn Brandon Davis Jr. 
Ohio State depends on Khaan and his big play ability. Khaan averages seven yards on the ground and 10 yards in receiving. He has also contributed with nearly 500 yards in the return department. For Auburn, Brandon Davis Jr. is not talked about as often as he should be. When Moon struggles, Davis shines. Davis has contributed with 10 total touchdowns with 474 yards on the ground and 216 receptions. I go with Khaan here and his big play ability.
EDGE: Ohio State
RECEIVING:
OSU Draeton Fasone, Hunter Warren, Robert Cooper, Andrew Williams and Crook Shanx VS Auburn Ethan Smoker, Devonta Duncan, Adam Smith and Chris Bullard. 
Both teams have playmakers at the receiving positions. Smoker and Duncan both are big play receivers for Auburn. When Smoker and Duncan are covered, Chris Bullard provides a huge target for Blake Moon. For Ohio State, they add two new receivers in WR Robert Cooper and TE Crook Shanx. This should allow Moss with better targets than the walk-ons that he had to rely on the previous weeks. I go with Auburn's playmakers in this matchup.
EDGE: Auburn
DEFENSIVE LINE:
OSU Walk-ons VS Auburn Jack Ball, DeAndre Carter and Brett Peters
Currently Ohio State must rely on walk-ons to get to the quarterback. Auburn relies on three 3-star players at the tackle and end positions. Edge goes to Auburn for their focus on the defensive line position.
EDGE: Auburn
LINEBACKERS:
OSU Preston Lyles Jr., Kobe King and Noah Mason VS Auburn Tony Bryant and Billy Carter
At the linebacker position, this can be a toss-up. Preston Lyles, Kobe King and Noah Mason have all been solid for this OSU defense. Tony Bryant and Billy Carter both have been standout players for the Tigers. Bryant in particular carries 35 tackles into this game with six for a loss and two sacks. Kobe King matches Bryant with 38 tackles of his own and 1o for a loss.
EDGE: PUSH
SECONDARY:
OSU Brandon Palacios, Max Powers, Cam'ron Lawson and Matthew Milo III VS Auburn Stratton Mowry, Edgar Allen, Taitum Callup and Eric LeClear 
This matchup is also a toss up between these two secondaries. Cam'Ron Lawson set a CFSL record last week with 24 tackles, and Eric LeClear seems to find himself is key situations. Both secondaries are depended on heavily, as the majority of the tackles for both teams come from the secondary.
EDGE: PUSH
SPECIAL TEAMS:
There are no recruited players for either team as the kicker, so this matchup is a push.
EDGE: PUSH
---
---
QUOTABLE QUOTES
"That's the question isn't it? Really there is no stopping Moon because he's so versatile. But we can make him play our game and that's our goal. To make him play our way and force him to go at the strengths of our defense and prevent him from exploiting our weaknesses." -WKXT85 on the plan to stop Moon.
"Moon ready to do what he does best. Thats win. OSU defense better be in shape. Moons gonna all over them. The temple of greatness win be inbound for another win." – Blake Moon on Blake Moon
---
---
PREDICTION
Auburn and Ohio State have shown to be able to play in big games thanks to their AD's. This game will come down to gameplanning. Can Ohio State find their offense with the new additions and stop Moon on defense? Can Blake Moon be Blake Moon, or will OSU invade the temple? I predict that this game will come close, but Moon pulls through again.
AUBURN 34, OSU 28