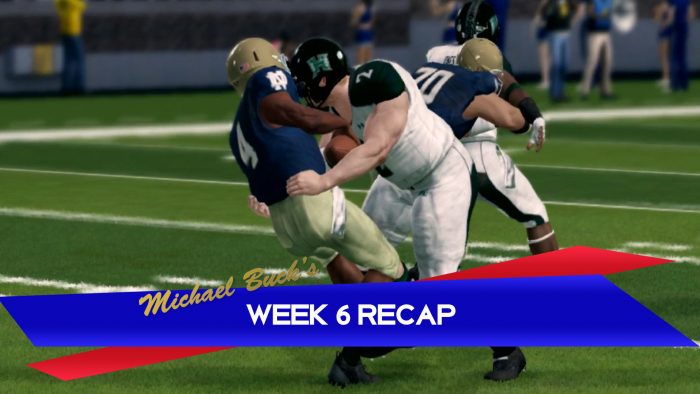 WEEK 6 RECAP
By: HornsNation05
Normalcy returned this week for some teams such as Michigan and Ohio State. Hawaii continues to look like a contender for a major bowl at the end of the year. Moon and Auburn suffered their second loss on the season, and made the SEC even murkier. Those are just some of the story lines, let's dive into each game.
#4 HAWAII 38,  #5 NOTRE DAME 24
Hawaii continues it's roll to the top of the SEC with an impressive win over the Irish. Ron Dayne Jr. led the way in this game with 213 yards rushing and three touchdowns. Doug Ohle didn't have the stat line that he did last week but was able to throw for 164 yards passing with 51 rushing yards and two total touchdowns. Defensively MLB DeJounte Wilson secured 14 tackles and helped limit Notre Dame to just 53% of their 3rd down conversions. Hawaii takes on Blake Moon and Auburn at home next week.
Ty White and Notre Dame's offense were not able to get much going against this opportunistic defense of Hawaii.  White threw for 285 yards passing and 76 yards rushing. White also totalled two touchdowns. Tyson Ali on defense was not able to get to the quarterback but did secure seven tackles with two for a loss. The Irish will need to figure it out quickly as they are now two games behind Michigan for the Big 10 lead. Notre Dame takes on Ohio State in a highly anticipated matchup next week.
GAME BALL: Hawaii HB Ron Dayne Jr. 29 carries for 213 yards and three touchdowns.
---
---
#10 TENNESSEE 52, #3 TEXAS A&M 48
Tennessee was able to complete the comeback against the Aggies. Tennessee fell behind early in the first quarter 21-10, before outscoring the Aggies 43-27 the last three quarters. The Vols were able to do most of their damage on the ground with Mitchell Kennedy leading the way on 23 carries for 173 yards. Kyle Miller was able to limit his mistakes with two touchdowns and one interception passing. DK Wagner led the Vols defense with two sacks to bring his total to three on the year in two games as Tennessee was able to force four turnovers. Tennessee takes on LSU in Knoxville next week.
For the Aggies, they were able to jump out to a big lead but could not hang on. Daniel Murphy threw for four touchdowns as well as four interceptions. Four very costly interceptions. Texas A&M went away from running the ball as Tim Riggins was able to only secure 11 carries for 64 yards rushing. Alex A Cook provided a bright spot with a 99 yard touchdown return to add to her total of 191 return yards on the game. Vladimir Drago contributed with seven tackles and Joshua Kiper added six of his own with two sacks. Texas A&M faces a tough challenge against Michigan at the Big House next week.
GAME BALL: Tennessee HB Mitchell Kennedy with 23 carries and 173 yards rushing.
---
---
#9 IOWA 42, #7 LSU 28
Iowa was able to control all facets of the game as their rushing attack was unstoppable. Iowa was able to run the ball for 393 total yards and 535 yards of total offense. Justin Meis throw three early interceptions but was able to bounce back with three touchdowns. The wrecking ball known as Bob Smith rushed for 224 yards on 34 attempts and one touchdown. Bob Sanders Jr. was all over the field in this one with six tackles and a forced fumble. Iowa takes on winless Boise State at the Smurf Turf next week.
LSU struggled against this rushing attack as they were only able to run 51 plays to Iowa's 80. The Tigers also struggled to stop Iowa on third down allowing 69% of conversions. Ray Tatum only threw for 306 yards passing with no passing touchdowns. HB Jack Brown added another two touchdowns on the ground to bring his TD number for the year up to 11. Defensively it was the Easton Kujabi show as he was able to secure 20 tackles. Aeneas King was able to pick off Meis twice and Tyrell Matheir returned an INT for a touchdown. LSU still has a chance at the SEC division but faces another tough test at Tennessee next week.
GAME BALL: Iowa HB Bob Smith 34 carries and 224 yards rushing with one touchdown.
---
---
#2 MICHIGAN 38, #8 OREGON 28
Oregon was able to jump to a 17 point lead before being shut down by this Michigan defense. Javon Mack ran the read-option with precision by passing for 138 passing and 134 rushing with two touchdowns. Leeroy Jenkins was also able to rush for 129 yards and one touchdown of his own as well. Court was in session for Oregon as Michigan MLB Nate Jones contributed 13 tackles with two for a loss. Dee Parker and John Lee were both able to pick the ball off and run back for touchdowns. Michigan will take on Texas A&M next week at home.
What could have been should be the question Oregon must be asking themselves after squandering 17 points. Jay Smith and the Ducks looked good early before throwing four interceptions. Randy Moore provided some support on offense with 93 yards rushing and 58 receiving yards. On defense, Jack Frost secured 13 tackles but could not stop the offensive show that is Michigan football. Oregon takes on Florida State at home next week.
GAME BALL: Michigan CB Dee Parker six tackles, one tackle for a loss and two interceptions. One INT returned for a touchdown.
---
---
#11 FLORIDA STATE 42, #12 BOISE STATE 31
Florida State was able to win an early bowl game against lowly Boise State. Michael Kovach scored four touchdowns with 132 yards rushing. The Seminoles were able to also convert 13 out of 16 3rd down attempts, a staggering 81 percent. Brum James was able to play tight defense and ended up with two interceptions. Florida State continues to have a slimmer of a chance for the SEC crown by winning this game. They will head north to take on the Ducks next week.
After changes were made on offense for Boise State, the outcome remained the same. Boise State now effectively will need to wait until next season after falling to 0-6 on the year. Aidric Berry threw for almost 300 yards but had two costly interceptions. Joe Friedrich was not able to rush for much but did gain 136 receiving yards. Tylar Jones Drew led the Bronco defense with 11 tackles. Boise State will now have to play for pride against a surging Iowa team next week.
GAME BALL: Florida State HB Michael Kovach 31 carries for 132 yards and four touchdowns.
---
---
#6 OHIO STATE 40, #1 AUBURN 38
Ohio State was able to crash the temple of Moon by securing an impressive bounce back victory over the tigers. DJ Moss and their offense impressed with 636 total yards. 480 passing yards were thrown by Moss with two touchdowns. Aidric Khaan hit 200 total yards with 151 on the ground. On defense Kobe King and Cam'Ron Lawson led the team with eight tackles a piece as they were able to limit the supporting cast of Blake Moon. Ohio State will try and stay in the tight SEC race with a matchup against Notre Dame next week.
Well you cannot win them all. Auburn falls after another impressive showing by Blake Moon, but it was the supporting cast and defense that let this Auburn team down. Moon was lethal in the air with 297 passing yards as well as the ground with 164 rushing yards. He contributed with four total touchdowns as well. Brandon Davis Jr. only carried the ball four times for only 18 yards, his lowest output this season so far. Not much went right on defense, but SS Eric LeClear helped out with nine tackles. Auburn is still in good shape but cracks may begin to show on their gameplan. They head to Hawaii for another tough matchup against Doug Ohle.
GAME BALL: Ohio State QB DJ Moss 35-45 for 480 yards and two touchdowns.
---
---
POWER RANKINGS
Hawaii (4-2)
Michigan (5-1)
Iowa (3-3)
Ohio State (4-2)
Texas A&M (4-2)
Auburn (4-2)
Tennessee (3-3)
Notre Dame (3-3)
Oregon (2-4)
LSU (2-4)
Florida State (2-4)
Boise State (0-6)