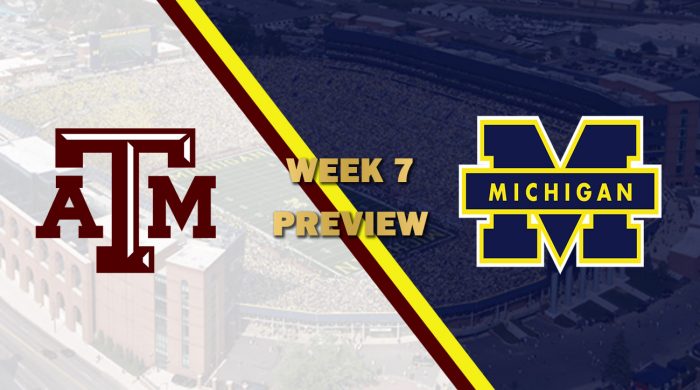 WEEK 7 PREVIEW: #5 Texas A&M vs #1 Michigan
By: HornsNation05
In the nightcap we have a thrilling match up as the Aggies take on the topranked Wolverines.
The Aggies are coming off a surprise loss to Tennessee last week. QB Daniel Murphy had a rough day at the office with four interceptions. He struggled mightily as the Aggies were only able to score 13 points in the second half. Tim Riggins struggled as well with only 64 yards rushing and no touchdowns. Alex A. Cook surprised us all with a breakout performance. Cook caught five passes for 111 yards and three touchdowns. Defensively, the Aggies were not able to stop Tennessee allowing 201 rushing yards.
For the Wolverines, it started off poorly as they fell behind 17-0. They were able to bounce back in the 2nd quarter, however, with 21 unanswered points against Oregon. So far no one has successfully stopped this run game as Michigan was able to rack up 274 yards on the ground. HB Leeroy Jenkins continued his hot start with 27 carries and 129 yards rushing with one touchdown. Court was in session on defense with Nate Jones presiding. Jones tacked on 13 tackles with two for a loss and one sack.
---
---
WHAT TO WATCH FOR
Texas A&M won't be able to stop this rushing attack of Michigan. The only thing that the Aggies can do is to score early and often and force Michigan to pass. If A&M can lean on Tim "Big Rig" Riggins rushing the ball, they could play keep away and not let Michigan's offense go to work.
For Michigan, it should be business as usual. Michigan has one of the top offenses and defenses in the league. If Michigan can force A&M to pass the ball, it could force Murphy to commit turnovers like he did last week. Riggins will not be an easy task to stop, but its the Judge's courtroom, and Nate Jones can make plays.
---
---
TEAM MATCHUPS
QUARTERBACKS:
TAMU Daniel Murphy VS MICH Javon Mack
Daniel Murphy had a hot start to start the season but has cooled off immensely. Murphy still has thrown for 1,692 yards with 11 touchdowns passing and five touchdowns on the ground. For Michigan, Javon Mack holds the keys to this offense. Mack contributes both rushing the ball and passing, and has accounted for 13 total touchdowns. Mack gets the edge in this one for their ability to impact the game passing and rushing.
EDGE: MICHIGAN
RUNNING BACKS:
TAMU Tim Riggins VS MICH Leeroy Jenkins
Tim Riggins has impressed so far this year, but there have been times where A&M does not include him into the game plan. Riggins led all running backs last year in total touchdowns and currently has eight so far this year. Leeroy Jenkins was not a known commodity coming into season two, but is one game away from 1k rushing yards. I'll go with Riggins in this match-up for his experience and if A&M can give him the ball, it could be a big game.
EDGE: TAMU
RECEIVING:
TAMU Alex Cook, Blake Herrington and Horace Lynch VS MICH Bobby Jackson, Derek McFadden, Markell Chapman, Matthew REeemings and James Skaggs
Last week Cook had a coming out party and was able to secure three touchdowns. Both Herrington and Lynch have been leaned upon heavily to help guide the young TAMU QB. For Michigan, they carry three 5-star players as wide receivers. Michigan also added to their passing arsenal with new recruit Matthew Reemings. This match-up is a push as both teams carry play makers at the wide receiver position.
EDGE: PUSH
DEFENSIVE LINE:
TAMU Joshua Kiper and Vladimir Drago VS MICH Lucio Flores
The Aggies carry two 5-star defensive ends and they both have been superb on defense. Drago and Kiper both have five sacks and create a tough match-up for Michigan. For Michigan, they only carry a 3-star in Lucio Flores at the defensive tackle spot. The edge goes to the Aggies for their play making ends.
EDGE: TAMU
LINEBACKERS:
TAMU McKinnley Hall and Paul Cunningham VS MICH Nate Jones and Shane Vincent
Texas A&M's Hall and Cunningham have made plays for the Aggies but are no match-up for Nate "The Judge" Jones. Jones has been able to make plays in coverage as well as in the run game, and the Aggies must account for his presence on the field. Michigan wins this match-up thanks to the Judge.
EDGE: MICHIGAN
SECONDARY:
TAMU Scott Davis, Marvin Lynch, Gator Niclause, Alex Darr and Kalu James VS MICH Dee Parker, Buchanan Simons, Joshua Mack, Parker Maresh and John Lee
Texas A&M's secondary gets the nod here with player maker Kalu James making the difference. James has 46 tackles to his credit with two interceptions, four pass deflections, and 623 kick return yards. Michigan has a very solid unit in the secondary with Joshua Mack leading the way.
EDGE: TAMU
SPECIAL TEAMS:
There are no recruited players for either team as the kicker, so this match-up is a push.
EDGE: PUSH
---
---
QUOTABLE QUOTES
"Texas A&M is a great team. I don't think their QB gets talked about enough amongst the elites of the CFSL, but this group is dynamic. We are prepared for a dog fight tonight. Hopefully we can be opportunistic on defense as we have all season, and keep pace with them. Love this match up." – AD of Michigan, Neversatisfied, on this matchup tonight.
"This game is like a national championship type game. We want to prove everyone we are the best in the country. I have to play my best game I have ever played to beat them. There's tons of pressure on us but I think this team was built to handle that." – Daniel Murphy on tonight's game.
---
---
PREDICTION
Michigan has been really good this season and at times look unstoppable. In order for Texas A&M to win this game, they will need to be perfect and convert third down attempts. A&M will also need their playmakers to step up in this game. Michigan can win this game easily if they focus on their rushing attack. They win by a couple scores in this game.
Michigan 41, TAMU 28