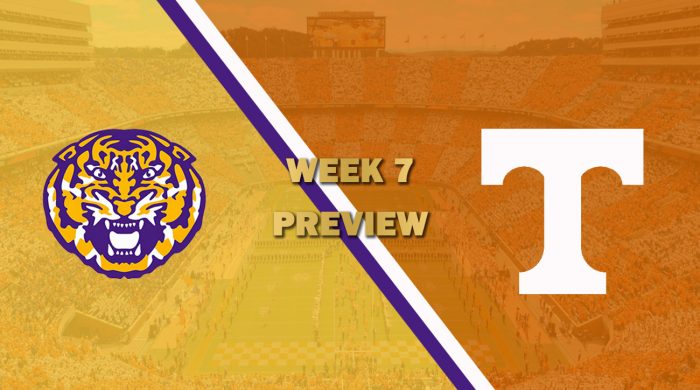 WEEK 7 PREVIEW: #9 LSU vs #8 TENNESSEE
By: HornsNation05
The #9 ranked LSU Tigers head to Knoxville to take on the #8 ranked Tennessee Volunteers in this Week 7 match-up.
The Tigers are coming off a disappointing loss to Iowa last week. Iowa managed to run all over LSU with 393 yards on the ground. The Hawkeyes were also 9-of-13 on 3rd down conversions. Easton Kujabi was the leader on defense for LSU with 20 tackles and one for a loss. CB Tyrell Mathieu also contributed with a pick-6. On offense, QB Ray Tatum was held to his lowest passing yards in a game this season with 306. WR Jared Tetonis increased his league leading yardage with another 120 yard performance. That gives him 752 yards on the year. LSU had their chances early with three interceptions, but fell behind this Iowa rushing attack.
Tennessee is coming off their best win to date, defeating Texas A&M 53-48. In that game it was HB Mitchell Kennedy who did the damage with 173 yards rushing. Kyle Miller limited his mistakes and threw for 234 yards and two touchdowns. It was all defense though, as Tennessee was able to pick the ball off four times. DK Wagner added two sacks of his own against the Aggies.
---
---
WHAT TO WATCH FOR
Shootout anyone?
That's what this game is looking like so far. Both teams carry explosive passing offenses as LSU is ranked number one in passing offense and Tennessee is ranked third. LSU's Jared Tetonis leads the league in receiving yards and is tied for second in touchdown receptions. Tennessee's Ty Jones is third in yardage and is also tied for second in touchdown receptions. The Tigers' Ray Tatum is first in passing yardage while the Vol's Kyle Miller is third. If both defenses take the night off, we could be in for a high scoring affair.
---
---
TEAM MATCHUPS
QUARTERBACKS:
LSU Ray Tatum VS Tenn Kyle Miller
Both Tatum and Miller are great passers as evident by their numbers this season. Kyle Miller has completed a higher percentage of his passes with 75%, while Tatum is at 71%. Tatum does hold the edge with nearly 400 more yards than Miller and more completions to attempts. I'll go with LSU's Ray Tatum in this one.
EDGE: LSU
RUNNING BACKS:
LSU Jack Brown VS Tenn Mitchell Kennedy
Both of these backs are not really mentioned a bunch when you talk about these offenses. Both Brown and Kennedy are relied upon in the passing game more than the running game. Kennedy holds the edge in rushing numbers and Brown takes the lead in the passing game. This is a push as both backs have similar overall numbers.
EDGE: PUSH
RECEIVING:
LSU Jared Tetonis, Gage Bitzer and Brendan Jefferson VS Tenn Ty Jones, Drew Eggers, Don Keebals and Caleb Douglas
Both of these units are explosive. LSU's Tetonis leads the league in many categories and Ty Jones is not that far behind him. Brenden Jefferson has contributed right away for LSU and Drew Eggers has found his stride as of late. I'll go with Tennessee in this match-up for QB Kyle Miller's ability to get the ball to all his receivers including the TE Caleb Douglas.
EDGE: TENNESSEE
DEFENSIVE LINE:
LSU Michael Sudeikis, Kaleb Green and Tyler Mosby VS Tenn James Mitchell and DK Wagner
LSU's line is led by DE Michael Sudeikis who still leads the league in sacks even though he has contributed only one the past couple weeks. Joining him are Kaleb Green and new addition Tyler Mosby. LSU might have the best line in the league. For Tennessee, their line is led by James Mitchell. Mitchell has 32 tackles to his credit to go with six sacks. DK Wagner has contributed right away with three sacks of his own. My independent vote goes for LSU, for their ability to get to the QB.
EDGE: LSU
LINEBACKERS:
LSU Tank Jennings, Ryan McMasters and Aeneas King VS Tenn Caleb Tuiasosopo and Thomas O'Donnell
Both teams have very good players at the linebacker position. The edge goes to Tuiasosopo and his ability to make tackles. Tuiasosopo currently has 39 tackles on the year, while none of LSU's linebackers are over 26.
EDGE: TENNESSEE
SECONDARY:
LSU Tyrell Mathieu, Mike Teo, Easton Kujabi and Dan Smith VS Tenn Tyler Ruano, Andrew Tillman, Aaron Smith and Josh Bradley
Tennessee has a special play-maker in Aaron Smith. Smith is currently second in the league with 58 tackles on the year. Flanking him is Josh Bradley who holds 48 tackles to his credit. LSU's secondary is led by Tyrell Mathieu and senior Mike Teo. Both have had good games this year but not to the level of Tennessee. Tennessee wins my vote in this match-up.
EDGE: TENNESSEE
SPECIAL TEAMS:
There are no recruited players for either team as the kicker, so this match-up is a push.
EDGE: PUSH
---
---
QUOTABLE QUOTES
"Been spending every night with the receivers watching extra game to film to be better prepared, every game from here on out is the biggest game of the year for us." – Ray "Voodoo" Tatum on tonight's game.
"This is a very important division game for both teams with us sitting 1 game out of first and LSU 2 games back. I believe that we are both still in the division race so I expect a very tough physical game from both teams.
LSU doesn't try to hide what they do on offense. They are the number 1 passing offense at 392.5 yards per game so our secondary is going to have to play at a very high level to keep us in the game. We will need a big game from Ruano and Tillman to slow down the Tatum to Tetonis connection. With the way LSU plays on defense, they want to get the lead and put you in passing situations so that Sudeikis and Green can pin their ears back and come after the QB. This is a big reason LSU leads the CFSL in sacks with 23. We'll need to protect Miller and have a balanced attack. We will need Kennedy to continue his strong play to limit the pass rush and hopefully this sets up opportunities for Jones, Eggers and Douglas to make plays down the field. We have a lot of respect for LSU on both sides of the ball and we are excited for the challenge we are facing tonight." -Tennessee AD firedup24 on his teams play tonight.
---
---
PREDICTION
This was my first time writing for an LSU match-up and it was a difficult one.
This game is screaming shootout to me. Both teams have weapons on the offensive side of the ball and it will come down to who can keep the chains moving. If either defense can step up tonight, it will be a rough night for the other team to play catch up. I see a lot of big plays in this game and LSU takes it late in the 4th.
LSU 55, Tennessee 48