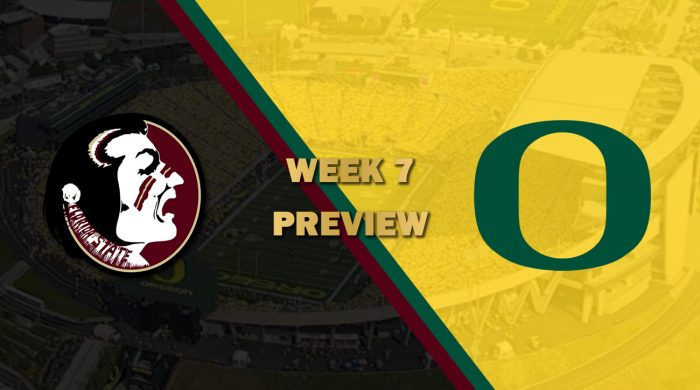 Pride, dignity, respectability, and bragging rights. That's what's on the line tonight between Florida State and Oregon. At least, that's what everybody thinks. The reality is, this is a must win game for both teams. Florida State has an opportunity to begin their ascension in the SEC and Oregon needs the win for a shot at a Rose Bowl berth. It's a fight between two teams in the bottom three of the league, but it's also one of their most important fights. Let's break it down.
#11 FLORIDA STATE
The Seminoles are 2-4 but they're coming off a win and four touchdown performance by halfback Michael Kovach. Kovach is eighth in the league in rushing with 689 yards, 132 of which came in the win over Boise State last week. This offense has done well, relying on Kovach to play at a high level and for quarterback Elias Gonzalez to play mistake free. So far, he's done so, with a touchdown to interception ratio of five to two. Gonzalez has ten touchdown passes to only four interceptions. This offense doesn't turn the ball over, with Gonzalez's interceptions being the only turnovers the offense has suffered outside of any failed fourth down attempts.
Defensively though, things aren't as positive. They're giving up almost 550 yards a game to opposing offenses. For a team that plays ball control and time of possession on offense, it's hard to win games. They're giving up at least 300 passing yards a game and 245 yards rushing a game. Linebackers Paxton Murray and Tony Steel are going to have to step up their games in order to bring the rushing totals down. Safety James Dunn has done pretty well, but not quite well enough and he'll need to improve on the back end to bring down the passing total.
#10 OREGON
Unlike Florida State, the Ducks are coming off a loss, and a devastating one at that. They were up 17-0 against the Michigan Wolverines of all teams but failed to seal the deal. They scored 11 points in the second half, where they scored 17 in a quarter alone. The inconsistency is the plague of this Oregon offense. Quarterback Jay Smith has struggled, and a four interception game adds to a rough season for him as a Duck. A quarterback rating of 121.0 ranks Smith 11th among active quarterbacks in the league right now. He could use some help and receivers Derrick Racowski and Bryce Kellogg are the ones who need to step up. Kellogg looked solid last week, hauling in seven passes for 76 yards and a touchdown. It's the consistency, though, that is missing from this offense.
This defense isn't in much better shape either. To give up 21 points in the second quarter is never a good way to go. What's even worse? Safety Jack Frost led the team in tackles with 13 last week. Meaning plays are getting to the third level all too often against this defense. In fact, the only team to give up more rushing yards a game is who they face tonight, Florida State. Defensive tackle Ben Marquez will need to build chemistry with linebackers Noah Lopez and Justin Bourdreaux to slow Kovach down tonight.
WHAT TO WATCH
Oregon needs to get their offense figured out, and it starts with Jay Smith. He's usually careful with the football, and four interceptions last week hurt the team. This week, he needs to be more careful and use his legs to his advantage. A running tandem between Smith and halfback Randy Moore will help the Ducks keep pace with the Seminoles and take advantage of their defense. Smith has a lot of speed, he just needs to get into the open field to use it.
X-FACTOR
Tight end Dakota Anderson has been incredible for Oregon, but due to the record and rank of the team, he's gone under the radar. Anderson is going to be critical to keeping balance on offense and he's a major weapon in the passing game. If he can make plays on third down the Ducks have a shot.
BREAKOUT ALERT
Michael Kovach has an opportunity to further extend his career rushing yards lead tonight. Oregon struggles to stop the run and Kovach is an animal. He has the career rushing record with 1,817 rushing yards. Against Oregon, you can add at least another 100 to 150 yards to that total.
KEY MATCHUP
WR Trevor Golinar v. CB Israel Cassius
Everyone knows Oregon has two, really good corners. Cassius, though, is the one who had the interception against Michigan last week. If he can keep Golinar quiet the passing game should fall apart for Florida State. All Oregon's defense needs to worry about, at that point, is Kovach.
PREDICTION
Despite it being #11 versus #10 tonight, there's still a lot on the line for either team. Expect the running game to take center stage, and in that department, Florida State has the advantage. The Seminoles have an opportunity to climb back into contention within the SEC, but it starts with a win on the road tonight. It's hard to trust Oregon's defense after last week and even harder to trust Jay Smith. Florida State improves tonight with a win over the Ducks.
Florida State 31, Oregon 28