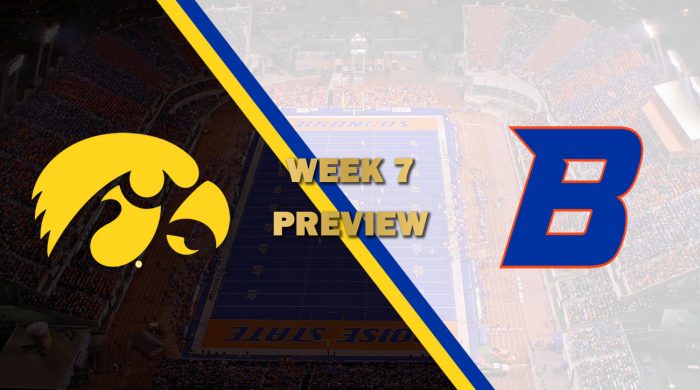 Believe it or not, there's a lot on the line tonight. Iowa sits at .500 and is tied for third in the Big Ten. On the other hand, Boise State is desperately searching for their first win of the season. A win for Iowa puts pressure on the Ohio State – Notre Dame game tomorrow night. The Hawkeyes are seeking a Rose Bowl berth, but the Broncos aren't the team to trip over. Here's why.
#7 IOWA
The Hawkeyes beat the breaks off LSU last week in a 42-28 showing. They put up nearly 600 yards of offense, most of it rushing. Quarterback Justin Meis ran for 169 with a touchdown in the win. The bigger story is halfback Bob Smith. Smith ran for 224 yards with a touchdown as well. The real concern with this offense is what it's always been, the turnovers by Meis. He threw three interceptions last week and still Iowa win. Meis offset the turnovers with three passing touchdowns, but the concern remains. Still, it's the running game that's the strength of this offense, averaging almost 320 rushing yards a game.
Defensively, they've been fairly sound giving up around 382 yards of total offense a game. Their only issue has been their inability to create turnovers. Safety Bob Sanders Jr. has forced a fumble but not much else in the turnover department. Linebacker Jerry James has an interception, but compared to a season ago he's been a little quiet. James only had one tackle last week with 34 total on the season. Cornerback Jimmy Donovan is looking for his first turnover as well, having only 19 tackles with six for a loss and no interceptions on the season. It's been a struggle but something that needs to change.
#12 BOISE STATE
Winless through six games isn't a fate anyone wants to have, but it's what the Broncos are dealing with right now. Quarterback Aidric Berry is coming off a two interception performance in the loss to the Seminoles. He ran for two touchdowns though, in spite of an overall poor rushing attack. Halfback Joe Friedrich had two rushing touchdowns as well, but that's not the issue. The issue is the effectiveness of the Bronco rushing attack and it wasn't last week. Berry and Friedrich combined for 81 rushing yards, and Friedrich amassed only ten of those. The upside is Friedrich's pass-catching ability. He had 13 catches last week for 136 yards but it wasn't enough in the loss.
Defense is another matter entirely. There's a lot of talent here, with linebackers Tylar Jones-Drew and T.J. White holding the interior together. Corners Darius Bowman and Darwyn Garcia have been playing lights out, but they struggled getting off the field. Florida State converted on third down 81% of the time. Oddly enough, they're fifth in stopping the run, but if the defense doesn't score often. They need to creature turnovers to help Berry and company tonight.
WHAT TO WATCH
The rushing game wasn't effective enough last week, can it be this week? Boise needs something to go their way and have a great opportunity to claim a win tonight. Iowa is known for some inconsistent play from week to week. If Boise can get their running game early and jump out in front, they just have to control the clock. Iowa isn't known for being able to play catch-up, and Boise just needs to keep their foot on the gas.
X-FACTOR
Aidric Berry had the argument last season to be the second best quarterback in the league behind Auburn's Blake Moon. Now, he's not even in the conversation for top five. A big rushing tandem between Berry and Friedrich would help his confidence and get him back on track. Not to mention, a big game on the ground tonight could lead Berry to having 1,500 rushing yards on his career.
PLAYER MATCHUP
HB Bob Smith v. MLB Tylar Jones-Drew
Bob Smith has been going ballistic for a fair majority of the season, but he's facing a strong linebacker corps tonight. Smith has been allowed to run rampant for a while, but Jones-Drew and his counterpart in T.J. White should be able to slow things down and force Meis to throw. That's only if Boise can get out in front early though.
PREDICTION
Iowa is looking to fight towards a Rose Bowl berth and potentially get into the Big Ten Champion conversation. But, they have to get through the Smurf Turf first. Boise's desperation has been building and have a great opportunity to claim a win. The challenge, though, is the rushing tandem of Meis and Smith. Keep in mind, Iowa's won two in a row. They're hot and I don't know if Boise has what it takes to cool them off.
Iowa 38, Boise 31