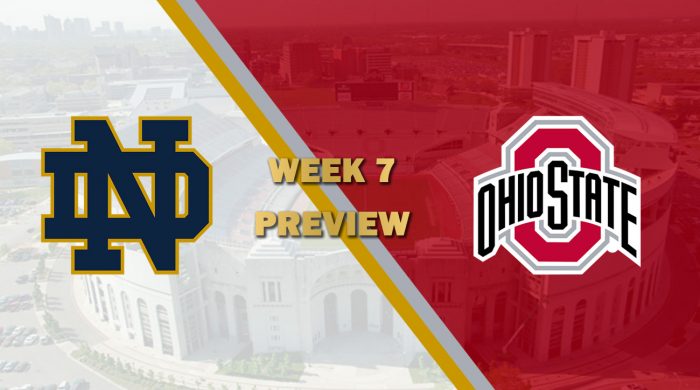 WEEK 7 PREVIEW: #6 Notre Dame vs #4 Ohio State
By: HornsNation05
The final game of week 7 should provide plenty of fireworks as Notre Dame takes on Ohio State.
Ohio State comes off a huge win over Auburn 40-38. The scoreboard may not reflect it, but it was a game controlled by Ohio State. DJ Moss found every weakness in the Tiger defense as he was able to put up 480 yards passing and two touchdowns. Adric "AK47" Khaan didn't jam once as he rushed for 152 yards with two touchdowns of his own. Ohio State comes into this ranked number one in total offense.
Notre Dame comes into this game needing a victory badly. The Irish currently have lost two straight after falling to Hawaii last week, 38-24. Ty "El Presidente" White threw for 285 yards and rushed for 76 yards. HB Jacob Philhart was limited to just 57 yards on 13 carries and a touchdown. Shane "The Train" Razorback will need to bounce back after just making two tackles last week. Notre Dame's defense is currently ranked second in total defense. This sets this game up for a nice offense-defense battle.
---
---
WHAT TO WATCH FOR
OHIO STATE OFFENSE vs NOTRE DAME DEFENSE
As previously mentioned Ohio State is currently ranked number one in total yards on offense. Notre Dame comes into this game second in total defense. DJ Moss and company will need to figure out the Irish defense that is loaded with All-Americans. Tyson Ali, Tyler Smith and Antjuan Curry can all play at a high level and they have the ability to stop this OSU attack.
Ohio State's offense has already heard enough about how great the Irish defense is. DJ Moss is closing in on 2,000 yards passing and will look to hook up with his favorite target in Draeton Fasone. Fasone provides a tough matchup for the Irish defenders as he is third in the league in receiving yardage this year. Electrifying playmaker, Adric Khaan, provides a matchup nightmare for the linebacking core of Notre Dame. With one twist of the hips, AK47 has the speed to take it to the house on any given play.
---
---
KEY MATCHUP
OSU HB Adric Khaan vs ND DT Tyson Ali
Adric Khaan labels himself as the best back in CFSL, and for good reason. Khaan has 605 yards rushing on the year to go with 402 yards receiving. Also contributing to the return with 561 yards, Khaan is a special back that can break off big plays and carry a team.
But not so fast. Standing in Khaans way is the big guy, Tyson Ali. Ali, an All-American in season one, holds 34 tackles on the year with 13 for a loss and five sacks. We have seen Ali play the entire field, from sideline to sideline, as evident by his 11 tackles in the win over Auburn a couple weeks ago.
Ali could be the counterpunch to the Khaan artillery.
---
---
QUOTABLE QUOTES
"We HAVE to get something going on offense. We have to get back to the spot our offense was last season and we gotta put up points. Our defense has been good for us and we're gonna need them to show up again against a very potent OSU offense. If we can slow their attack and put up some points I think we will be happy with the result." -Notre Dame AD, NightHawkTH32, on tonight's game with OSU.
"Look here, fam. I'm gonna make the defense feel my presence when I'm on the field. All of this talk about them having the 'best defense' so far isn't slowing me down.
Will it be tough? Sure it will. They're the S1 champs. They have experience but there hasn't been a day where I haven't been up for the challenge. I better see their A-Game because my whiskey, my stiff arm and the DJ/AK Connection™ is ready and willing to drown out all of those excuses. Let's go, Buckeyes.
" – Adric Khaan on going up against Notre Dame's defense. 
---
---
OUTSIDE SCOUTS TAKE
Notre Dame/Ohio State is going to be a great game with tons of talent on each side, could be a game for the ages. This Ohio State offense looks potent. This Notre Dame defense is nasty, just look at all the All Americans. These facts are a given, and these units are held in high regard league wide. Ultimately I think this game will boil down to Notre Dame's offensive ability to score points, or Ohio State's ability to get stops. Ty White must lead this offense to put points on the board. Can they do so? Will Ohio State prove they are a defensive force? I can't wait to find out. I'm going to go with Ohio State here, their 1-2 punch on offense just looks too dynamic.
---
---
FINAL PREDICTION
Ohio State proved many haters wrong last week with a huge win over "he should not be mentioned" and Auburn. Even if the score was just two points, the Buckeyes put up a solid performance on offense. The defense did show some cracks and it raises the question on if Notre Dame can take advantage of a soft OSU defensive line. The Irish are defending champs and are hungry after two straight losses. They know that their defense is great but the offense will need to figure out creative ways to score.
I think Notre Dame goes up early but Ohio State is able to gain some key turnovers and win this game late. Give me the Brutus headgear as I am picking OSU!
OSU 34, ND 31