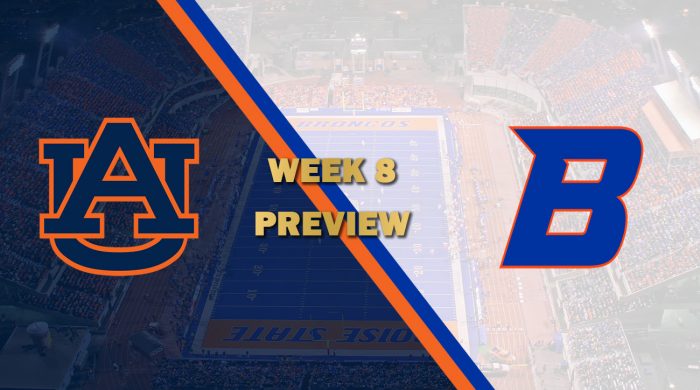 WEEK 8 PREVIEW: #4 AUBURN VS #12 BOISE STATE
By: HornsNation05
The first game of week 8 brings up Auburn at Boise State
Auburn is coming off a disappointing loss in overtime against Hawaii. After Hawaii was able to score first in OT, Blake Moon immediately threw an interception in the endzone to lose it for the Tigers. It was one of three interceptions on the day for Blake Moon. The Tigers did have over 600 yards of total offense against Hawaii. Defensively Auburn has struggled by giving up over 450 total yards the past two weeks and will need to play a sound game against the Broncos tonight.
For Boise State nothing has gone right this season. There have been some close games as well as some blowout losses. The Broncos went down early last week against Iowa and could not catch up to the rushing attack of the Hawkeyes. Aidric Berry threw for 391 yards and gets a shot at redemption against Blake Moon. Moon was the OPOY for season one, edging out Berry. For this Bronco team to finally win, they will need to score early and take advantage of this soft Auburn defense. Boise has a chance but it is a slim one.
---
---
WHAT TO WATCH FOR
BOISE STATE OFFENSE vs AUBURN DEFENSE
This will be the key matchup tonight. Boise State has the star power on defense to try and force Moon into mistakes but will need their offense to put up points. Currently the Broncos are 12th in the league in points per game and 10th in total offense. For Boise to secure a win this week they will need to attack via the pass. Auburn comes into this game ranked 11th in pass defense while Boise is 4th in passing yards per game.
Auburn will need a bounce back game from their secondary. Safeties Taitum Callup and Eric LeClear were only able to accrue 12 tackles last week against Hawaii. For Auburn to walk away with a win tonight they will need to have a sound game from this secondary.
Can Berry repeat his performance last week? Or will Eric LeClear play the role of playmaker again for this Tiger defense?
---
---
KEY MATCHUP
AUBURN QB Blake Moon vs BSU QB Aidric Berry
This matchup will not be played out on the field but it is a redemption shot for Berry. As stated earlier, it was Berry that lost out on OPOY for season one to Blake Moon. This would be a great time for Berry to show that the voters got it wrong and for him to have a big day today. The better Berry plays the better chance that Boise has a chance to shock the CFSL with their first win.
Blake Moon is an interesting character on and off the field. A household name already in the CFSL, folks were left questioning his hold on top QB in the league after last week. Three interceptions including one in the final play of the game, left people wondering "Has Blake Moon fallen off?" Moon has a chance this week to remind people that he is still the number one QB in the league.
---
---
QUOTABLE QUOTES
"Temple of greatness had a tough week but nothing moon can't overcome. Moon will shine bright or boise state and get momentum going to the playoffs. Moon will be moon. His war eagles will be flying high with a win. To those who doubt the tigers. Just wait till playoff time. Moon is his own confident. Now Moon needs to eat his wheat cereal and hand squeezed apple juice. Moon will see Bosie on the field." -Blake Moon on tonight's game.
"Definitely hoping so. I know Aidric has a chip on his shoulder for this game since he lost out on OPOY to Blake Moon last year, he feels like he has something to prove. It's been a tough season but we're still just taking it a week at a time. The win will come, and I think it could be this week" -Boise AD, Burns, on if there is an upset brewing tonight.
---
---
OUTSIDE SCOUTS TAKE
"Auburn vs Boise is a match up of 2 strong season 1 teams, one of which has carried momentum to season 2, the other has had their sails completely deflate. Auburn comes into this game trying to bounce back from a thrilling OT loss to Hawaii, while Boise is only playing for pride from here on out. Moon vs Berry is an intriguing matchup, but do the Broncos have the horses around him to compete with the Tigers of Auburn? All signs point to Auburn blowing the doors off of them here. Boise does bring in the ability to move the ball on offense behind Berry/Friedrich, but that defense really hasn't stopped anyone all year.
Auburn looks like slightly more of a cohesive unit on defense, but they themselves are left staring back at the man in the mirror after giving up 50+ to the Rainbow Warriors last week. Auburn looks more impressive coming in here, and Auburn AD Pack will look to make a statement with a big win here and start to right the ship. Boise just looks like they are too far down the rabbit hole here to pull the upset off against a game Auburn squad. Don't be surprised if it's closer than whatever the spread is though."
---
---
PREDICTION
If you would have asked me a couple weeks ago about this matchup, I would have expected a blowout victory for Auburn. Over the course of the past two weeks, Auburn's defense has shown signs of cracks. Hawaii may have shown teams a blueprint on how to stop Moon and this could give an opportunity for Boise State. The thing going against the Broncos are that they are 0-7. Granted a couple games they have played teams close but they have also been blown out a couple times.
For Boise to stay in this game they will need to score. Plain and simple. Score early and lean on your defense is the blueprint to beat Auburn. Does Boise have the star power on offense to beat Auburn? No, but Aidric Berry can make up for this season if he is able to beat Auburn. It would be a nice moral victory over a tough season for Boise. I pick the Broncos to win it close.
BOISE STATE 34, AUBURN 31