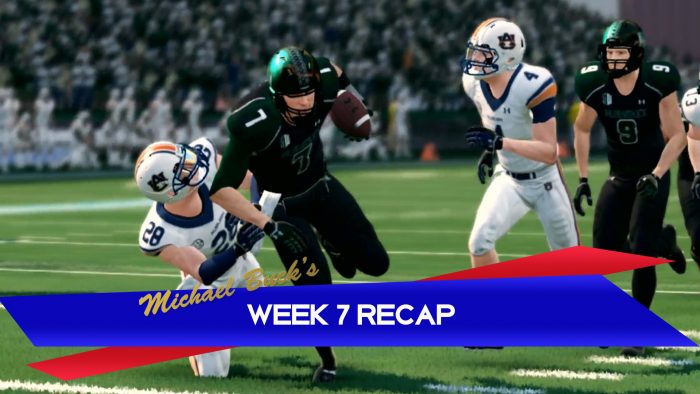 WEEK 7 RECAP
By: HornsNation05
In case you missed any of the action, here is your review! Another successful week in the books!
---
---
TENNESSEE 59, LSU 47
Tennessee was able to score early and often in a big win over LSU. The Vol's had no issue moving the ball downfield as Kyle Miller threw for 427 yards and five touchdowns. Mitchell Kennedy also had a big game with 158 yards rushing and three touchdowns. Tennessee had three receivers over 100 yards with Don Keebals leading the way with 13 receptions for 132 yards. On defense, Tennessee was able to create early turnovers with three interceptions. This team seems to have found its groove back after a short losing streak. The Vols will take on Michigan in what should be a great matchup.
LSU's defense must have gotten the wrong start time to the game as they were absent the first two quarters. Early turnovers by Voodoo did not help their case as they fell behind early and could not catch up. Tatum still managed to throw for 461 yards with five touchdowns, but it were the three picks that cost this team a chance at a win. Jared Tetonis had one of the best games in the CFSL as a wide receiver with a total of five touchdowns. Tetonis caught seven passes for 144 yards and four touchdowns. He also ran another kickoff return early that helped tie the score at seven all. The Tigers will hope for a better result against Oregon next week.
GAME BALL: Tenn QB Kyle Miller 36-46, 427 yards and five touchdowns
---
---
MICHIGAN 38, TEXAS A&M 21
Another day, another win for Michigan. This time Michigan focused on passing the ball as they were able to throw for 316 yards against this Aggie defense. The Wolverines jumped out early and were up 24-1 at the half. Leeroy Jenkins added 70 rushing yards to go with 73 passing yards and two touchdowns. Markell Chapman was able to secure three targets for 103 yards including a 64 yard reception. The Michigan defense held their own against this power run attack of A&M by only allowing 334 yards of total offense. Michigan faces another tough test next week against Tennessee.
After starting the year off 4-1, the Aggies have now lost two straight. Tim Riggins was able to score twice with 106 yards rushing, and added 51 yards receiving with a touchdown. Daniel Murphy struggled to pass the pass again, this time only passing for 167 yards on 25 attempts. After a big week last week, Alex Cook only contributed one reception for 11 yards. On defense, Alex Darr was able to snag a beautiful interception, but that was about it for the Aggie defense. Granted, they did hold Michigan to just 457 total yards but could not get the stops needed on 3rd down. They allowed Michigan to convert 61% of their attempts. The Aggies will play host to Ohio State next week.
GAME BALL: Michigan QB Javon Mack 26-37, 387 total yards and three total touchdowns.
---
---
OREGON 42, FLORIDA STATE 28
After a slow start Oregon was able to score the final 21 points to defeat FSU 42-28. Jay Smith finished with almost 300 total yards and two rushing touchdowns. Smith was also sacked five time. Randy Moore had a massive game with 126 yards rushing to go with three touchdowns. On defense, Thor Odison led the team with 13 tackles and one for a loss. CB Israel Cassius also ran a kickoff back 100 yards. Oregon moves to 3-4 on the year and takes on LSU next week.
Florida State had their chances but could not score in the 4th quarter after leading by seven in the 3rd. Elias Gonzalez was the star in this one with 358 yards passing and three touchdowns. He also contributed one touchdown on the ground. The bowling ball known as Michael Kovach was able to rush for 138 yards but could not find the endzone in this game. Newly acquired Henrike Johansen contributed right away with a sack and a forced fumble. Florida State finds themselves tied at the bottom of the SEC at 2-5, and will take on Hawaii next week.
GAME BALL: Oregon HB Randy Moore, 20 carries for 126 yards and three touchdowns.
---
---
IOWA 51, BOISE STATE 26
Iowa wins their third game in a row, this time a beatdown over Boise State 51-26. The Hawkeyes racked up 574 yards of total offense with 317 on the ground. Justin Meis had another great game, this time adding 257 yards in the air with 130 on the ground and three total touchdowns. Bob Smith also added 187 on the ground with his own three touchdowns. On defense, the Hawkeyes limited BSU to just three successful conversions out of 13 on 3rd down. Jerry James was the star on defense with 12 tackles and two for a loss. Iowa heads to South Bend next week to take on Notre Dame.
Boise State remains winless after falling behind early to Iowa. Aidric Berry showed off his arm in playing catch up, by throwing for 391 yards and two touchdowns. The Broncos allowed the Hawkeyes to have nine red zone attempts with six touchdowns. SS Jaron Lewis was impressive in his debut with 14 tackles and one for a loss but it was not enough against this Iowa rushing attack. Boise State will get a chance at a win next week when they take on Auburn at home.
GAME BALL: IOWA QB Justin Meis, 23-29 for 387 total yards and three touchdowns.
---
---
HAWAII 52, AUBURN 45
In a game that lived up to the hype, Hawaii was able to escape with a victory over the Tigers. Hawaii was able to score on a Doug Ohle keeper and the Rainbow Warriors forced Moon to throw an INT on their first possession in OT. Ohle finished the day with 206 yards passing and 84 rushing. He also accounted for four touchdowns. Ron Dayne Jr. rushed 24 times for 172 yards and four total TD's. It was the play of the secondary that sealed this game. Josh Corbon, Maurice White and Trevor Martell each had an interception including the game winner. Hawaii will likely be number one when the AD polls come out, and they take on Florida State next week.
Moon must have spent too much time on the beach as he threw three interceptions in the loss to Hawaii. Other than the INT's, Moon played pretty well. The Auburn QB passed for 232 yards and rushed for 229. He also contributed with five total touchdowns. Brandon Davis Jr. rushed for 139 on the ground as well. The offense was still able to put up 605 total yards of offense but it was the defense that let Auburn down again. The Tiger defense allowed 462 total yards with 256 rushing. They also allowed Hawaii to convert seven out of ten attempts on third down. Auburn has now lost their last two and they take on Boise State next week.
GAME BALL: Hawaii HB Ron Dayne Jr. 24 carries with 172 rushing yards and three touchdowns. 23 receiving yards and one touchdown.
---
---
NOTRE DAME 59, OHIO STATE 31
The final game of week 7 did not provide much fireworks if you were rooting for Ohio State. One week after winning a huge game against Auburn, they were blown out by Notre Dame. El Presidente, Ty White, let the offense with 22o yards passing with four touchdowns. White also ran for 140 yards on the ground. Jacob Philhart also had a great game with 87 yards on the ground with two touchdowns. The defense came to play with Tyrell Solo leading the attack with three interceptions. Trey Elijah had two interceptions, while Michael Pluth contributed with one of his own. Overall they made life rough for DJ Moss. Notre Dame finds themselves two games back of Michigan and take on the red hot Hawkeyes next week.
One week Ohio State looks unstoppable, and then the next week is a blowout loss. Back to the drawing board for these Buckeyes as they allowed Notre Dame to control the tempo early. The top recruit in DJ Moss threw 61 times for 376 yards and two touchdowns. Oh yeah, he also had SIX interceptions, the most ever in a game in CFSL history. Adric Khaan did his best with eight receptions for 86 yards. Khaan only rushed seven times for 36 yards and a late touchdown. Ohio State could not get many stops on defense and allowed 467 yards of total offense to this Notre Dame team. The Buckeyes are now in a three way tie for second place in the Big 10 and they play the Aggies next week.
GAME BALL: ND QB Ty White, 25-35 for 220 yards and four touchdowns. 140 rushing yards on the ground.
---
---
POWER RANKINGS
Hawaii (5-2)
Michigan (6-1)
Iowa (4-3)
Tennessee (4-3)
Notre Dame (4-3)
Auburn (4-3)
Ohio State (4-3)
TAMU (4-3)
Oregon (3-4)
FSU (2-5)
LSU (2-5)
Boise State (0-7)