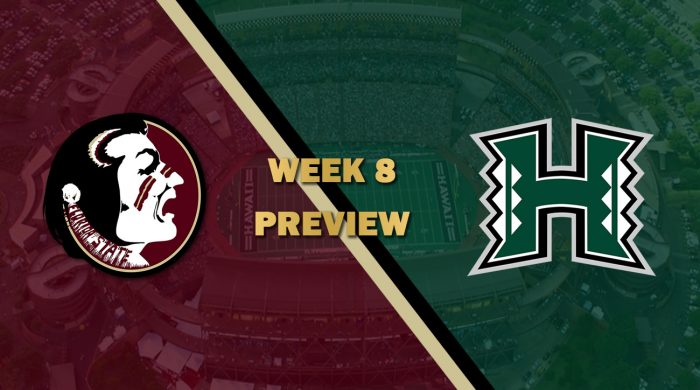 WEEK 8 PREVIEW: #10 Florida State vs #2 Hawaii
By: HornsNation05
Both Florida State and Hawaii enter in this game on opposite sides of the spectrum. For Hawaii, they continue to roll as they are currently on a three game winning streak and are on top of the SEC. Florida State finds themselves on the bottom of the SEC with a chance to move past LSU.
Florida State will need to lean on Michael Kovach more than ever. Kovach rushed for 138 yards last week in a loss to Oregon. Receivers Golinar, Gerhart, Jackson and Jensen will all need to step up to help this offense. Defensively, the Seminoles will need to figure out how to slow down this Warrior attack. It could get ugly quickly if they are not able to make key stops.
For Hawaii, they must be licking their chops. Florida State struggles offensively and they have been blown out by top teams this season already. Hawaii can key in on Kovach and slow this rushing attack. On offense, Hawaii is unstoppable. Doug Ohle continues his climb to Player of the Year honors has he has thrown over 1800 yards already this season. Ron Dayne Jr. is closing in on 1k rushing yards and this two headed attack can give FSU nightmares. Get Dayne rolling early and Hawaii can win big.
---
---
WHAT TO WATCH FOR
FLORIDA STATE OFFENSE vs HAWAII DEFENSE
Hawaii does not have many weaknesses on offense so it will be up to the FSU offense to keep pace. Leading the attack will be Michael Kovach. Kovach will be asked to carry the load in this game along with his receivers. So far this season Kovach has rushed for 817 yards and 10 touchdowns. If he can have a game like he did against LSU a couple weeks ago, he can give FSU a shot.
Going up against Kovach will be this Hawaii defense. This defense ranks 3rd in the league in points allowed per game. One knock on the Hawaii defense is the rushing yards allowed per game. Currently the Warriors rank 11th with 226 yards per game. This could be a big day for Kovach is Hawaii is unable to stop FSU's ground game.
---
---
KEY MATCHUP
FSU CB Brum James vs Hawaii WR Finn Ryan
For Florida State to stay in this game they will need their defense to stop this high powered offense. Brum James is the playmaker for FSU on defense. Currently tied for the league lead in interceptions with four. He also has over 1k in kick return yards and will be tasked with covering Finn Ryan. Ryan averages 14.6 yards per catch and has been one of Doug Ohles favorite receivers. If James can lockdown Ryan, it could force Ohle's hand in using his other wideouts.
---
---
QUOTABLE QUOTES
"Our first priority is defense. Keying in on the "One and Only" OHLE is going to be tough. We know he's dangerous with the ball. Offensively it's FSU football. Kovach and Gonzalez are going to be dancing with a tough squad. It's on them to help their teammates get into positions to make stellar plays. I know we aren't a powerhouse elike Michigan this year but we come into every game giving 110%." – FSU AD, BroccoBeef, on their game tonight.
"There's always that chance, but I'm confident in our coaching staff and the game plan that they've put together. They have us well prepared week in and week out, and this week should be no different." – Hawaii DE Tyler Matthewson on if there is a chance of a let down against this FSU squad.
---
---
OUTSIDE SCOUTS TAKE
"I think this game could get ugly quick. Doug Ohle has been a stud all season long. He does whatever his coach and the team ask of him. He can run, he can pass, but most importantly he is the leader of this football team. With Ohle leading the way this Hawaii team is tough to beat."
---
---
PREDICTION
This game can be over quickly if Florida State is unable to run the ball. If the Seminoles are able to control the clock and keep the high powered Hawaii offense off the field, they have a chance. Both AD's always come well prepared and this game could be a ground and pound type of attack. I think Hawaii is too good and they take this one in a blowout.
HAWAII 56, FSU 17