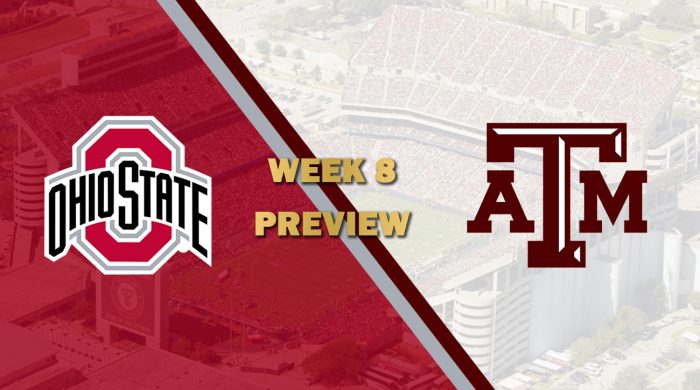 WEEK 8 PREVIEW: #7 Ohio State vs #7 Texas A&M
By: HornsNation05
Ohio State travels to College Station to take on Texas A&M.
Both of these teams are coming into this game after blowout losses last week. Ohio State was spanked by Notre Dame, losing 59-31. That game ended up being a nightmare for DJ Moss. Moss threw six interceptions and completed 36 of 61 passes for 376 yards. Adric Khaan was an afterthought for OSU as he only carried the ball seven times for 36 yards. He did manage to sneak in a touchdown at the end. Ohio State's defense had a rough 3rd quarter, allowing 24 points.
Texas A&M comes off a loss to the number one team in the league, Michigan. The Aggies fell behind early en route to a 38-21 loss. Daniel Murphy threw for only 167 yards and a touchdown. Tim Riggins rushed 22 times for 106 yards and two touchdowns. Alex Cook struggled with only one catch for 11 yards. Defensively the Aggies could not stop the pass, allowing 316 yards through the air.
---
---
WHAT TO WATCH FOR
OHIO STATE OFFENSE vs TEXAS A&M DEFENSE
Ohio State currently ranks 2nd in passing yards per game at 338.9. Texas A&M currently ranks 1st in passing yards allowed per game at 230.7. Will Ohio State try and force their hand again passing the ball? Last week was not a good week for Moss but the same can be said about A&M's passing defense. A&M will need Kalu James to force a couple turnovers for A&M to stay in this game.
---
---
KEY MATCHUP
OSU MLB Kobe King vs TAMU RB Tim Riggins
Tonights key matchup will be a good one. Kobe King currently has 10 tackles for a loss this year and will be going up against Tim "Big Rig" Riggins. Riggins, the leading rushing TD leader from Season 1, has rushed for 872 yards this season with 10 touchdowns. Kobe King will look to be the bollard and stop Riggins.
---
---
QUOTABLE QUOTES
"Word around the block is that I'm not given enough touches to be considered as a top back statistically even though I seen a metric from a great source that shows that when I get touches, I make plays like a quality top back should. I got some advice, just don't gameplan for me, since there are QBs that 'run the ball better than me.'
Haha Please. Make my day and flip that coin. I block, catch, return kicks, put defenders in the dirt, run the ball with a chip on my shoulder, make plays, drink my whiskey, eat a few chicken wings and make my presence felt quicker than the haters can say 'Hello!' Shoutout to the HBs that are proving that they are more than just one trick ponies." – Adric Khaan on the drama that ensued this week.
---
---
OUTSIDE SCOUTS TAKE
"Both teams are coming off rough losses and should come out aggressive … Would not be surprised if OSU goes in with a air attack despite A&M being #1 in PYA, mixing in more short passes to avoid pressure from the edge getting into the backfield… Khann should get into the second level early and often via screens and runs all around A&M's subpar linebacking core … A&M should look to get the ground game going early to take advantage of a weak D line, working in PA plays that attack the strong side … Backfield play from Murphy and Riggins will be key in maintaining tempo and controlling the game clock … helps the D keep OSU's #1 Offense off the field… On D, A&M has to get pressure from their D line, compensating for their average secondary and forcing Moss into poor throws … D line needs to be mobile and watch the screen/QB contain … OSU LB core will need to step up and cause more 3 and out drives for A&M with staunch zone coverage in the middle"
---
---
PREDICTION
Both teams are needing to win to keep pace for a good bowl game and possible championship. Questions remain around OSU's offense as well as if Daniel Murphy can return to the upper tier of quarterbacks. Will the Buckeyes rush more tonight? Can Moss come back from a six interception game? Will Alex Cook impact this game for A&M?
Those questions will hopefully be answered tonight. I believe Texas A&M pulls off the upset here and wins at home.
TAMU 34, OSU 31