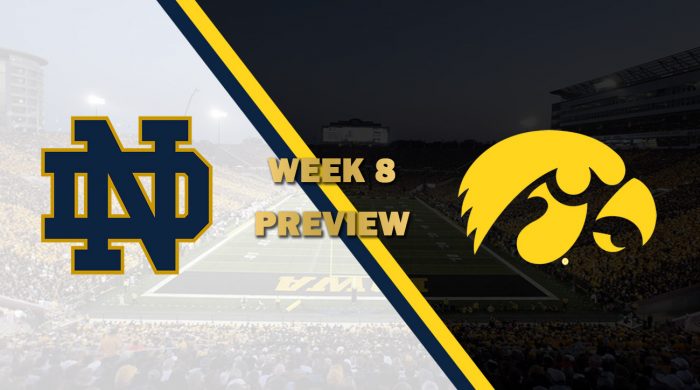 Two teams coming off blowout victories are set to square off. Each team bullied their opponents last week, putting up over 100 points between the two of them. #3 Notre Dame looks to stay ahead in the Big Ten with a win. #5 Iowa is looking to unseat the Fighting Irish in a race to the top so that they can claim the Big Ten for themselves. It's a matchup that everyone has eyes on, and for good reason, as it could shake the Big Ten to the core. So buckle up, buttercup, because we're headed to the breakdown.
#3 NOTRE DAME
Quarterback Ty "El Presidente" White finally made his statement. He went 25/35 for 220 yards with four touchdowns and no interceptions. Add that to his 140 yard day on the ground and White accounted for over 300 yards of offense. Keep in mind, Notre Dame only had 467 total yards of offense in the Buckeye blowout. Well, running back Jacob Philhart added 87 yards on the ground to White's 300+ yard night. Tight end Trent Bodine led the Irish receivers with nine catches for 87 yards. This offense will need to continue its efficient ways through the remainder of the season.
Defensively, there's not much to say. They picked off Buckeye quarterback DJ Moss six times, a CFSL record. They made it easy for White and company to have a solid performance. Corner Tyrell Solo recorded three of those interceptions. Solo is certainly looking to etch his name in as an All-American candidate with the way he's performing. His counterpart, cornerback Trey Elijah, picked Moss off twice, one of which was a pick-six. If there was any doubt which team had the best secondary, there is no doubt now. Tonight, they get an opportunity to have more interceptions against a quarterback who can be prone to them.
#5 IOWA
The Hawkeyes rank fifth, but sit high up in the Big Ten. The woes of quarterback Justin Meis are an afterthought these days, as this rushing attack has carried Iowa. Meis picked up 130 yards on the ground and two touchdowns last week, with another touchdown through the air. Meis hasn't thrown an interception in two weeks, when he threw three against LSU. He needs to be extra careful tonight, and to help, he's got running back Bob Smith. Smith has been a gem, who picked up three touchdowns last week as the Hawkeyes rolled Boise State. It's going to fall on this rushing tandem to get the job done once again.
To hold Boise to 26 points doesn't speak volumes to what this Iowa defense is capable of. In fact, it wasn't a great performance. Linebacker Jerry James had 12 tackles, with two for a loss and was the star of the defense. Defensive end Alvin Mack and defensive tackle Moses Jones combined for six tackles, four tackles for a loss, and two sacks. This Hawkeye front six continues to improve, and will need to step up tonight. There's a lot on the line after all.
X-FACTOR
Safety Bob Sanders Jr. has been somewhat inconsistent. Last week he had six tackles, and a tackle for a loss. He's seemingly lost his dominance on the defense and tonight, he needs to reclaim it. He's going to have to keep Trent Bodine relatively quiet and force Ty White to lean on other weapons. If Sanders can find ways of getting involved consistently and is constantly around the ball, look out.
KEY MATCHUP
QB Justin Meis v. LBs Bobby Slovak & Christian Campbell
Obviously these linebackers need to slow down Bob Smith, but more importantly, Iowa's read option game needs to be buried. Slovak and Campbell are going to have to keep Meis contained and force him to make his plays in the air. It gives the secondary opportunities and allows defensive tackle Tyson Ali to key in on Smith.
PREDICTION
It's now or never for the Hawkeyes, as the end of the season approaches. Compared to last season, they're markedly better, having doubled their win total. Still, a shot at being able to unseat Michigan and claim the Big Ten crown hangs in the balance. Notre Dame and Ohio State have effectively ran themselves out of the conversation. Only Iowa remains with an opportunity, but only if they can upset the Irish tonight. Notre Dame has a strong defense, but the linebacking corps is a glaring weakness. Iowa's read option should effectively take the fight out of the Irish defense and White doesn't do well when playing from behind.
Notre Dame 31, Iowa 38