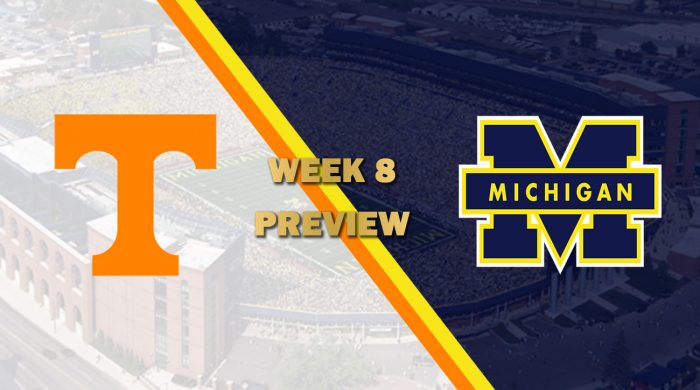 The clock continues to wind down on the regular season as we approach week 11. For Tennessee, the Orange Bowl appears locked away by Hawaii. The Volunteers need some help if they're going to stake a claim to the SEC title, but as it stands it looks out of reach. Michigan, though, has the Big Ten firmly under its control, and has no intention of letting it go. The Wolverines have their sights set on having the best record among CFSL teams.  Speaking of sights, let's hold these two up to a microscope.
#6 TENNESSEE
Wide receiver Ty Jones wants to be seen as the best in the league. Jones is two touchdowns and about 300 yards away from catching LSU's wide receiver, Jared Tetonis. As it stands, Jones and fellow receiver Drew Eggers are going to have to carry this offense. Running back Mitchell Kennedy and tight end Caleb Douglas will play large roles, but Jones and Eggers are the stars. If you want proof, look no further than last week's showdown with LSU. Jones had six catches for 122 yards and two touchdowns. Eggers added five more catches for another 32 yards and a touchdown of his own. Eggers and Jones are the reason to the offensive success and they'll need to step up in light of the recent news regarding their quarterback situation.
Defensively, they're fourth in the league in terms of takeaways. Safety Aaron Smith has 62 tackles and three tackles for a loss, but he's seeking his first interception on the season. He's been heavily involved around the line of scrimmage and in bringing down receivers as they've established themselves as runners. He's also got a single pass breakup. Michigan doesn't throw the ball often, meaning he needs to capitalize on it when they do. Linebacker Caleb Tuiasosopo and defensive end James Mitchell will be charged in shutting down the Michigan running game, something that only one team has seemingly been able to do. Tall order for a defense that hasn't been able to live up to the hype.
#1 MICHIGAN
Running quarterbacks are rare breeds, and to have success as a team for a running quarterback is rarer still. Enter quarterback Javon Mack, the best dual-threat in the CFSL. Mack is about 200 yards away from having 1,000 rushing yards on the season, and he's already totaled 11 touchdowns on the ground. The only Wolverine who has done more is his dance partner, halfback Leeroy Jenkins. Jenkins is about 60 yards away from having 1,000 rushing yards and has matched Mack in rushing touchdowns with 11. Tennessee's defense is only giving up about 180 rushing yards a game,  but Michigan is averaging a near extra 100 yards on the ground. The workhorses are looking to get back at it tonight.
The defense isn't a weakness, but it's not the strength of the Wolverines either. That said, they have been exceptional, keeping opponents under 30 points for the majority of the season. The exception? The only loss on their record, where they gave up 38 to Auburn. The big part of this success is the cohesion of the defense. Defensive tackle Lucio Flores and linebacker Nate Jones have been phenomenal, combining last week for 13 tackles, three tackles for a loss, and a sack. Corners Dee Parker and Buchanan Simons have been identical twins all season. Don't believe me? 28 tackles, two tackles for a loss and two interceptions. That's their stat line for each of them. They've combined for 56 tackles, four tackles for a loss, and four interceptions. Heck of a group, but a tall order tonight going up against Jones and Eggers.
X-FACTOR
Safety Parker Maresh has played well, putting up similar numbers to that of Simons and Parker, but he's going to be challenged tonight. Maresh has yet to string a few dominant performances together, and because he'll be near the line of scrimmage, he's got to do well. Keep an eye on Maresh tonight for a massive game, not just in shutting down the pass, but taking halfback Mitchell Kennedy out of the equation.
KEY MATCHUP
CB Tyler Ruano v. WR Markell Chapman
There's a lot of great receivers on the Michigan roster, but Markell Chapman had 100+ yards receiving last night. Michigan doesn't pass much, but when they do it can be demoralizing. Tennessee corner Tyler Ruano will need to slow Chapman, and any of the other big receivers lined up across from him. Ruano hasn't had the best season, but he'll need to step up tonight.
PREDICTION
The recent news out of Knoxville regarding the Volunteer quarterback situation is unfortunate, and none will feel that pain more than wide receivers Drew Eggers and Ty Jones. Tennessee has a solid defense but, unfortunately, without a legitimate offense, it doesn't mean much. Michigan should take this one comfortably.
Tennessee 28, Michigan 38