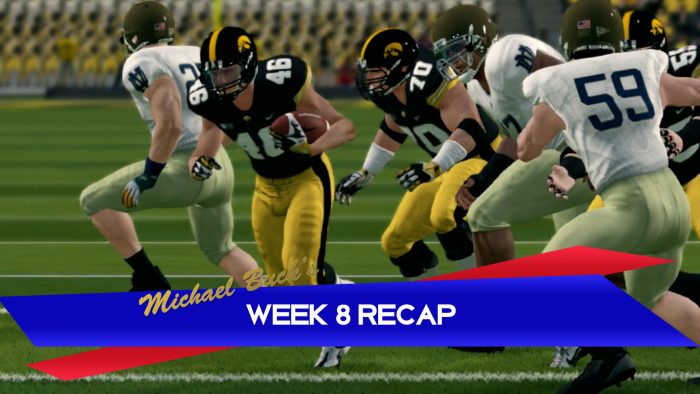 WEEK 8 RECAP
By: HornsNation05 & RussellMania
#4 Auburn 31, #12 Boise State 24
Auburn's Blake Moon bounced back from last week to put on another show, going for 208 in the air and 135 on the ground. His two total touchdowns led the Tigers' offense and were vital to keeping the defense honest all game. Moon also spread the ball to five different receivers with Devonta Duncan gaining 52 yards receiving. Not to be outdone by Moon, Brandon Davis Jr. stormed in with a steady 140 rushing yard performance with one touchdown. 
Eric LeClear anchored the defense with nine tackles and the Tigers' D-line dominated with three sacks and four TFLs for the group. The Tigers will take their ability to control the ball and dominance in the trenches back home to Jordan-Hare Stadium to face off against the struggling Florida State Seminoles in next week's match-up.
Boise State came into the game hungry and looking for their first win of the season. Newcomer Jack Freeman was Aidric Berry's favorite target of the game, hauling in five catches for 99 yards. Joe Friedrich got the ground game going with 98 yards and two TD's to show for his efforts. Without a doubt, the catalyst for the Broncos offense was Aidric Berry. Possibly powered by their flashy Halloween uniforms, Berry gained 175 yards passing with a TD to compliment his efficient 106 yards on the ground.
Despite the loss, the Boise defense should be happy with their ability to pressure the QB and get tackles with their front seven. Tylar Jones-Drew led the way with nine tackles, 3 TFL, 2 sacks, and a forced fumble. Jaron Lewis showed his versatility by playing both back in coverage and in the box, accumulating 10 tackles on the day. Boise will travel to Notre Dame next week to attempt to secure a victory against a ND team coming off a close loss to Iowa
GAME BALL: Auburn QB Blake Moon – 21-26 for 208 yards and one touchdown. 14 Carries for 135 yards and a touchdown.
---
---
#9 Oregon 28, #10 LSU 27
What. A. Game. While not considered the strongest teams in the league, both Oregon and LSU played their hearts out like this was a title fight. 
Oregon's offense started and finished with Jay Smith today. His composure and ability to find the open man carried this team that struggled on the ground for most of the game. His final stat sheet showed 23-29 for 213 yards in the air and two touchdowns complimented by 53 yards on the ground. Randy Moore could not get the ground game going all game, going 16 for 62 with a 3.8 yard average. However, his receiving game shined out on the field with 13 receptions for 91 yards.  While not getting a lot of pressure on the QB outside of a sack by Ben Marquez, Oregon's secondary played with swagger all game. Jack Frost got 19 tackles to anchor the secondary with Thor Odinson and Israel Cassius getting an interception each. The Ducks will go on to face a tough Texas A&M team next week. 
LSU controlled the game without question until the fourth quarter. Ray Tatum was slinging the ball all around the field. The defense was getting into the backfield with ease for nine TFLs and four sacks. Things just fell apart for the Tigers late in the fourth and Oregon played better when it mattered most. Tatum threw for 283 yards with a 29/47 performance but had a couple of errant throws picked off including the final play of the game. LSU is going to have some trouble bouncing back after this bitter defeat getting no favors from the schedule as they face a rolling Hawaii team next week.
GAME BALL: Oregon HB Randy Moore, 16 carries for 62 yards and two touchdowns. 13 receptions for 91 yards and one touchdown.
---
---
#2 Hawaii 31, #10 Florida State 3
Hawaii was in control of this game early defeating FSU 31-3. Doug Ohle passed for 219 yards and two touchdowns. He also added 53 yards on the ground for the Warriors. Ron Dayne, Jr. contributed 107 rushing yards and two touchdowns. Hawaii was able to rack up 390 total yards of offense and were successful on 64% of their 3rd down conversions. Mason Ryan led the Warrior defense with 10 tackles, three for a loss and one sack. Overall, it was very good production from this unit limiting Florida State to just three points and 280 total yards of offense. Hawaii improves to 6-2 and take on LSU next week.
A rough day at the office for Michael Kovach led to Hawaii running away with this game. Kovach could only muster up 39 yards on 16 carries. He was also held out of the end zone. Trevor Golinar was able to pick up 77 yards on five receptions. Overall the FSU offense struggled rushing the ball by only gaining 46 yards. Defensively, the Seminoles were able to hold Hawaii's high powered offense to only 31 points. Florida State falls to 2-6 on the season and they take on Auburn next week.
GAME BALL: Hawaii RB Ron Dayne Jr., 18 carries for 107 yards and two touchdowns. Six receptions for 40 yards and one receiving touchdown.
---
---
#7 Ohio State 45, #7 Texas A&M 42
One missed chance at the end and Ohio State escapes a scare. After Daniel Murphy over threw his receiver at the end, Ohio State was able to bounce back after that blowout loss last week. DJ Moss threw for 397 yards with three total touchdowns and did not turn over the ball once. HB Adric Khaan was more involved in this game with 22 carries for 102 yards and two touchdowns. Kobe King led the defense with 10 tackles and one for a loss. A massive 28 point 4th quarter allowed OSU to climb back into this one. The Buckeyes will head to Tennessee next week.
Missed chances by this Texas A&M squad allowed OSU to climb back into this game late. Tim Riggins rushed for 194 yards and two touchdowns and added another touchdown receiving. Daniel Murphy was able to account for four touchdowns but it will be the missed pass at the end that will haunt him. Alex A. Cook struggled again, this time only catching the ball twice for 15 yards. TAMU was impressive on 3rd downs, converting 72%. Kalu James led the defense with ten tackles but could not hold up the score of 35-17 after three quarters. The Aggies fall to 4-4 and take on Oregon next week.
GAME BALL: OSU HB Adric Khaan, 22 carries for 102 yards and two touchdowns.
---
---
#5 Iowa 27, #3 Notre Dame 24
Iowa pulls off a huge win this week over Notre Dame. Iowa improves to 5-3 as they still remain in the Orange Bowl hunt. Justin Meis struggled heavily in this game by only completing 10 passes for 48 yards. He also threw two interceptions. Bob Smith was the only offense that Iowa needed today as he rushed for 192 yards and two touchdowns. On defense, it was play-making corner Jimmy Donovan who returned an interception 28 yards for a score. Iowa has a chance to pick up a game in their conference next week when they face Michigan.
Notre Dame effectively controlled this game in every category but the final score. The Irish ran 76 plays and held onto the ball for over 18 minutes but could not put it together at the end. Ty White contributed almost 300 total yards with three touchdowns. Jacob Philhart added 100 total yards out of the backfield. Defensively, the Irish held Iowa to just 1 for 10 on 3rd downs but could not stop the run. Tyrell Solo and Trey Elijah both picked off Meis. Notre Dame will play Boise State at home next week.
GAME BALL: CB Jimmy Donovan, three tackles, one tackle for a loss and one interception for a touchdown.
---
---
#1 Michigan 35, #6 Tennessee 26
In what was built up to be the match-up of the Week, Michigan was able to secure the win over Tennessee. Javon Mack turned the keys to the offense over to Leeroy Jenkins and he did not disappoint. Jenkins rushed for 193 yards with two touchdowns and added five receptions for 42 yards. Parker Maresh returned an interception 71 yards for a touchdown as this Michigan defense came up with three turnovers. Michigan faces another tough test next week against Iowa.
Ty Jones was able to secure eight receptions for 110 yards but Tennessee was not able to come back to beat Michigan Jones was assisted by Don Keebals who secured six receptions for 133 yards. Offensively this Tennessee team played great as they were able to amass 460 total yards of offense. On defense, the Vols could not stop the run game giving up 273 rushing yards. Aaron Smith secured 10 tackles and an interception in the loss. Tennessee takes on Ohio State at home next week.
GAME BALL: Michigan HB Leeroy Jenkins, 32 carries for 193 yards and two touchdowns.
---
---