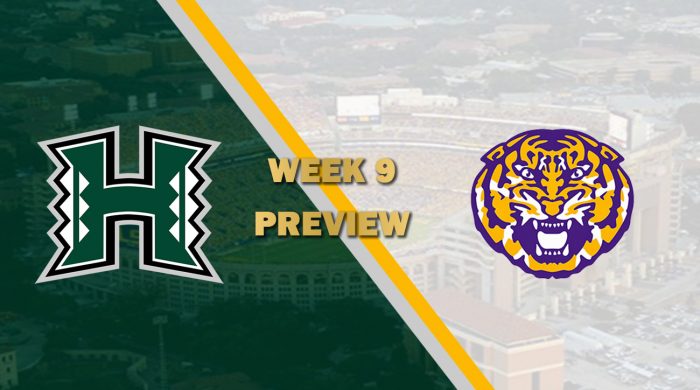 WEEK 9 PREVIEW: #2 Hawaii vs #10 LSU
By: RussellMania
CFSL action is back this week with a matchup between Hawaii and LSU. Hawaii is rolling through teams left and right on their way to a four game win streak. Hawaii currently leads the SEC. LSU is battered coming off of a one point loss and week full of drama. The Tigers are looking to play spoiler while fighting it out in the bottom of the SEC.
Hawaii is a favorite coming off of a 31-3 win against FSU. While they may be the more talented team, they actually have nearly the same yards per game as LSU. It will be up to DeJounte Wilson and Mason Ryan to lead this #2 defense and keep the momentum for Hawaii. Look for both Ron Dayne Jr. and Doug Ohle to keep things going on the ground after last weeks 160 yard performance.
LSU desperately needs to get a win to salvage a broken season. The one point loss to Oregon has to hurt considering the way it happened. Expect an emotionally charged team led by ace wideout Jared Tetonis who is looking to bounce back individually after only getting four receptions last game. Ray Tatum is also looking to bounce back after a two pick, one sack outing. Michael Sudeikis will try to build on a league leading eight sacks and stuff the Hawaii run game on the edge.
---
---
What to Watch For
Hawaii Offense vs LSU Defense
The LSU defense looks like swiss cheese in the secondary after this week's events. With Hawaii holds a clear advantage with four talented pass catchers and a swiss army knife of a halfback in Ron Dayne Jr. Hawaii is ranked second in points per game and is tied for first in giveaways. Doug Ohle already has a 72% completion rate that he should look to improve even more throughout this game while he scans a depleted LSU defense.
It would be unlike the Tigers to go down without a fight and let Hawaii drive down the field. The front seven should have consistent pressure in the backfield to be a hefty speed bump for both Ron Dayne Jr. and Doug Ohle. Easton Kujabi is still roaming the middle of the field and can swat down passes with the best of them. If LSU can gain the momentum with stops early, this could turn into quite the game.
---
---
Key Matchup
LSU WR Jared Tetonis vs Hawaii CB Josh Corbon
Did you know that Josh Corbon is currently tied for first in interceptions? #22 for Hawaii is picking off balls at a high clip and has a matchup against one of the most talented wideouts in Jared Tetonis. Tetonis leads the league in receiving yards and has 53 catches on the year. The targets are going to be coming Jareds way no matter what and not many are better than Corbon in reading the quarterback's eyes and coming down with the ball. Having two playmakers go head to head like this always gives you something to keep an eye on as the clock ticks down.
---
---
Prediction
Hawaii is clearly the top team in the SEC right now and is dominating other teams lately. Winning this game would put them one step closer to clinching the SEC over Auburn and the whole team knows how much each win means this late in the season. That being said, LSU isn't going to just take a beating because of this rough week. Their energy level should be through the roof as they feed off their home crowd. Energy won't be enough for the Tigers as Doug Ohle is going to eat them alive through the air and expose LSU's brittle secondary. Expect this to be high scoring, but in Hawaii's control from start to finish.
Hawaii 41, LSU 27