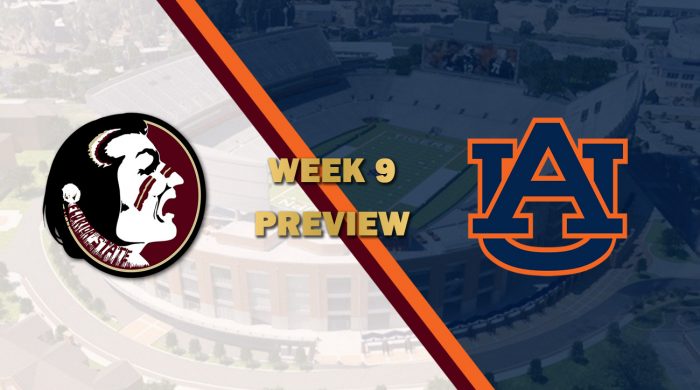 Auburn's climb back to the top of the SEC is difficult. They need Hawaii to lose and to win against a Florida State team that has lost two in a row. The season is closing fast, and the bowls are almost upon us. There's still hope for the Seminoles, and Auburn is the beginning of one last push to get into a higher bowl. Wanna know how? I suggest you read on for that info.
#11 FLORIDA STATE
Halfback Michael Kovach is determined to carry the Seminoles to a higher bowl. He's eager to do all he can to carry the Seminoles to a better record. Unfortunately, they're trying to bounce back from a 28 point loss to Hawaii last week. The final score might have been a bit closer if a few kicks had actually landed. Kicker Kody Hill missed three of his four field goal attempts last week in the loss to the Warriors. As for Kovach, he struggled last week as well, with just 39 yards on 16 carries. He's doing all he can, but the offense is struggling further in light of the quarterback situation. Kovach needs help, but I don't know that he can get it.
The defense, though, is more concerning. How many teams do you know of that can get away with giving up over 500 yards of offense a game? Yeah, didn't think so. But that's the issue that Florida State has to figure out. Linebackers Tony Steel, Paxton Murray, and Lavonte Davidson combined for 15 tackles and two for a loss last week. This week, they really need to step up to the plate and be disruptive in both the running and passing game. Not only that, but safety James Dunn and corner Nathan Tetonis will need to elevate as well against a talented offense.
#3 AUBURN
Quarterback Blake Moon and company get to start their week right. At least in theory they do, but upsets can happen. Moon has had a game or two where he lays an egg (see Auburn v. Hawaii). That doesn't change the greatness of the temple Blake Moon spends his time in. It does, however, raise a few concerns. Moon has been sacked 31 times this season, the most of anyone in the league. He does have 26 combined touchdowns, both rushing and passing, but he needs to lean on his receivers a bit more. Devonta Duncan and Ethan Smoker are two studs at wide receiver for the Tigers, with Smoker leading the league in career receiving touchdowns at 14.
Defense, though, is another matter. They upgraded their secondary, but haven't quite been able to live up to the hype. Auburn's defense is giving up 290 passing yards a game, but have managed to generate 21 sacks. Corners Stratton Mowry and Edgar Allen have played fairly well but not well enough. Even safeties Taitum Cullip and Eric Leclear haven't been able to string multiple games of consistent play together. Still, in spite of all of that, they've done well enough to keep their offense in games. Tonight, they need to focus on working out a few kinks and gelling further as a unit.
X-FACTOR
Believe it or not, it's Michael Kovach. Hawaii kept him quiet last week, part of why the Warriors had a 31-3 win over the Seminoles last week. The only way Florida State is going to stand a chance of pulling the upset over Auburn tonight is Kovach can have a big game. If he's kept quiet, things will turn ugly for the 'Noles tonight.
PLAYER MATCHUP
HB Michael Kovach v. MLB Tony Bryant
Florida State needs Kovach to have a big game, it's their only shot at an upset. In order to keep that from becoming a reality, Auburn linebacker Tony Bryant has to step up. He made some big plays last season, part of what instigated the move to middle linebacker. This season, he hasn't quite had the same level of production. Last week he only racked up five tackles, and this week, he needs to do more. Bryant is the only equal to match with Kovach and slow him down.
PREDICTION
Florida State needs a win tonight, but they've got a steep hill to climb in order to pull it off. Auburn has to be aware of the urgency from the Seminoles and do more to keep them at bay. As usual it starts with Blake Moon and running back Brandon Davis, but this defense needs to gel and get some bugs worked out. After all, the Iowa game is two weeks away. Oh yeah, Auburn's winning tonight.
Florida State 12, Auburn 38