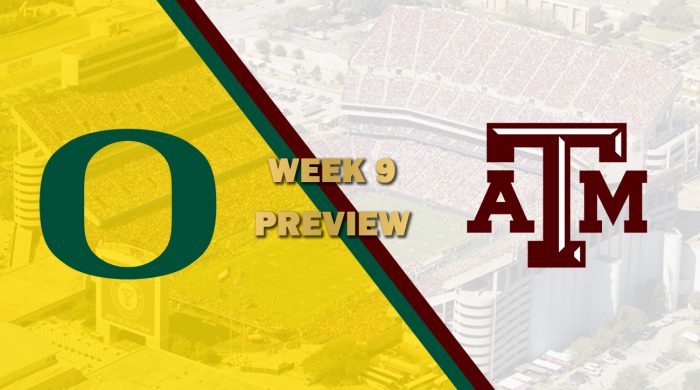 Two teams at .500 coming into this week. One team, Oregon, has won two in a row. The Ducks squeaked past LSU and beat up on Florida State. Texas A&M, on the other hand, has lost three in a row. They couldn't close the deal with Ohio State or Tennessee, and they just couldn't keep up with Michigan. Still, this game has a lot on the line. Oregon has an opportunity climb the Big Ten and reach a better bowl game. The Aggies could climb the SEC, and a big win over the Ducks tonight can do just that. Here's how each team can catch a win.
#9 OREGON
The Ducks are on a roll, so long as they don't fly the coop. Quarterback Jay Smith had one of his best passing games last week. He went 23/29 for 213 yards with two touchdowns. He ran for another 53 yards but didn't score. Halfback Randy Moore added another couple of touchdowns on the ground. Wide receiver Derrick Racowski had three catches for 71 yards and one of Smith's touchdowns. This offense has improved and grown over the season, but needs another complete performance tonight. Wide receiver Bryce Kellogg had two catches for nine yards, and needs to get involved to help Smith and company out.
Defensively, linebacker Noah Lopez racked up eight tackles, and has played well. This secondary has a lot of potential, but not a lot of pieces in between for them to play off each other. Corners Israel Cassius and Thor Odinson have played well with safety Jack Frost. Unfortunately, they can't do much to help the running defense. Linebacker Justin Boudreaux had a single tackle last week and needs to do more. Defensive tackle Ben Marquez has paired well with defensive end Kylie Clay, but they need a cohesive effort between them and the linebackers. This defense as a whole has yet to play a complete game, and much of the league is waiting for it.
#7 TEXAS A&M
Quarterback Daniel Murphy looked pretty solid last week, even with an interception. He had an opportunity to close the game with a win, a wide open receiver for a Hail Mary. Unfortunately, Murphy let it sail a little too far. Murphy posted three passing touchdowns but for just 239 yards. Murphy failed to really push the ball downfield, but didn't need to with the effectiveness of halfback Tim Riggins. Riggins nearly ran for 200 yards, with two touchdowns as well. The difference was the involvement of Alex A. Cook. He only had two catches for 15 yards, but no points to show for it. It didn't help that Cook was mostly kept out of return game.
As for defense, they managed to keep a hold on the running game, not so much the passing game. Corners Gator Niclause and Scott Davis got chewed apart by the passing game. That's the danger for the A&M defense. They're susceptible to the pass, but have done well against the run. Linebackers McKinley Hall, Paul Cunningham, and Fred Baylor played well last week, and have an opportunity to play even better this week. If they can keep disrupting the backfield, it should help out this secondary. Safety Kalu James will be highly active, playing both around the line of scrimmage and defending the pass.
X-FACTOR
Wide receiver Bryce Kellogg didn't see a lot of action and he's going against a secondary that's incredibly vulnerable. Kellogg has to get separation against guys like corner Alex Darr. Smith won't pass a lot, but his efficient, dink and dunk passing game might be enough to beat the Aggies. That's if Kellogg can create separation.
PLAYER MATCHUP
HB Randy Moore v. MLB McKinnley Hall
Randy Moore has done a great job of keeping this offense rolling and keeping the pressure off Jay Smith. However, McKinnley Hall could keep Moore slowed down. If that happens, Smith could be forced to throw, which is perfect against the Aggie defense. Unfortunately, it's not Jay Smith's best quality. This entire game hinges on who wins between Moore and Hall.
PREDICTION
Oregon is on fire and A&M is in a slump. Daniel Murphy played well last week, but Oregon has a top notch secondary. The Ducks can run the ball effectively, but the Aggies have proven themselves capable of slowing down a running game. It's shaping up to be a perfect storm between two .500 teams where only one can get above .500. Unfortunately for Oregon fans, the Aggies are desperate to keep their losing streak from reaching four games.
Oregon 31, Texas A&M 35