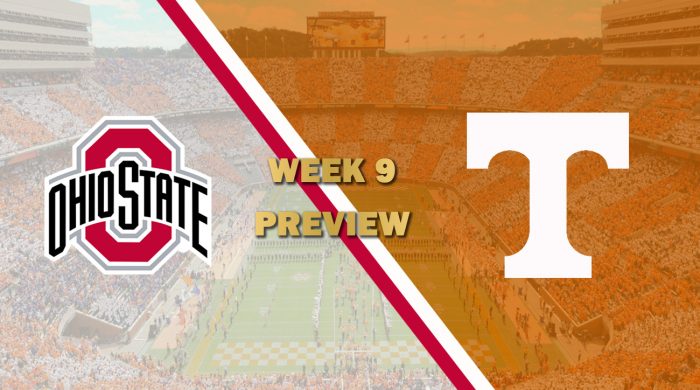 A Saturday afternoon of Halloween fun is dedicated to two teams who are eager to climb higher in their respective conferences. Tennessee can't get to the Orange Bowl, but they can lock on to a Gator Bowl berth. The Buckeyes, on the other hand, have an outside shot at the Big Ten title and a trip to the Orange Bowl. A lot of promise for two teams who have been inconsistent at best through the season. Here's why.
#5 OHIO STATE
Give this offense some credit, they dug themselves out of a hole last week. Texas A&M had the Buckeyes down as much as much as three touchdowns at what point. Then the fourth quarter happened. Quarterback DJ Moss orchestrated some incredible drives, putting up 28 points in the fourth, 21 of which went unanswered. Halfback Adric Khaan picked up over 100 yards on the ground, while Moss lit up the sky with a player of the week performance. He passed for nearly 400 yards, two touchdowns with no interceptions, and ran for 58 yards and another touchdown. The magical key for the Buckeyes? Their tight ends. They combined for almost 20 catches, and almost 150 yards receiving. Tight end Andrew Williams led the way, with nine catches for 82 yards and both of Moss' touchdowns. The Buckeyes seemingly have their identity, and will need to lean on it once again.
Issues have sprung up with the Buckeye defense lately. They spotted the Aggies three touchdowns last week, putting the offense in a difficult spot. Linebackers Kobe King and Preston Lyles Jr. combined for 13 tackles and two tackles for a loss, while defensive end Noah Mason picked up another six, thanks to defensive tackle Donnie Alexander. Still, the Buckeyes got moved off the ball far too easily and seemingly couldn't slow down the running game. It came down to corner Brandon Palacios to come up with a pick six to swing momentum. Keep in mind, that's the second time this season where the Buckeyes have needed a pick six to shift the tides in their favor. It makes many of fans nauseous, but you can't deny either, when the Buckeyes pull of the comeback, it's great entertainment.
#7 TENNESSEE
Michigan's latest victim comes with some baggage. A rocky quarterback situation led to two interceptions and wide receiver Drew Eggers looking ghostly. Wide receiver Ty Jones put on a show though, hauling in eight grabs for 110 yards. Halfback Mitchell Kennedy did his part for the Volunteers, picking up 88 yards on 16 carries for two touchdowns. Wide receiver Don Keebals was a late addition to this roster, but has proven to be a worthwhile investment. He had six catches of his own another 133 yards last week. Safe to say that the Volunteers emphasized a pass attack last week, and it makes sense with Jones and Eggers. Unfortunately, one dimensional teams don't often do well and they'll need to establish some kind of balance with Kennedy this week.
Defensively, not a bad showing. The front seven combined for 20 tackles, and two tackles for a loss. It sounds impressive, but the two tackles for a loss is telling. A lack of penetration hurts a defense, and defensive tackle DK Wagner is the only one who got any. Linebackers Caleb Tuiasosopo and Thomas O'Donnell didn't get to do a whole lot last week and need to step up this week. Safety Aaron Smith did his role, picking up ten tackles and an interception. If blitz packages don't come at a premium with Smith involved, it wouldn't be surprising. Tennessee needs to find a way into their opposition's backfield and be disruptive, otherwise, they'll spend more time on their heels than in somebody's face.
X-FACTOR
Halfback Mitchell Kennedy looked solid last week, but can he do it twice in a row? That's the key for Tennessee. A balanced attack with Kennedy involved heavily in the ground game. The Buckeyes couldn't slow Texas A&M halfback Tim Riggins last week. While Kennedy isn't as good as Riggins, Kennedy can still make plays and be a thorn in the Buckeyes' side all night. But that's only if Tennessee keeps him involved.
PLAYER MATCHUP
HB Adric Khaan v. LB Caleb Tuiasosopo
A lot of ways to go, but what's more fun than this? Khaan and Tuiasosopo duking it out all game long, a physical matchup in late October. Khaan has been explosive for the Buckeyes in all phases. Running, receiving and returns. Tuiasosopo has been silent for Tennessee, but deadly. He's a physical linebacker and plays aggressive, eager to lay a big hit. These two monsters are going to be colliding all over the field, the only question is, which one should you be afraid of more?
PREDICTION
Tennessee is at home, and that matters. The Buckeyes are coming off a game where they barely survived, had to fight back just to get back into it. The Volunteers are looking to rebound and have a solid defense. Their offense needs to come up with some kind of balance, and if they do, Tennessee could spoil Ohio State's hopes of fighting for a Big Ten title. Unfortunately for Tennessee, the Buckeyes have way too much on the line. After today, the Ohio State-Iowa game grows to epic proportions.
Ohio State 38, Tennessee 34