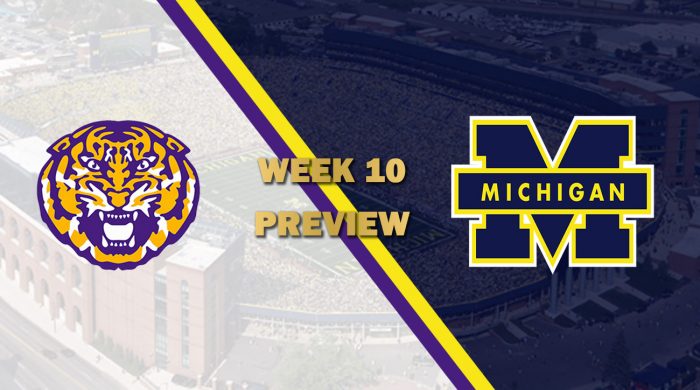 WEEK 10 PREVIEW: #11 LSU vs #2 MICHIGAN
By: HornsNation05
If you like a good David vs Goliath story, you may want to tune into this game.
LSU heads north to take on Michigan at the Big House. The Tigers are coming off an emotional loss against Hawaii, 52-42. LSU had chances to take the lead late in this game but a late INT by Ray Tatum ended the comeback. LSU will likely look to get Jared Tetonis more involved after he had a quiet week last week. Tetonis only managed four catches for 79 yards. On the other side of the ball, the defense was burned consistently all game. It will need to be a group effort to stop this powerful rushing attack of Michigan.
Michigan comes into this game after a shocking loss to Iowa 34-24. Javon Mack passed for 283 yards on 32 completions with two touchdowns. Leeroy Jenkins assisted Mack with 80 yards on the ground and 74 through the air. The Wolverine defense gave up 489 yards with 222 rushing. Nate Jones came close to double digit tackles and ended up with nine.
---
---
WHAT TO WATCH FOR
LSU Defense vs Michigan Offense
The Tiger defense was hit hard by suspensions and it really showed up last week. Backup corners struggled to contain Hawaii's passing attack. LSU will look to Easton Kujabi more to prevent any deep passes. The defense will need to create more pressure up front to stop this rushing attack.
Michigan's offense was limited to just 393 total yards last week which is well below their average of 471.2. The Wolverines will need to get back on track this week as the big matchup with Ohio State looms next week.
---
---
KEY MATCHUP
LSU WR Jared Tetonis vs Michigan's Secondary
The Tigers wideout currently leads the league in yards receiving this year with 1016 and will look to build on that against a soft Wolverine defense. If Tetonis can get behind these defensive backs, it could make for a record setting game.
---
---
QUOTABLE QUOTES
"Michigan is coming off a bitter loss and isn't going to overlook us in the slightest. LSU secondary vs. UofM passing game, that's the real battle here… If the secondary doesn't step up it'll be a long game… Mack is a serious problem for our D and has more tools than a snap-on factory… If our offense lands a couple blows early, we can pull the upset. If not, strap in for a tough night." – LSU DC, RussellMania, on tonight's matchup.
"Try to avoid, at all costs, the inevitable losing streak. We have to correct what we did poorly against Iowa, we cant come out flat like that and give up a quick lead, and we have to outmatch LSU's intensity. LSU is better than their record indicates so this game on a short week is a tall order. We are hoping to outscore these guys, and force some turnovers which has been our blueprint all year." – Michigan AD, Neversatisfied on the matchup with LSU.
---
---
PREDICTION
Both teams are hungry and are coming off a loss. The only way that LSU can beat Michigan is to play opportunistic defense. If LSU can gain a couple of stops, and their offense plays well, we could see an upset. Unfortunately, Michigan is a top team and they have proven to roll over opponents that are less than they are. LSU stays close until the 4th quarter and Michigan runs away with it.
Michigan 38, LSU 24