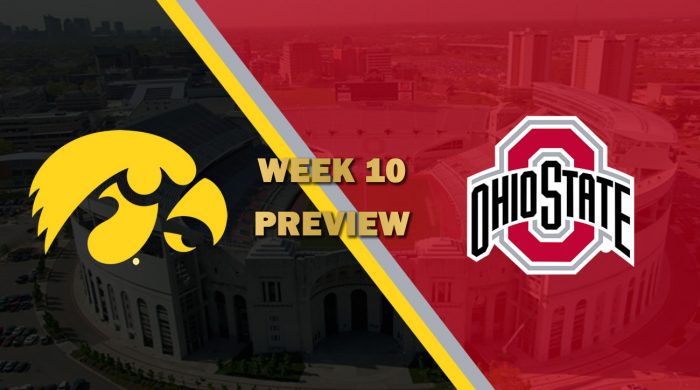 WEEK 10 PREVIEW: #2 IOWA vs #4 OHIO STATE
By: HornsNation05
In the nitecap, the Hawkeyes of Iowa head to Ohio to take on the Buckeyes.
Depending on the Michigan-LSU game, this game could give the Buckeyes or the Hawkeyes an edge on the Big 10 crown. Iowa enters tonight as one of the hottest teams with a five game winning streak. The Hawkeyes ran over Michigan last week in a 34-24 victory. Bob Smith was the star of this game with 142 rushing yards and two touchdowns.
Ohio State is currently on a two game winning streak after a close win over Tennessee last week. Adric Khaan rushed for 137 yards on 18 carries. DJ Moss contributed with 278 yards and three touchdowns.
---
---
WHAT TO WATCH FOR
Iowa defense vs Ohio State offense
As we saw last week, Iowa was able to run over Michigan's top ranked rushing defense. This week Ohio State comes in with the 4th ranked run defense. But that will not be the focus of this game. If Iowa wants success tonight, they will need to force DJ Moss to throw the ball. Moss, if you remember, threw the infamous 6-pick game a couple weeks ago. If Iowa can force pressure, it could create some mistakes from Moss.
---
---
KEY MATCHUP
Iowa MLB Jerry James vs OSU RB Adric Khaan
Jerry James will have a tall task of covering Adric Khaan. Khaan is able to rush as well as be a weapon out of the backfield. If James can cover Khaan well, it would force Moss to look elsewhere.
---
---
QUOTABLE QUOTES
"Really like our personnel matchup versus buckeyes … we will get some diff looks from them but they are still attempting to do the same thing as we are and that is to move the ball downfield … DJ Moss is on fire after his 6 int performance vs ND … since then he has 59 of 80 at 73% w 5 TDs and 0 ints … granted both games were won by 3 pts but that guy is playing at an optimal level and playing mistake-free football … their defense hasn't recorded a sack in the past two games so if we can keep Meis mobile then that will benefit us … and w Buckeyes averaging 39.2 pts a game, this one could be a real shootout … expecting a barn burning w Ohio state playing at such a high level … unfortunately we will need Ohio State's help if we wanna take B1G title … we need them to take out Michigan in order for us to grab the top spot by winning out" – Iowa AD, woodsmall, on tonight's key matchup against OSU.
"Obviously we have Michigan in mind, but making that game next week mean something starts with tonight. Our battle with Michigan, while it's a storied rivalry, doesn't have as much on the line for us without a win tonight. It's been a bit of both. Our primary focus is Iowa but make no mistake, we've got an eye on Michigan too." – OSU AD, wkxt85, on focusing on tonight's game.
---
---
PREDICTION
Iowa comes into this game red hot after winning their past five games. It will take a group effort and a perfect game plan to slow down these Hawkeyes. If Ohio State can get the stops they need on defense and allow Khaan to rush successfully, this game could be Ohio States. Iowa will need to continue to lean in on Bob Smith's ability to break tackles in order to keep Ohio State's offense off the field. This game is going to come down to the wire with Ohio State winning and setting the stage for a huge matchup next week.
Ohio State 38, Iowa 34