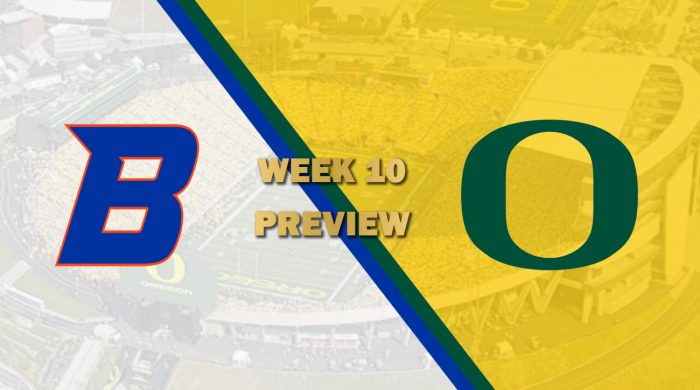 WEEK 10 PREVIEW: #12 Boise State vs #7 Oregon
By: RussellMania
Two teams right at the bottom of the Big Ten duke it out this week in a battle between the Boise State Broncos and the Oregon Ducks. Oregon has completely turned their season around, boasting three straight wins. They will be looking to separate themselves from the jumble of teams in the middle of the Big Ten. Boise is still hunting for their first win by hoping it's duck season over in Eugene. Oregon has a pretty significant advantage in nearly every statistical category tracked in the CFSL. They also happen to have an impressive winning streak going into this home game. Boise is going to have their hands full if they want to make tonight the night for an upset.
What to Watch For
Boise State Passing Game vs Oregon Secondary
Aidric knows he has to sling the ball with precision in order to get the win today. The man is extremely talented regardless of his team's record thus far. Unfortunately for him, Oregon has a nasty secondary that has kept them in the game against every single opponent this year. Augustin Hernandez and Ricky Jordan make up two solid wideouts for the Broncos. Jack Freeman and Tristan Cantu also make an impact catching the ball with good consistency. On the other side of the ball, Oregon has the trifecta of Thor Odinson, Jack Frost and Israel Cassius. Thought we were done listing players? Here come Mark Thomas and Greg Love to hit you in the jaw and make you forget about catching that mid-field slant. It will be a battle out in the secondary. One false read by Berry and we could see 6 points on Oregon's scoreboard thanks to their defense.
Key Matchup
Boise State HB Joe Friedrich vs Oregon MLB Noah Lopez
One slight weakness Oregon has shown is a below average rush defense, allowing just under 200 yards a game. Boise can attack this by running Joe Friedrich through the tackles more, in order to avoid the strong secondary on the outside. Waiting for him there will be Noah Lopez, boasting 48 tackles and 6 tackles for loss thus far. These two are very even in talent and could be back and forth all night.
Prediction
I wouldn't be surprised if Boise can come out swinging and keep things close early. Berry can get the game going with his arm and his legs, a combination that is hard to stop no matter how good your defense is. If they complete a couple of shots early and gain some confidence, this could turn out to be a great game. However, this could get ugly quick if Friedrich isn't getting the ball and Boise gets into a bad turnover habit during the first half. Oregon can capitalize on mistakes as well as any team in the CFSL. A couple batted balls, maybe a fumble – then we're talking an Oregon blowout. I would predict that the game stays close in the 1st quarter but Jay Smith starts to blow the game open and this one gets bad.
Boise State 13, Oregon 35