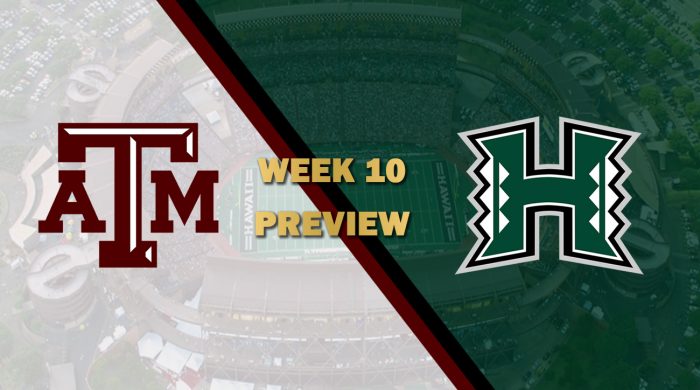 WEEK 10 PREVIEW: #9 Texas A&M vs #1 Hawaii
By: HornsNation05
In a matchup of two SEC teams, the Aggies head to Hawaii to take on the Rainbow Warriors.
Texas A&M enters this game on the heels of a blowout loss to Oregon. Daniel Murphy could not get any work down via the pass as he was limited to just 96 passing yards. Tim Riggins provided the only offense for the Aggies as he rushed for 110 yards and the only touchdown.  The wideouts for TAMU had a very poor showing as star receivers Alex A. Cook and Horace Lynch combined for only two catches and 35 yards. The offense as a whole could only manage a 25% 3rd down conversion rate with 212 total yards. Defensively, the Aggies gave up 429 yards with 271 coming by the running game of Oregon. Paul Cunningham led the team in tackles with 12.
Opposing TAMU will be Hawaii. Hawaii comes back home after lighting up LSU last week. Doug Ohle took home player of the week honors with an impressive performance against the Tigers. Ohle passed for 383 yards with four passing touchdowns. He also rushed for 114 yards and another two touchdowns. Ace McFreely lead all wideouts with 159 yards and two touchdowns. The defense was paced by DeJounte Wilson with 15 tackles and one pass defense.
WHAT TO WATCH FOR
Texas A&M offense vs Hawaii defense
For the Aggies to have a chance in this game their offense will need to keep pace with Hawaii. After a strong start to the season, Daniel Murphy has looked pretty terrible over the past couple weeks. This would be the perfect opportunity for Murphy to prove that he can still pass the ball around. The wideouts of TAMU will also need to step up after a terrible showing last week. Alex A. Cook as mainly been non-existent this season and will likely want to close the year off strong.
Hawaii's passing defense was carved up last week but their offense was still able to keep them out in front. This week they face a more balanced team in the Aggies. Tyler Matthewson and Jimmy Sutherland will need to provide some pressure to force Daniel Murphy into mistakes. If this defense can play a sound game, this should be a good win for the Warriors.
KEY MATCHUP
TAMU RB Tim Riggins vs Hawaii MLB DeJounte Wilson
Tim "Big Rig" Riggins will likely get the ball plenty of times. Riggins has rushed for 1176 yards this year with 13 touchdowns. Meeting Riggins in the middle will be DeJounte Wilson. Wilson currently has 89 tackles on the year with seven for a loss. If Wilson can stop Riggins, it could get ugly for Texas A&M.
QUOTABLE QUOTES
"We have no intention of letting up. We still have work to do here in paradise and this game has personal meaning for us. TAMUs AD and HB were here last year and we want to show them what they are missing out on this year. Additionally, Kalu James (TAMU) and Dejounte Wilson (HAW) are close personal friends and I'm sure both are keen to show the other up." – Hawaii AD, wyrmreaver, on if there is a chance of a let down after taking the SEC.
"They're scary" -Redria, TAMU WR, on Hawaii.
PREDICTION
Texas A&M faces a tall task against Hawaii. For the Aggies to have a chance in this game and a good bowl game, they will need to keep Hawaii's offense off the field. By doing that, it gives Tim Riggins and Daniel Murphy a chance to pull the upset. Unfortunately for the Aggies, Hawaii is really good. Doug Ohle looks to continue to cement his name as the best QB in the league and is expected to have a big game tonight. Hawaii rolls over the Aggies.
Hawaii 44, TAMU 24