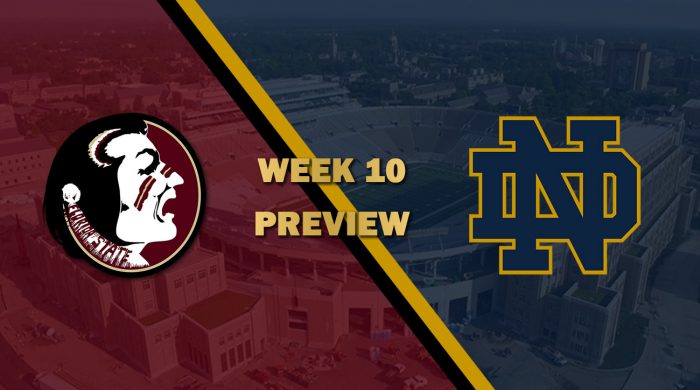 Beware the upset. After all, one team pulled off the upset last week, the other avoided one. The Florida State Seminoles pulled a fast one on Auburn, but can they do it to Notre Dame? The Fighting Irish, meanwhile, have a score that indicates it wasn't close with Boise, but they struggled early. The Seminoles are trying to make a late season push for a better bowl and Notre Dame is trying to hold on to a Rose Bowl berth. The question is, will Florida State, coming off an emotional win, be motivated to pull this one off? They need to be, and here's how it could happen.
#10 FLORIDA STATE
Halfback Michael Kovach saw his share of the work, piling up 24 carries and two more catches for 26 total touches. Combined, Kovach racked up just north of 200 yards. Rushing wise, Kovach had 189 yards and a touchdown. Kovach's success led to an easy day on third down, although Auburn's defense helped. The Seminoles converted ten of 15 third downs, a staggering 66% conversion rate. Wide receivers Trevor Golinar, DaeShawn Jackson, and tight end Rick Jensen cashed in on Kovach's success too. Golinar had six catches for 96 yards and a touchdown, while Jackson had five catches for 97 yards. It was Jensen, though, who had the big day. Eight catches for 58 yards and two touchdowns plays a pretty big role in a win. Tonight, it's much of the same. As Kovach goes, so goes the 'Noles.
Defensively, not bad either. Defensive end Gerry Gator had five tackles, two for a loss and two sacks as well as forcing a fumble. Defensive tackle Henrike Johansen also picked up two sacks with two tackles for a loss and two tackles. Linebacker Paxton Murray picked up a sack of his own with two tackles, one for a loss. The star, though, was Tony Steel, who led the way with seven tackles. All-around a solid defensive performance where Auburn quarterback Blake Moon looked frustrated for a better part of the game despite having over 300 passing yards. Maintaining this performance is another matter, but tonight, the quarterback can be frustrated, if the Irish opt to pass.
#5 NOTRE DAME
Opting to pass is something Notre Dame doesn't always do. The Irish have tried to get all their weapons involved, including quarterback Ty White's mobility. Overall, Ty White played solid last week, although two interceptions don't help you. Still, 238 passing yards with 66 rushing yards, which came only on nine carries, is a solid feat. White also tossed a touchdown pass and had two rushing touchdowns. Couple that with halfback Jacob Philhart's best performance of the season and you can see why the Irish put up 31 points. Philhart had 18 carries for 137 yards and a touchdown. Wide receiver Brody Bodine saw little action though, but had the best play for Notre Dame. One catch went for 53 yards and a touchdown. If Bodine isn't leaned on more tonight, it's a travesty. Here's the thing too, there were moments, namely from a passing standpoint, that Notre Dame seemed frustrated, especially on third down. Whatever the reason, it needs to be sorted out fast.
Not a lot of trouble for the Irish defensively. They held Boise State to 250 total yards of offense, although they gave up mild success to the running game for a team that has struggled. The bright side, though, is that linebacker Bobby Slovak played his best game of the season. He tallied eight tackles, three for a loss and a sack. Defensive tackle Tyson Ali wasn't quiet either, racking up seven tackles, four of which were for a loss, and two sacks. Not to mention that fumble Ali forced. Even better, the Irish kept Boise from converting on third down, preventing them from converting any of their 14 third downs. Third down defense is going to be the key tonight, giving the efficiency Florida State experienced last week.
X-FACTOR
The key to Florida State is halfback Michael Kovach, as it has been for most of the season. If Kovach can get rolling, the Irish could be on their heels. The game really hinges on the fate of Kovach's production. If he can get active and dominate, the Irish are in trouble, but if he gets shut down…
PLAYER MATCHUP
CB Brum James v. WR Brody Bodine
So, we know the Irish want Bodine active, but Florida State corner Brum James stands in the way. James has had some battles this season, going against famous receivers such as Jared Tetonis, Draeton Fasone, Michigan's crew. He's played well, but Bodine last week made a massive play. Outside of that play, though, Bodine was quiet. It'll be interesting to see if Bodine can find more success tonight.
PREDICTION
Florida State takes to the road once again, where they beat Auburn on the road last week. It was a massive upset, but can Florida State do it two weeks in a row? That's a tall order for any team, and it wouldn't be surprising if the Seminoles came out sluggish. In that scenario, Ty White can take advantage and pull an early lead where Michael Kovach becomes a non-factor.If the Irish can penetrate the offense and play in Florida State's backfield, it's a long night for the Seminoles.
Florida State 27, Notre Dame 38