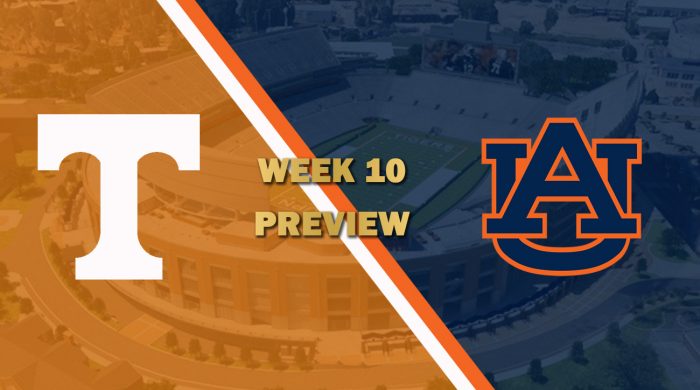 Important game for both teams. Auburn needs to hang on to their Gator Bowl chances, Tennessee is vying for a spot. Even more interesting is the recent shared history between the Volunteers and Tigers. Both teams lost by three points last week at home. The difference? Auburn got beat by a team ranked below them, Tennessee by a team ranked ahead. Still, tonight's important for both teams, here's what they can do to get a win.
#8 TENNESSEE
Tennessee did all they could, offensively, including outscoring Ohio State in the second quarter. The Volunteers had a solid first half. Unfortunately, they couldn't replicate it in the second half. Still, the receivers for the Volunteers did all they could. Wide receiver Ty Jones had seven catches for 87 yards and two touchdowns. Jones' partner, receiver Drew Eggers had nine catches for 110 yards and a touchdown. Tight end Caleb Douglas added to that with seven catches for 106 yards. All in all, a solid receiving and passing game by the Volunteers. It was the drops which hurt the most. Douglas had several, and wide receiver Don Keebals had a couple as well. In total, it seriously hurt the Volunteers. If one of those drops are turned into a catch, especially on third down, the outcome could have been different.
Defensively saw similar problems. They went toe-to-toe with the Buckeyes, held them to a 50% conversion rate on third down, and only nine points in the second and third quarters combined. Linebacker Caleb Tuiasosopo had seven tackles, safety Josh Bradley had nine. Defensive linemen Carl Smedsrud, James Mitchell, and DK Wagner combined for 11 tackles, three tackles for a loss and a sack. Solid, but an issue. The lack of penetration failed to keep Buckeye running back Adric Khaan quiet and allowed quarterback DJ Moss too much time and comfort. They gave up 278 passing yards to Moss and 137 rushing yards to Khaan. This defense needs to get cleaned up and fast.
#6 AUBURN
Well, the Tigers put up 35 points, and quarterback Blake Moon had 324 passing yards with two touchdowns and ran for two more with another 61 yards on the ground. The Auburn receivers played well, Adam Smith had over 100 receiving yards on six catches. Devonta Duncan had five catches for 68 yards and a touchdown. Tight end Chris Bullard had four catches 47 yards and Moon's other touchdown. There's two areas of concern though. Halfback Brandon Davis had 10 catches, utilized as a receiver, but only two carries. That kept Moon under pressure and airborne, illustrated by his 48 pass attempts. A running game makes Moon comfortable and keeps the pressure off. The other issue? Third downs. The Auburn offense converted on five of their 13 third downs. A conversion rate of 38% in a three point game becomes increasingly difficult.
Similarly, giving up 189 yards rushing doesn't help. Neither does giving up over 3oo yards passing, and Tennessee has much better wide receivers. Linebacker Tony Bryant played great, but needs to build on that performance. He had 15 tackles, one of which was for a loss. That's the one area Auburn needs to fix, plays in the opponent's backfield. They saw four tackles for a loss last week, two of which came on blitzes out of the secondary. Corner Stratton Mowry had a tackle for a loss and safety Eric LeClear had the other. The defensive line, namely ends DeAndre Carter and Jack Ball, and defensive tackle Brett Peters have to step up. They combined for six tackles with one for a loss. They need to be more active tonight, Auburn is counting on them.
X-FACTOR
Auburn running back Brandon Davis didn't see a lot of action, and Ohio State showed last week that a balanced approach can beat the Volunteers. If Davis can get rolling, the offense can build on that success. It opens up play action shots, read option and keeps Moon off the dirt. It's Davis who needs to get rolling for Auburn to win.
PLAYER MATCHUP
WR Ty Jones v. WR Devonta Duncan
Two wide receivers, both whom have made plays for their teams. Tennessee receiver Ty Jones is top three in the league, with nine touchdown receptions. Duncan was an All-American last season, and one of the first receivers to have 1,000 receiving yards on the career. This season though, Duncan's production has seemingly gone lower and Jones has exploded on the scene. The two of them going back and forth makes for a great show, if Duncan gets mixed in.
PREDICTION
Look, both teams lost by three last week and they both are fighting for the Gator Bowl. Tennessee is desperate and on the road, not that home-field advantage helped Auburn last week. Moon hasn't looked like Moon recently, but tonight, he needs to explode and he should. A balanced attack spells doom for the Volunteers, especially if Auburn can convert third downs. Still, the Volunteers won't make it easy, leading to a game that likely won't have a clear outcome until the very final seconds. Still, gotta give it to Auburn, they have a better track record in close games late.
Tennessee 35, Auburn 38