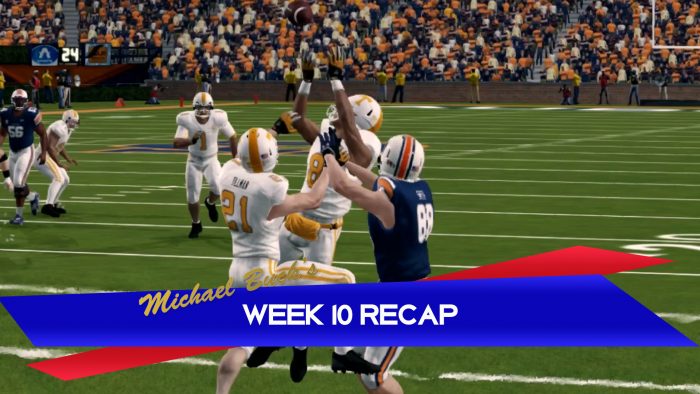 WEEK 10 RECAP
By: HornsNation05
The end of the season is near and race for the Orange Bowl just got tighter in the Big 10. Both Michigan and Ohio State won last week and it sets the stage for a huge Week 11 matchup. Blake Moon struggled at the end of the game again and Hawaii continued to roll. Let's look back at the games in Week 10.
MICHIGAN 56 – LSU 39
Michigan bounced back in a big way offensively, occurring over 600 yards in this game. Javon Mack threw for 419 yards and five touchdowns. He also contributed 89 yards rushing with two more touchdowns. Leeroy Jenkins sealed the game late with some big runs and added 126 yards rushing. Derek McFadden repeatedly beat the defense for 215 yards and three touchdowns. On defense, the Wolverines struggled against the pass, allowing 473 yards in the air. Matt Garvey contributed 15 tackles for Michigan. The Wolverines head to Buckeye nation to take on Ohio State next week.
LSU gave it all that they could but fell short in the end. Big plays at the beginning of the game allowed Michigan to play keep away the rest of the game. Ray Tatum threw a career high 69 passes for 473 yards and five touchdowns. He also threw two interceptions. Unknown TE Brandon Grant caught 14 passes for 172 yards and three touchdowns. Aeneas King led the defense with nine tackles with four for a loss. LSU will head to College Station for their final game against Texas A&M.
GAME BALL: Michigan QB Javon Mack, 17-25 419 yards passing and 89 yards rushing. Seven total touchdowns.
---
---
OHIO STATE 49 – IOWA 31
Billed as one of the top games coming into this week, it looked close until the 4th quarter. Ohio State ran away with the game by scoring 21 unanswered points in the 4th to beat Iowa. DJ Moss threw for 388 yards and passed for a touchdown. He also added another touchdown on the ground. Adric Khaan contributed 83 yards on the ground and four touchdowns. Overall Ohio State put up 512 points on offense. The defense did a standout job limiting Iowa's rushing attack to just 233 yards rushing. Kobe King led the way with seven tackles. Ohio State heads home to take on their bitter rivals, Michigan, next week.
Iowa played tough but fell short in the 4th quarter. Justin Meis rushed for four touchdowns but threw two interceptions. Bob Smith only managed 111 yards on the ground. Iowa could not get anything going on third down, completing only 30 percent of their conversions. Bob Sanders secured 12 tackles on defense with two for a loss. Iowa falls into a third place tie with Oregon at 6-4. The Hawkeyes take on Auburn at home next week.
GAME BALL: OSU HB Adric Khaan, 21 carries for 83 yards and four touchdowns.
---
---
OREGON 35 – BOISE STATE 33
Boise State came so close to an upset as Oregon was able to convert a 4th down late to keep the ball. The Oregon offense put up 329 yards with 242 of those on the ground. Jay Smith was a perfect 10 out of 10 for 87 yards and two total touchdowns. Randy Moore weaved his way through the Bronco defense for 175 yards and a touchdown. Israel Cassius provided the fireworks on defense with eight tackles, three for a loss and an interception. Oregon hung on despite only converting one third down. Oregon finishes their season against Notre Dame next week.
The Broncos looked like a completely different team in this loss. The offense was able to put up 450 yards with 285 on the ground. Joe Friedrich rushed for 129 yards and Aidric Berry added another 93 on the ground. On defense, Vernal Bloodshine led the defense with five tackles, three for a loss and two sacks. Boise hopes to get their first win next week against Hawaii.
GAME BALL: Oregon HB Randy Moore, 27 carries for 175 yards and one touchdown.
---
---
HAWAII 41 – TEXAS A&M 31
Hawaii looked sluggish early but scored 41 enroute to beating the Aggies. Doug Ohle continues his case as the best quarterback in the CFSL with another four touchdown performance. Ron Dayne Jr. ran over the Aggies with 211 on the ground and one touchdown. Both DeJounte Wilson and Trevor Martell had double digit tackles and Deontre Spires added an interception. Hawaii ends the regular season against a hungry Boise State next week.
Texas A&M wanted to pull the upset but came up short in this one. Daniel Murphy passed for 275 yards and threw two interceptions. Tim Riggins rushed for 180 yards and three touchdowns and also caught 13 passes for 117 yards. Alex A. Cook was a no show again with only four receptions and nine yards. On defense, Paul Cunningham added 13 tackles with five for a loss. TAMU heads home next week to face LSU.
GAME BALL: Hawaii HB Ron Dayne Jr. 27 carries for 211 yards and one touchdown.
---
---
NOTRE DAME 41 – FLORIDA STATE 20
Notre Dame won their second game in a row, this time over FSU 41-20. Jacob Philihard carried the ball 20 times for 140 yards and three touchdowns. Ty White was an efficient 22 of 30 for 193 yards and one touchdown passing. Tyson Ali continued to make his case for DPOY with six tackles, three for a loss and one sack. Notre Dame finished off their season next week against redhot Oregon.
Florida State decided to pass the ball in this game and struggled to find any momentum. Michael Kovach rushed only 15 times for 57 yards and Trevor Golinar secured a touchdown through the air. Tony Steel and Paxton Murray combined for 15 tackles but could not slow down this offense. Florida State hopes to end their year off with a win, by taking on Tennessee at home.
GAME BALL: ND HB Jacob Philihart, 20 carries for 140 yards and three touchdowns.
---
---
TENNESSEE 37 – AUBURN 34
Blake Moon threw two interceptions including another costly one in OT, as Auburn lost to Tennessee 37-34. Mitchell Kennedy rushed for 106 yards and two touchdowns as the Vols were able to rack up 445 yards of total offense. Caleb Douglas had a monster day with 16 catches and 146 yards receiving. He also added one touchdown. Tyler Ruano picked off Moon twice as the defense limited Auburn to just 50% on 3rd downs. Tennessee will look to finished off the year above .5oo when they take on FSU next week.
Auburn had their chances but fell to Tennessee in OT. Blake Moon struggled late again and threw two interceptions. Moon was the entire offense this week as Brandon Davis Jr. struggled to find any running lanes. Eric LeClear picked off another pass as well as well as having two pass deflections. The Auburn Tigers head to Iowa to take on the Hawkeyes next week.
GAME BALL: Tenn HB Mitchell Kennedy, 25 carries for 106 yards and two touchdowns.