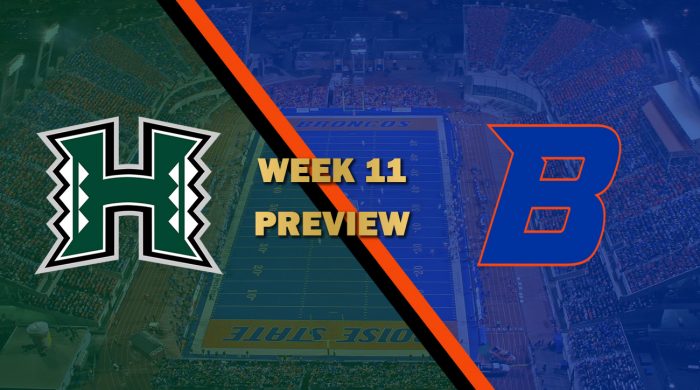 WEEK 11 PREVIEW: #1 Hawaii vs #12 Boise State
By: HornsNation05
The final week is upon us as the top ranked Hawaii heads north to the frozen tundra of Boise State
Hawaii is coming off a complete game against Texas A&M. Doug Ohle got going early with four total touchdowns and Ron Dayne Jr. ran all over the helpless Aggie defense. DeJounte Wilson put his name in the ring for DPOY with 12 tackles and two for a loss. The Rainbow Warriors will need to play a complete game against an emotional Boise State.
The Broncos come in 0-10. A horrible season so far but they can change that around with an upset tonight. Last week the Broncos were a 4th down stop away from gaining the ball back and completing the comeback. Unfortunately the cards were not in place as they fell to Oregon 35-33. Offensively Boise State struggled a bit but on defense they were able to hold Oregon to just 329 total yards. If the Broncos are to have a chance in this game, it will take a extraordinary effort from Aidric Berry.
---
---
WHAT TO WATCH FOR
Hawaii Offense vs Boise Defense
Hawaii boasts arguably the best offense in the league. Averaging 41.6 points per game and 464 total yards ranks near the top of the league. Looking to stop this high powered offense will be the resurgent Boise State defense. Last week Boise was able to limit Oregon's offense to just 1-6 third down conversions. If Boise State can come out with a perfect defensive gameplan, the Broncos have a good shot in this game.
---
---
MATCHUP TO WATCH
Hawaii RB Ron Dayne Jr. vs Boise State MLB Tylar Jones Drew
Last week Dayne ran all over the Aggies to a stat line of 27 carries for 211 yards. This week he could have similar numbers but it will be up to Tylar Jones Drew to prevent that. Jones Drew currently has 80 tackles with 11 for a loss and two sacks. This should be a very interesting matchup to watch.
---
---
QUOTABLE QUOTES
"Our Team has a clear end of season goal. We need two wins to achieve our goal. Right now this game is the only thing that matters, if we don't prepare how we have all season long we could ruin all that we've accomplished so far." -Hawaii AD on preparing for this game.
---
---
PREDICTION
The storyline is setup for this game. Boise is in their last game as a member of the CFSL and they have not won a game yet this season. Hawaii is the top ranked team and has looked impressive over the past couple weeks with their all-star player in Doug Ohle. Does Boise State stand a chance in this game? Absolutely, but with having to bring in consultants, you have no idea to expect from Boise. I think this game remains close but Hawaii pulls away in the second half.
Hawaii 41 – Boise State 28