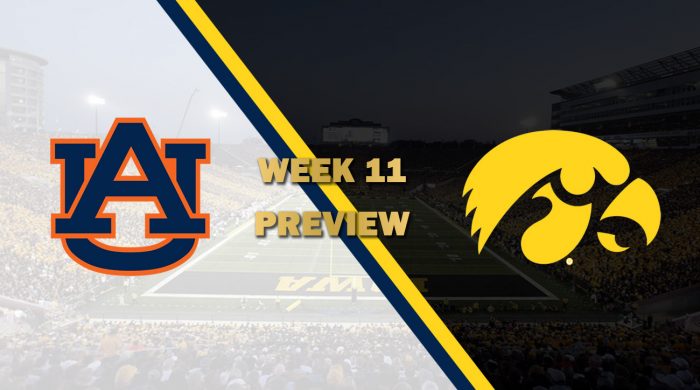 WEEK 11 PREVIEW: #7 Auburn vs #4 Iowa
By: HornsNation05
In a matchup of two power teams, Auburn travels to the land of the corn to take on the Hawkeyes.
Auburn walks into this game after a disappointing loss last week against Tennessee, 37-34. Blake Moon threw a game ending interception in OT after gaining almost 400 yards of total offense himself. Brandon Davis Jr. could only gain 67 yards on the ground as this offense, yet again, was forced to rely on Moons ability. Eric LeClear was able to secure another interception to go with five tackles. Auburn will need their playmakers on offense not named Moon, to step up and help this offense flow.
For Iowa, they come off a disappointing loss. Justin Meis scored four touchdowns on the ground but two costly picks allowed Ohio State to run away last week. Bob Smith ran for 111 yards but it was not enough as the Hawkeye defense could not stop the high powered Buckeyes. Iowa will need to run the ball successfully early and force Moon into some bad decisions.
---
---
WHAT TO WATCH FOR
Auburn Defense vs Iowa Offense
Iowa does not try to hide what they do on offense, they run the ball with their lead bellcow in Smith. Auburn does not want to fall behind to a rushing offense like Iowa, especially since Blake Moon has struggled lately late in games. If Iowa can get rolling early, Auburn will need to once again rely on only Blake Moon.
---
---
KEY MATCHUP
Iowa QB Justin Meis vs Auburn MLB Tony Bryant
Justin Meis has proven that he can win games with his legs and Iowa will need him to continue to move the chains. Auburn will likely need an impressive performance from Tony Bryant to make the correct reads and stop this rushing attack. If Auburn can force Meis to throw 20 passes, they have a very good chance to score the upset.
---
---
QUOTABLE QUOTES
"The key is to shut down the RPO … auburn has been extremely successful within their system and Moon is captain clutch vs us … both games played last yr vs Auburn were won on the legs of Moon on their last possession of each game … again we need to control the ball and the clock, play mistake free football and minimize their successes on offense … we can definitely move the ball against their defense so it will be up to our defense to win this game … their O vs our D will determine the final outcome here" – Iowa AD on game planning against Blake Moon.
---
---
PREDICTION
Auburn faces a tough task to stop Iowa and this rushing attack. Iowa will need to control the line of scrimmage and the time of possession to keep Moon off the field. Auburn will need players not named Moon to step up on offense. Brandon Davis Jr. will need to find holes early to help ease the pressure on his QB. Unfortueately Iowa has looked great at the end of the season while Auburn has struggled. Look for Justin Meis and Bob Smith to make quick work of these Tigers.
Iowa 38 – Auburn 28