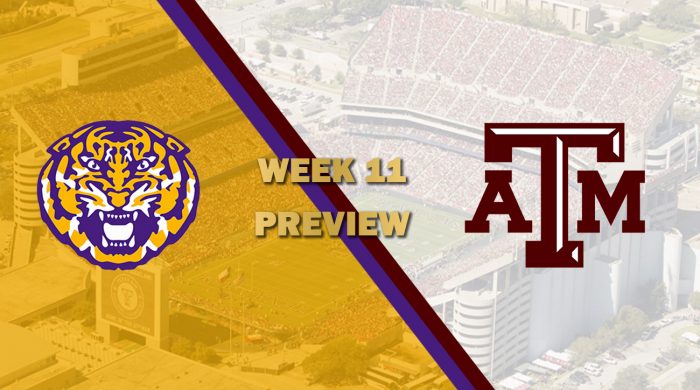 WEEK 11 PREVIEW: #11 LSU vs #9 TAMU
By: HornsNation05
Both teams find themselves in a rut, each losing the past five games. LSU fell to Michigan last week and Texas A&M lost to Hawaii.
LSU comes into this game at 2-8 and a lock for the Sun Bowl. Ray Tatum threw for 473 yards and five touchdowns with Brandon Grant being his favorite target. LSU found themselves in a hole early and could not play catch up against a powerful Michigan offense. On defense, the Tigers gave up 630 total yards with 419 via the pass. LSU will need to step up against the pass defense in order to even have a shot in this game.
Texas A&M comes on the heels of a loss against Hawaii 41-31. Tim Riggins was the story with 180 yards rushing and three touchdowns. The defense of the Aggies was able to hold Hawaii to just three points in the first quarter but fell behind 20-10 at the half. For the Aggies to win this game they will need to attack the LSU defense via the pass as previous teams have been able to exploit the Tiger secondary.
---
---
WHAT TO WATCH FOR
TAMU Offense vs LSU Defense
LSU has a habit of making quarterbacks OPOTW the past couple weeks. Texas A&M WR Alex A. Cook has not had a good year but this would be the game to break out in. LSU will need to play sound coverages and hope to create some turnovers to stay in this game.
---
---
KEY MATCHUP
LSU WR Jared Tetonis vs TAMU CB Scott Davis
Scott Davis will have a tall order trying to cover WR Jared Tetonis. Tetonis leads the league in all the main receiving categories. If Davis can cover Tetonis well, it could force Ray Tatum to find trust in his other targets.
---
---
QUOTABLE QUOTES
"LSU is a team that has dealt with a lot of adversity recently. Despite all that, they have still managed to go out and play some great football. I cannot wait to see how they finish out their last two games before they disappear from the league." -TAMU WR Horace Lynch.
---
---
PREDICTION
The success of either team tonight will depend on defense. LSU can pass the ball with anyone and Tim Riggins is a "Big Rig." The team that can force a couple stops could win this game. I see LSU pulling away in the 4th and winning.
LSU 41 – TAMU 31