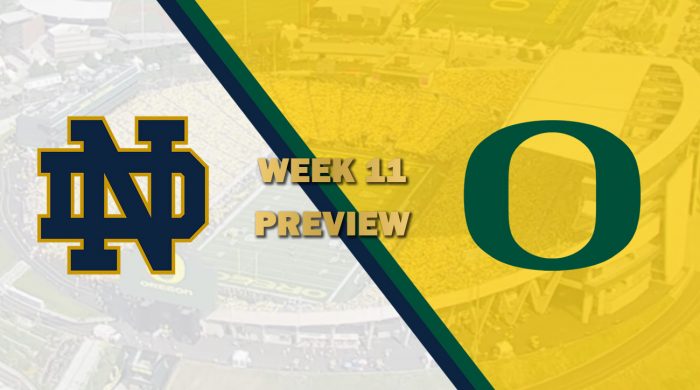 WEEK 11 PREVIEW: #5 Notre Dame vs #6 Oregon
By: RussellMania
With a Rose Bowl berth still to be decided, two Big Ten foes clash tonight when Notre Dame plays host to the Oregon Ducks. There are some striking similarities to be drawn from both teams. Each side comes into the season finale with a strong six and four record on the year.  Both sides boast solid defense anchoring their position in the polls. The two teams also have very similar yardage numbers on offense, albeit only 20 yards per game apart in passing and rushing. You can't even say that one team is hot since both teams are coming off winning streaks against poor opponents. Oregon does being to separate itself when you look at their ability to pound the ball on the ground.. All in all, be prepared for a riveting game of grind it out football with a dash of highlight plays.
What to Watch For
Oregon Defense vs Notre Dame Defense
This game will be decided by the turnover battle without question. Oregon has a disadvantage in this category due to Jay Smith's one to one TD to INT ratio and the occasional fumble on a scramble. Notre Dame also just so happens to have a set of stars in their secondary. Antjuan Curry, Tyler Smith, Michael Jerome Pluth, Tyrell Solo, Trey Elijah. I can't tell you who, but one of those five will pull down an interception tonight. My money is on Michael getting his fifth pick of the year. Combine this strong secondary with the Ali-Razorback combo at the line and we have team you do not want to make a mistake against. However, lets not forget the defense that Oregon has been putting out there recently. They are playing some great ball during this win streak and Jack Frost has been on another level. Both of their Corners, Odinson and Cassius, have been swatting and grabbing balls at a high clip too.
Key Matchup
Oregon RB Randy Moore vs Notre Dame DT Tyson Ali
In the tight win against Boise State, Oregon running back Randy Moore exploded for 175 yards on 27 carries and a touchdown. Boise State's run defense is no joke, and this performance should put opponents on notice. Notre Dame will have to count on their playmakers on defense to step up – and boy do they have one of the best playmakers in the nation. Top DT Tyson Ali is ready to smash through the Duck's O-line and stop Moore before he touches the line of scrimmage. His 21 TFL's are number one in the nation by a wide margin. These two could run into each other a lot tonight, so keep an eye down in the trenches if you want to see some action.
Prediction
I would like to call this game Game of the Week 1B. Both teams are hot coming in and know what they are playing for. If either team can limit their turnovers and score two drives in a row at some point in the game, they can come home with the victory. After looking through the tape, that team will be Notre Dame tonight. Ty White is no joke at QB and can work in tandem with Jacob Philhart to wear down the Oregon D on long, multiple first down drives. Don't expect them to walk all over the Ducks either. Oregon will keep it close with their balanced attack. In the end, I don't see this being decided by more than a touchdown.
Oregon 24, Notre Dame 30