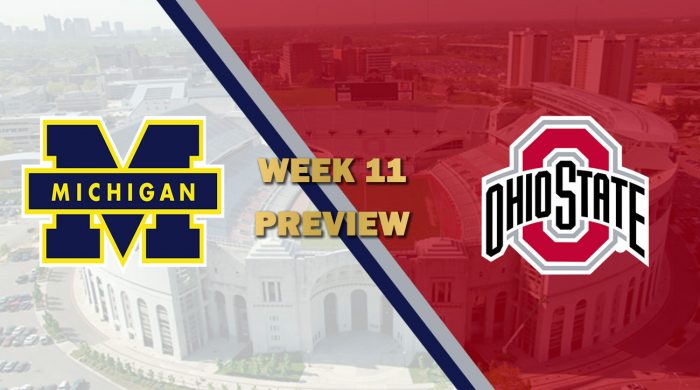 THE GAME
It's been one of the biggest stories throughout all of college football and one of the most storied rivalries. Ohio State and Michigan, one of the most brutally hostile rivalries. From Woody Hayes to "That Team Up North" to Bo Shembechler and the Ten Year War. Like many of the games from the 1970s between Michigan and Ohio State, there's a lot riding on this one. Win and you're not only crowned a Big Ten champion, but get a trip to the Orange Bowl. An Orange Bowl berth for either team gives them the opportunity to make their case and stake their claim at being crowned National Champions. Lose? Well, neither team is thinking about that alternative.
THE PRIDE
Set aside all the rewards though. Big Ten champs, Orange Bowl berth, National Champions; it all pales in comparison to what's really on the line. Pride. It's the heart and soul of this rivalry. The "success" of each teams season is irrelevant without winning The Game. Sure, all the awards are awesome to hold over the other team, but they don't mean nearly as much without this win. That's how deep the hatred involved between the teams runs. The season is a wash without a win this week for either team.
THE WAIT
The Game carries weight on pride alone, but now, the entirety of the CFSL looks on with bated breath. Week 11 is not only the end of the regular season, but the long awaited matchup between these two teams. Shots volleyed between both schools all season, poking at each other's performances, labels, nicknames, and titles. Insults cast at each other on a school level, game level, player level, and even among the coaching staff. The "skirmishes" that the entirety of the league has seen in chat, boils over this week, finally coming to a head. It's winner take all, and there's only way out.
#2 MICHIGAN
For the majority of the season, the Wolverines have been the top dog, hanging onto their number one spot in the league. Ever since the loss to Iowa, they've been the number two team, even if the league doesn't see them that way. They've battered LSU, abused Florida State, kicked Notre Dame off the throne, and so on. Only Auburn and Iowa have been able to bring down the Wolverines. Still, this team has been built in a way to confound teams offensively. Defensively, they've answered the call, making plays left and right. Let's look at both.
OFFENSE
Run the ball. That's been the mantra for the majority of the season, then LSU happened. Up until last week, the read option between quarterback Javon Mack and halfback Leeroy Jenkins have been heavily leaned on. Mack's 125 carries for 1035 yards with 14 touchdowns have been the major stat line. Jenkins has been a benefactor of the success with over 1,000 rushing yards of his own. It's Javon Mack, though, who's been the leader of the offense. His success is often the determining factor for games. That said, things changed for the Wolverines last week. It wasn't Mack's legs, but his arm that delivered. He recorded 419 passing yards with five touchdowns as Mack shredded the crippled LSU secondary. The week before they journey to Columbus, it's clear that Michigan did more than just beat LSU, but put doubts in the mind of the Buckeye coaching staff regarding a defensive gameplan.
DEFENSE
Speaking of defensive gameplans, Michigan has definitely been creative. A few exotic blitzes, some different pressures, and this secondary has made plays. The key, though, is middle linebacker Nate "The Judge" Jones. Teams have schemed for Jones by attacking the perimeter, avoiding him entirely. Yet, somehow, Jones finds ways of continuing to make plays. His hard-hitting style has led to a large number of turnovers. Two forced fumbles, but seven pass deflections, a couple of which were batted up and intercepted. He's made plays in the backfield, 12 tackles for a loss, two sacks. He's the captain of the defense, but don't sleep on guys like corners Dee Parker, Buchanan Simons, or Matt Garvey. Garvey, by the way, had 15 tackles with two tackles for a loss last week. The secondary has made all kinds of plays, and these three have been the major heralds throughout the season.
WOLVERINE KEYS TO VICTORY
Michigan has all kinds of talent in all levels, meaning they have the tools to win in Columbus. Here's their keys to victory:
-Know Thy Identity.
Javon Mack had a great passing game last week, but Ohio State has a better secondary than LSU, and have made a lot of plays themselves. Mack's more comfortable in the running game and adding the run-pass option on top of it. Let him do what he does best and challenge Ohio State linebacker Kobe King to make the stops.
-Make Moss Move.
Look, quarterback DJ Moss has been pretty solid all season, but that's been when he's had time. For the majority of the season, he's had a clean pocket and hasn't had a lot of pressure to deal with. If Michigan can move him off his spot, he could make a mistake or two. That should be all the Wolverines need to stop the Buckeyes.
#3 OHIO STATE
It's been an up and down season for Ohio State. A decent start for the Buckeyes turned into a midseason stumble. The onside kick, Hawaii thrashing the Buckeyes, the six interception humiliation to Notre Dame. After that game, the league wrote the Buckeyes off, considering them down and out with no shot at the top. Then the Buckeyes escaped Texas A&M, held on to a win over the Volunteers, and beat the hot Hawkeyes last week. Ohio State has come away with an upset once already this season, sneaking past Auburn when they were the number one team. The question is, can Ohio State do it again? Let's see what's carried them this far.
OFFENSE
Quarterback DJ Moss and running back Adric Khaan have been the stars for the offense. The tandem between them, air and ground, has been the key factor for Ohio State the last few weeks. Khaan's been putting up some solid yardage, even though he got held to under 100 rushing yards last week, he still picked up four touchdowns on the ground.  DJ Moss, when the running game has struggled, has picked up the slack. Last week he passed for over 350 yards with a touchdown. Ohio State couldn't be stopped on third down last week, converting 69% of their third downs. The balance has been the key, making for some easy third downs to convert and defenses have struggled to shut down both dimensions.
DEFENSE
Speaking of defenses, Ohio State's has been decent, but not great. After all, they still gave up over 200 rushing yards last week. Buckeye linebacker Kobe King looked sluggish and soft, shying away from contact. He had only seven tackles, none of which were in the backfield, and no sacks either. It was the most conservative King had looked all season, but fellow linebacker Noah Mason, defensive tackle Donnie Alexander, and safety Cam'Ron Lawson picked up the slack. Alexander had five tackles, one for a loss, and a sack, the exact same as Lawson, while Mason added another six tackles. Tonight, King needs to come up big, he can't afford another showing like last week. The Buckeyes can't either.
BUCKEYE KEYS TO VICTORY
Ohio State's offense has been dynamic and fluid, showing the ability to win through a variety of means. Defensively, they know how to make plays in the big moments, here's what they can do to win.
-Walk The Line.
Balance is difficult in many facets of life, but Ohio State seems to be able to find balance offensively, leaning on both Khaan and Moss. Tonight is no different. If Ohio State can maintain their balance offensively, it should keep Michigan guessing defensively and keep them confused. As long as Khaan or Moss don't turn the ball over, it prevents big defensive plays.
-Aggressive Contain.
The defense has made plays in big moments frequently for the Buckeyes, but this is their biggest test yet. Keep Mack in the pocket and uncomfortable, that's going to be the biggest goal. If King can make plays in the backfield and the rest of the front seven can keep the contain, Mack will be forced to stand and make throws. He can do it, but if Ohio State plays an aggressive contain, it could spell trouble.
KEY TO THE GAME
Third downs. That's the difference maker between Ohio State and Michigan. They're right beside each other in that department, on both sides of the ball. While Ohio State has been worse on both sides of the ball defensively, it hasn't been by much. 2% is all that separates Ohio State and Michigan offensively, defensively it's 1%. Whoever wins the third down battle, on either side, will tip the scales in that team's favor.
X-FACTOR
Ohio State middle linebacker Kobe King looked sheepish last week, he can't tonight. The Buckeye defense needs King to make his presence known throughout the game as an enforcer in both run and pass. If King is quiet, the Buckeyes just don't have enough help defensively to slow the Wolverines down on offense, and that's going to be a huge factor in this outcome.
PLAYER MATCHUP
MLB Nate "The Judge" Jones v. HB Adric Khaan
This matchup looks awesome on paper. Adric Khaan has been dynamic for the Buckeyes, both in the running and passing game. Khaan's a downhill physical runner, and has made major plays before. He won the battle last week against Iowa linebacker Jerry James, but Nate Jones is a different animal. Jones is aggressive, physical, and has no fear. He's going to meet Khaan at the point of attack, and whoever wins that battle sets the tone for the series, drive, and respective unit.
SUMMARY
No prediction for this one, it's just far too difficult to predict. Both teams are fighting for all the marbles, the Big Ten crown, an Orange Bowl berth, bragging rights, and pride. There's so much on the line, so many great players in this one. Moss verse Mack, Khaan verse Jones, King verse Mack and Jenkins. This game is coming down to the wire, and feels bigger than even a playoff game. It's "The Game" for a reason. They don't get much bigger than this, and tonight, it's the biggest we've seen all season long. Buckle up folks, it's going to be one heck of a ride, all the way down to the final seconds.