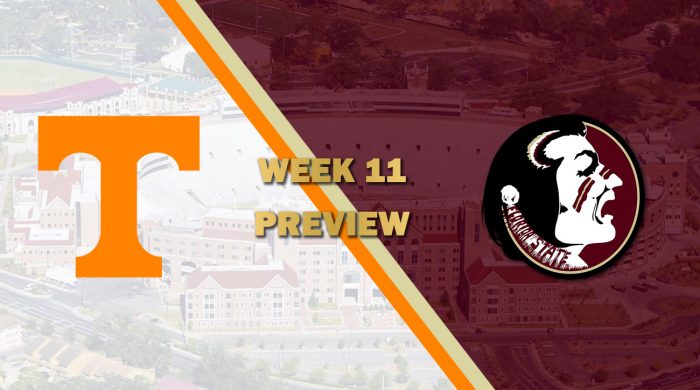 Look, this game is a warm-up to the title fight. It's the opening band for the one you really paid to see. You know it, I know it. You still don't want to miss this game, though. The Volunteers are locked into a Gator Bowl berth with Auburn. Auburn won, and so Tennessee wants momentum going in too. Florida State wants to bounce back from their 21 point thrashing at Notre Dame. It may be the opener, but it's bound to be exciting. Let's break it down.
#7 TENNESSEE
Survival of the fittest is the law of nature, and for Tennessee, it was survival of the turnovers. Two interceptions hurt, but a conversion rate of 57% doesn't. Wide receiver Ty Jones helped with that by putting up big numbers, seven catches for 87 yards and two touchdowns. The real star, though, was tight end Caleb Douglas. The man had a field day, 16 catches, 146 yards, and a touchdown. The man put on a receiving clinic and was a big part in the high conversion rate. The Volunteers even had their running game going, which picked up over 100 yards and two touchdowns as well. It was their best offensive performance, one they hope to build on.
Defensively, there's a great feeling of confidence. The Volunteers forced Auburn quarterback Blake Moon to toss two interceptions. Corner Tyler Ruano was responsible for both of them, with the second one coming at the biggest moment, overtime. By the way, the front six looked great with linebacker Caleb Tuiasosopo, defensive tackle DK Wagner, and defensive end James Mitchell putting on a show. They combined for 12 tackles – four tackles each – with five tackles for a loss and two sacks. They looked to be in sync, and helped keep Auburn halfback Brandon Davis quiet.
#10 FLORIDA STATE
Well, not the showing you hope for coming off an upset win over Auburn. Know what the biggest difference is between last week and the win over Auburn? Halfback Michael Kovach's run game. Kovach had almost three times the rushing yards against Auburn that he had against Notre Dame. He went from a 189 yard performance to just 57 yards. It's enough to make Seminole fans sick, especially since it meant they had to lean on a passing game. Given the Florida State quarterback situation, that's enough to frighten small children. Still, wide receiver Trevor Golinar looked solid, picking up 47 yards and a touchdown on seven catches. The bigger story? Tight end Rick Jensen who had 119 yards and a touchdown on an equal amount of catches. Still, Kovach needs to get rolling again.
Things didn't look much better defensively. The Seminoles gave up 140 rushing yards and three touchdowns to Irish halfback Jacob Philhart. Linebackers Tony Steel and Paxton Murray had one of their best games together. Steel had nine tackles, a tackle for a loss, and a sack while Murray record six tackles and two tackles for a loss. Their best game together wasn't enough unfortunately. Defensive end Gerry Gator helped with five tackles of his own, two of which were for a loss and an additional sack. Gator also posted a forced fumble, but again, just not enough. They need to do more against a Tennessee offense that's coming off a hot performance.
X-FACTOR
Back to Florida State running back Michael Kovach we go. Two weeks, two very different performances, which one do we get tonight? The answer to that question will go a long way to determining the outcome. We all know that Florida State depends on Kovach and he needs to rebound to carry momentum into Florida State's bowl game.
PLAYER MATCHUP
WR Ty Jones v. CB Brum James
Tennessee wide receiver Ty Jones has been one of the best, currently sitting among the top three in the league. He's going to be challenged this week though. Florida State corner Brum James had four tackles and one for a loss last week with a pass deflection. What isn't shown, is the fact that James has locked down receivers and isn't targeted often. In a matchup between James and Jones, we'll see if that changes.
PREDICTION
Tennessee and Florida State are both seeking momentum, the problem is, Tennessee already has some. Florida State had the big loss last week, and if Kovach can't get on a roll, the Seminoles are in trouble. The Volunteers are in position to keep their momentum going into the Gator Bowl unless Florida State has regrouped and found a solution. Even still, I'll trust Tennessee to build on last week. Take the Vols in the win.
Tennessee 38, Florida State 31