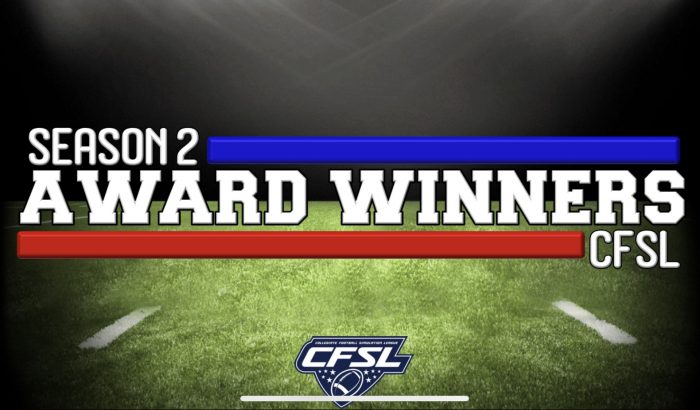 Season 2 CFSL Awards
The time has come for the CFSL to announce their annual season awards and we had some tight races this year. This year turned out some amazing play on both sides of the ball and featured players that really lead their teams to be successful in season 2. What an honor it is to be recognized as the very best in the country, but most definitely deserving. We saw a trio of Freshman Quarterbacks set the tone for the rest of the country. We saw probably the most versatile Running Back and all-around athlete that the CFSL has ever seen. We saw a freshman Linebacker break the 100 tackle mark and we saw the emergence of "The Judge" at Michigan. We saw Tyson Ali continue to dominate and transform the Defensive Tackle position. We saw a rookie AD nearly take his team to the National Title game. We saw a Quarterback run for nearly 400 yards in a single game and another pass for almost 500. We saw recovered onside kicks, clutch game-winning interceptions and plenty of instant classics. The moments that were had in season 2 remind us all why this league is so special, and today we get the opportunity to recognize those who stood out the most. Without further delay, here are your CFSL Season 2 award winners.
Offensive Player of the Year
Javon Mack, QB, Freshman, Michigan
Mack emerged as one of the the top dual-threat quarterbacks in the nation. Mack was equally as great running the ball as he was throwing it and it really kept opposing defenses on their toes. Mack threw for over 2600 yards and ran for another 1200 and gathered 36 total touchdowns in the process. As a freshman, Mack led the expansion Michigan Wolverines to an 8-3 record and one of the most efficient offenses in the country. He has established himself as a force in the CFSL and teams will have to bring the best game-plan against the Wolverines and Javon Mack in Season 3.
Voting Results
Javon Mack, QB, Michigan
Doug Ohle, QB, Hawaii
Aidric Khaan, RB, Ohio State
Bob Smith, RB, Iowa
D.J. Moss, QB, Ohio State
Defensive Player of the Year
DeJounte Wilson, MLB, Freshman, Hawaii
Wilson came out of nowhere to win the defensive player of the year award. Wilson was one of the more lightly recruited linebackers coming out of high school, but landed in a great situation at Hawaii. The captain and anchor the Hawaii defense, Wilson was everywhere as he gathered an insane 107 tackles, 9 of which were tackles for loss. He added 2 sacks, 2 interceptions, a forced fumble, and scored a defensive touchdown. On paper, Hawaii is on offense heavy team, but Wilson lead the Warriors to be one of the top scoring defenses in the country and helped them to a CFSL best 9-2 record and a berth in the Orange Bowl, with the National Title on the line.
Voting Results
DeJounte Wilson, MLB, Hawaii
Nate Jones, MLB, Michigan
Eric LeClear, SS, Auburn
Tyson Ali, DT, Notre Dame
Mason Ryan, SS, Hawaii
Coach of the Year
Wyrmreaver, Hawaii
Wyrmreaver has put together back to back great seasons as the AD of the Hawaii Warriors. After falling short of a National Title in season one, Wyrmreaver built his program as an offensive powerhouse and did a great job on both sides of the both to get his program to where they wanted to be. Now, wyrmreaver and Hawaii have their shot at a National Championship as they face off against Ohio State in the Orange Bowl game.
Voting Results
wyrmreaver, Hawaii
Neversatisfied, Michigan
skyballr, Oregon
WKXT85, Ohio State
woodsmall, Iowa
Best League Presence
SimmerDownBruh
One of the most active people with have in this league, SimmerDownBruh, Aidric Khaan is his player, creating the Mama Khaan persona and provided the league with tons of entertainment. We can't wait to see what he has in store next.
Voting Results
SimmerDownBruh
ShaneM86
JMACK
voodoo
georgiafan
Biggest Surprise Team
Iowa
After a rough season 1 in the CFSL for Iowa, woodsmall and the Iowa Hawkeyes responded in a big way in season 2 by flipping their record to 6-5 and knocking off some really good football teams in Oregon, Notre Dame, and maybe their biggest win in program history when they upset the Michigan Wolverines in front of their home crowd. Iowa was led by Senior Running Back Bob Smith, MLB Jerry James and Safety Bob Sanders Jr. The Hawkeyes are a team to look out for in season 3 as they are on the brink on a title run in the near future.
Voting Results
Iowa
Oregon
Ohio State
Game of the Year
Ohio State at LSU (40-44 Onside kick recovered to win)
What a game this one was, In week 3 of the CFSL, with just under 2 minutes remaining in the game, the LSU Tigers found themselves down 40-31 to Ohio State. QB Ray "voodoo" Tatum connected with his big play receiver Jared Tetonis to bring the Tigers within 2 points. The Tigers then lined up for the onside kick and Chris Brock miraculously recovered the ball for the first onside recovery in CFSL history. The fun wasn't over there as the Tigers would win the game after Tatum handed it off to Jack Brown with just 17 seconds remaining in the game.
Voting Results
Ohio State at LSU (40-44 Onside kick recovered to win)
Iowa at Hawaii (59-62 OT McFreely GW TD)
LSU at Auburn (35-38 Leclear diving GW INT)
Michigan at Auburn (31-38 Javon vs Moon)
Hawaii at Boise State (37-31 Boise nearly pulls the upset)
Performance of the Year
QB Javon Mack, Michigan, (369 rushing yards, 3 TDs vs Florida State)
Our Offensive Player of the Year really broke out in this game as he showed that he was not just a passer, but could run with the best of them. He burnt the Florida State defense time and time again with creative read option runs as the Seminoles could not contain Mack. This was the game that people began to realize that Javon Mack was a really scary dual threat.
Voting Results
QB Javon Mack, Michigan, (369 rushing yards, 3 TDs vs Florida State)
WR Jared Tetonis, LSU (7 rec, 144 yds, 4 TD, 6 KR, 252 yds, TD vs Tennessee)
QB Ray Tatum, LSU (40-50, 467 yds, 6 TD, INT, 4 car, 32 yds vs Boise State)
QB Doug Ohle, HAW (24-26, 345 yds, 3 TD, INT, 20 car, 87 yds, 3 TD vs Ohio State)
FS Cam'Ron Lawson, OSU (24 tackles, 2 TFL vs Hawaii)
Moment of the Year
Clemson, Penn State, Texas and TCU announced for Season 3
A feel good moment for everyone in the CFSL as we love gaining more interesting and expanding our league. Near the end of season 2, we announced that Nlars would be the new AD of the Clemson Tigers, Tsmith would lead the Penn State Nittany Lions, HornsNation would be the new AD of the Texas Longhorns and Redria would take the helm at TCU. We are looking forward to see what these new programs have to offer in season 3.
Voting Results
Clemson, Penn State, Texas and TCU announced for Season 3
Eric LeClear's diving, game-winning INT in the end zone vs LSU
Nathan Tetonis' game-winning INT against his brother Jared and LSU
Javon Mack running the ball in with 0:00 on the clock to put up 70 on Florida State