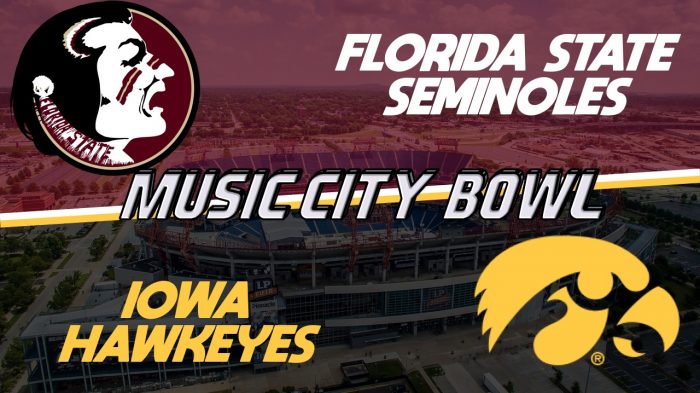 It's finally bowl week in the CFSL! At the stadium formerly known as The Coliseum, two teams are ready to do more than just take in the sights and sounds of the city. The Florida State Seminoles travel 490 miles up the road to Nashville to take on the Iowa Hawkeyes in the Music City Bowl. While not always regarded as the biggest of bowl games, this game should have plenty of action from a couple of teams looking to close the season out right.
Both teams are coming into this one on a small losing snide. Iowa fell in a close game to Auburn 35-30, while both Ohio State and Oregon stayed hot and won their games. This loss pushed Iowa down the bowl ladder much further than their record and ranking would indicate. Florida state has been near the bottom of the SEC all year. Saddled by a league worst -147 point differential, FSU is going to need to dial up the defense if they want to stay in this one. The two teams have one prior meeting this year that ended in an Iowa 55 – 14 trouncing. However, FSU beat Auburn while Iowa took the loss to them last week. Combine some bowl magic with a FSU team eager to prove they are better than their record, and anything can happen in this one.
#5 Iowa – Keys to the Game
Offense – Control the Ball
Time to put the key into the ignition and start the engine that drives this team – Bob Smith. The All-American halfback is ready to smash through FSU's D-line and get over the 2000 yard mark on the year. Due to the talent advantage that Iowa has, keeping the ball moving on the ground allows the Hawkeyes to keep control ball and the pace of the game. Fresh defense and a time of possession advantage will keep them ahead on the scoreboard and full speed ahead to a victory. Smith isn't their only weapon on the ground though, as Justin Meis lit up the Florida State defense with 208 yards on the ground and three touchdowns last time they played. If they get over 350 rushing yards combined like they did their last meeting, Iowa will be hard to stop.
Defense – Keep it Simple
Iowa does not force a lot of turnovers or get a lot of flashy hits across the middle. Their strength lies in their ability to limit big plays and step up in big situations. This is shown by their strong third down conversions allowed rate of 48%. Alvin Mack is the anchor on the D line and sets the tempo for the rest of the defense. The secondary picks up this memo from Mack and has some heavy hitters of their own in Bob Sanders Jr and Joey Hanson. The Safety duo is complimented by Othello Jones, who has a nose for the ball and can stop the run or pass game. As long as the defense sticks to this mantra of stopping big plays and limiting mistakes, they can spend a lot of time sipping Gatorade on the sidelines.
#11 Florida State – Keys to the Game
Offense – Trust your Studs
Michael Kovach has been huge in every win that Florida State has had thus far. Whether it be his 183 yard, three TD performance against LSU or his 189 yard, one TD performance against Auburn, the kid can run with the best of them. As long as he gets the ground game going early, lanes are going to be open for star WR Trevor Golinar to get some easy catches downfield. Their attack will need to be balanced and reactive towards an Iowa D that refuses to give up big plays. A single quick unnoticed mismatch could be FSU's ticket to winning this game. Look for Rick Jensen to be in motion for the extra block or to create a mismatch in the secondary.
Defense – Pressure the Backfield
FSU may hate the Gators, but they have one of their own in All American Gary Gator. The defense starts with him getting pressure and ends once the opposing QB is eating grass in the backfield. While Iowa is a running team, getting a jump on the read option should give Gary enough of an opportunity to make his presence felt. However, Gator can't stop Bob Smith on his own. The entire front 7 is going to need to step up and make sure they keep Smith under four yards a carry. It's hard to keep control of a game without a possession advantage, so getting a couple of key three and outs will do wonders for FSU's confidence.
Key Match-up
Jerry James, IOWA MLB vs Michael Kovach, FSU RB
Michael Kovach is FSU's only chance to pull the upset in this one. Unfortunately for him, Jerry James is going to cover him like white on rice all game long. James clocks in with 12 TFL this season and two forced fumbles. Kovach is going to have to handle the ball to the utmost of his abilities in order to make his mark on this one. The first five yards are going to be an absolute grind going against James, and I can't wait to see who comes out on top.
Prediction
These two teams are both coming in on a bit of a slump, but I think there is a clear talent gap here that will show as soon as we kick off. Iowa is much better than their record and played like it for most of the year. They have more tools as a whole, with more sledgehammers on offense and buzzsaws on defense. The whole FSU team is going to have to band together to have a hope of winning this game. Unfortunately, there is no hope, and this season is over on a sour note in the Music City bowl for the Seminoles.
Iowa 38, FSU 13