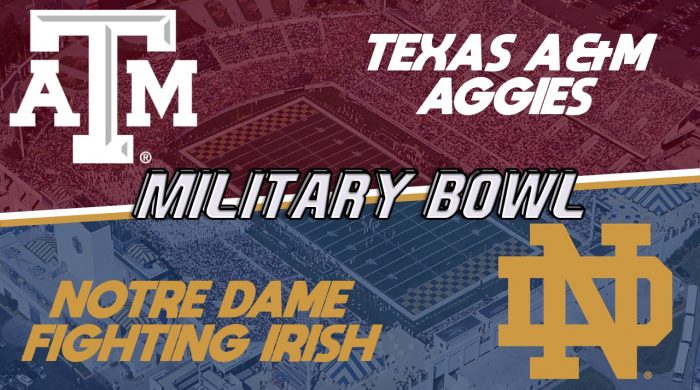 MILITARY BOWL PREVIEW: #9 Texas A&M vs #7 Notre Dame
By: HornsNation
First, I would like to say that I am honored to be doing this write up for the Military Bowl tonight. I want to start off by saying thank you to all the veterans that are in this league, it is your sacrifice that has allowed us to live the life that we love. Thank you.
Now onto the matchups.
Both of these teams are coming off rough losses to end the season. Notre Dame fell to Oregon 24-10 and Texas A&M lost at home to LSU 52-33. The Fighting Irish were champions in season 1 but struggled down the stretch in season 2. The Aggies in their first season in the CFSL finished 4-7 after starting the year 4-1. Texas A&M beat Notre Dame for their last win in Week 5, 24-21.
KEYS TO THE GAME
TEXAS A&M
Texas A&M debuted a new offensive scheme last week but it did not work as intended. The Aggies were only able to muster 457 total yards with 385 coming via the pass. Daniel Murphy threw 60 passes for 385 yards and three touchdowns. Star running back Tim Riggins rushed only five times for 35 yards. Another 5-star player, Alex A. Cook, only managed two catches for 23 yards. For the Aggies to have success in this game on offense, they will need to run the ball more. Tim Riggins led running backs last year in touchdowns but finds himself tied for 6th this year with 16. Texas A&M also needs to get Alex A. Cook involved more on the receiving side of the house. Cook has only accumulated 353 receiving yards and three touchdowns this year. This will be the star receiver final game as an Aggie, as she will move on to Auburn next season.
The defense for the Aggies have played well at some points this year but struggled to contain the pass last week. The Aggie defense allowed 444 yards passing last week but corner Scott Davis was able to contribute with a pick-6 interception. Texas A&M will need Joshua Kiper and Vladimir Drago to step up and shut down the Notre Dame rushing attack. If these two clogs can keep White and Philhart contained it could force the Irish to pass the ball more, something that they rank near the bottom of the league in.
NOTRE DAME
The Irish are coming off a disappointing season that saw their National Championship hopes dwindle down the stretch of Season 2. The keys to the offense starts with playmaking quarterback Ty White. White, a veteran, has passed for over 2,000 yards and rushed for 870 yards this season. White was shut down last week and will look to rebound in this bowl game. This offense as as whole struggled and could only gain 247 total yards of offense last week in the loss to Oregon. White and Philhart will need to get into good situations on 1st and 2nd down, in order to convert their 3rd downs successfully. Currently the Irish are ranked 5th in conversions with 51% completion rate.
While the Irish offense may struggle in games, the defense does not. The Notre Dame defense is ranked near the top of every category defensively. Two time All-American Tyson Ali leads the Notre Dame defense with 55 tackles, 21 tackles for a loss and eight sacks. Ali and this defense have the power to shut down this Aggie offense and will need to create turnovers to have success.
KEY MATCHUP
TAMU RB Tim Riggins vs NOTRE DAME DT Tyson Ali
The last time these two teams met, Riggins was able to run over the Irish defense with 134 yards on the ground and one touchdown. Tyson Ali only garnered four tackles in that game and will look to redeem himself in this one. If Ali can provide stout defense up front for the Irish, it could be a long day for the Aggies.
PREDICTION
This game will come down to the Aggie offense. Notre Dame's defense is scary good and are well equipped to stop the pass and create turnovers. If the Aggies come out tonight in a full pass like last week, Notre Dame's defense will feast. But if Texas A&M gets back to the smashmouth football with Tim Riggins, they can put undefeated against Notre Dame on their list of accomplishments.
Unfortunately for the Aggies, this Notre Dame team is too good. Ty White and company will need to have a sound game moving the ball and if their defense remains stout, they will win this game easily.
NOTRE DAME 38, TAMU 24