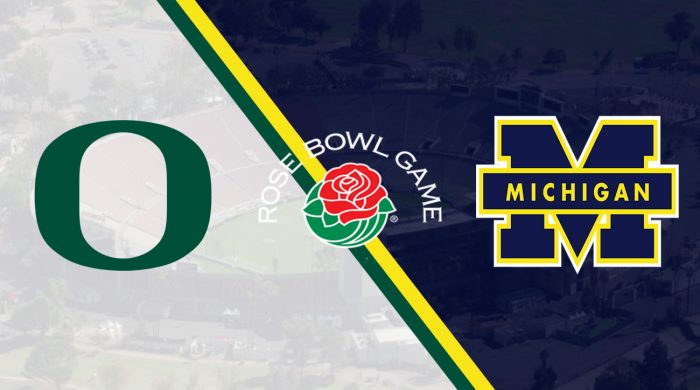 Welcome to sunny Pasadena California for another exciting iteration of the Rose Bowl. The Granddaddy of Them All has over 100 years worth of amazing triumphs and heartbreaking stories. Today's matchup already has the feel of a memorable game with its great personalities and numerous story lines. Feel free to take in the Rose Parade, the beautiful sunshine, and Southern California's many wonderful attractions. Just remember that come game time, you'd better be ready for one of the best matchups the Big Ten can offer.
Our teams this year have both scrapped through the Big Ten and rose from the heap as two of the best teams in the conference and the league. Oregon is hotter than the California sun right now, coming off of 5 straight wins to turn their season around. Their games have been close, but every win has given Jay Smith and his guys the confidence to pull through against better and better competition. On the other hand, Michigan just had their Orange Bowl berth stolen away by rival Ohio State in a 28-49 loss. Offensive player of the year Javon Mack needs to rally the troops and step up big time to secure a win. It's up to the whole Michigan program to prove that it should have been them in the Orange Bowl. Now it's time to prove it on the field.
Keys to the Game
Oregon
Offense – Control the Passing Game
Jay Smith is the best player on this offense by a wide margin. His ability to make plays is up there with the greats in the CFSL. If he can break a couple of runs past Nate Jones, the field should open up for him. But the real threat here is his passing ability. The last game against Michigan resulted in 4 interceptions. Some of this was luck. Some of this was gameplan. As long as Oregon's film sessions have been productive, Smith should be able to make safer on point throws. Take a couple shots down field and the offense should really be cooking. This Michigan secondary is not as talented as they looked during the last meeting.
Defense – Play to your Strengths
Oregon's biggest advantage in this game is their defensive ability. They are absolutely stacked when it comes to secondary, with the trio of Cassius, Frost, and Odinson patrolling the skies. Their ability to read the quarterback's eyes and grab the ball are second to none, causing turnovers and mistakes by the offense. The goal for this game should be to frustrate Mack. Make him take that extra second to get the ball out of his hands or use his legs. Then the linebacker core can bring the smackdown onto the read option attack Michigan employs. As long as they force three and outs and a few timely turnovers, Oregon can win this game.
Michigan
Offense – Read Option Dominance
Javon Mack has been a monster all year with his arm and his legs. While we don't expect another 300 rushing yard game from him, establishing himself as a threat early will do wonders in stretching out the staunch Oregon defense. Putting him in the read option with Leeroy Jenkins will help to get the front seven cheating up, opening up passing lanes for Michigan's plethora of five star receivers. The more you make Oregon's D-line make decisions in the first second of the play, the bigger the chance of mental mistakes and big gains for the offense. Michigan has an obvious offensive advantage in this game. Expect them to make plays exactly when they need them
Defense – Air Superiority
The last time these two teams met, Jay Smith threw four interceptions and only had a 17 yard pass to call his longest. Look for Dee Parker and Joshua Mack to play lockdown defense against Bryce Kellogg all game long. If they can lock down Oregon's best receiver, they can let their linebackers worry about the Oregon rushing attack. This defense is best when playing aggressive for the ball. I wouldn't be surprised at all to see a lot of 3 DB sets to terrorize Smith all night long. If the Michigan defense could get two interceptions tonight, they are going to take home the win.
Matchup to Watch
Jay Smith – QB, Oregon vs Nate Jones – MLB, Michigan
For all the attention Oregon gets about it's defense, Michigan has a stud of it's own in the middle of the field. It's been hard not to mention Nate Jones this whole article because he has such an impact on opposing teams. Last time these two teams faced off, Nate came away with 13 tackles and a sack. His ability to read the read option will give Jay Smith reason to hesitate on his handoffs. However, Jay Smith is no slouch either. Those legs can run through tackles, getting into the secondary in a hurry. His decision making is exceptional in the open field and creates opportunities for big plays nearly every time he touches the ball. These two should collide all night long, with the winner being who has the mental advantage tonight.
Prediction
This game is setup to be a close one with a mild scoring total. Don't get up from your seat when Michigan has the ball though, as their offense vs the Oregon defense should give us some of the best football that we have seen all year. Despite their hot streak coming into the game, I am giving Michigan a slight edge due to their sheer amount of weapons on offense. Michigan has something to prove tonight. With their willpower and tenacity on the field, they can pull this one out. Their stars always seem to be in the right spots, with tonight being no exception to the rule. Regardless of who wins this one, its going to be down to the final possession.
Oregon 24, Michigan 27