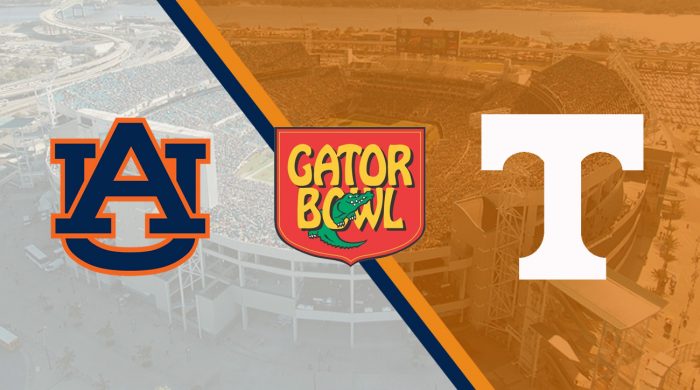 GATOR BOWL PREVIEW
#6 Auburn vs #8 Tennessee
By: HornsNation
The last time these two teams met was in week 9 where Tennessee came out on top thanks to some big time plays by their defense. After missing a field goal in overtime, Tennessee's defense forced a bad pass by Blake Moon for an interception. Moon then got the ball back and the Tigers were held to just a field goal. Two plays later, Kyle Miller finds Ty Jones for the winning score.
Both teams are coming off wins last week. Auburn comes off an impressive win over Iowa, 35-30. Tennessee defeated Florida State 33-24.
WHAT TO WATCH FOR
This game will be decided on Blake Moon. When these teams met earlier in the season, the Volunteers forced Moon to do it himself. They were able to take away Brandon Davis Jr. as well as star wideouts, Devonta Duncan and Ethan Smoker. Tennessee is average in stopping the run and the pass, both ranked 7th in the league. Blake Moon has put up impressive stats this year but this was the game that started the questioning of Blake Moons late game ability this season. Tennessee can win this game again if they can force Moon into turnovers.
Another thing to watch for is James Mitchell. Moon has been sacked a league high 44 times. Mitchell has been pretty impressive this year with 45 tackles, 13 for a loss and six sacks. If Mitchell can beat his man off the line, Moon just may run into him.
KEY MATCHUP
AUBURN SS Eric LeClear vs TENN WR Ty Jones
This matchup will pit two All-Americans against one another. Eric LeClear finished the year with 71 tackles, five tackles for a loss, and a sack. He also had five interceptions and three pass defenses. LeClear will not likely be lined up against Jones but will need to keep his eye on him as Jones has a habit of getting open downfield.
Ty Jones put up impressive numbers this year with 73 receptions, 1024 yards and 11 touchdowns. He will likely line up against CB Stratton Mowry but should win that match up easily. Jones will likely need to find space in between zone coverages and use his speed to run from LeClear
PREDICTION
The Auburn Tigers are likely out for blood in this game. Moon was embarrassed after the loss to Tennessee and will likely look to use his arm and legs to will his team to victory. Tennessee, on the other hand, had figured out a way to limit the offensive stars surrounding Moon. If they can figure out how to do that again and play a sound offensive game, they could come up big in this one.
I have to go with the Tigers in this game. Moon has been impressive and will look to build off last weeks impressive win over Iowa. This game will be close and it would not be surprising to go into overtime again.
AUBURN 34, TENNESSEE 31