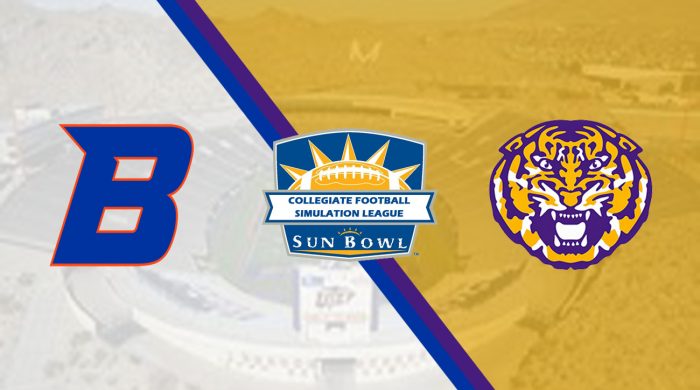 EL PASO TX – The second oldest bowl game in college football history may lack the shine and allure that it's good friend the Rose Bowl has, but this game has plenty of great football to offer tonight. In what will be the final showing for both of these programs, Boise State and LSU travel to the Sun Bowl in hopes of one final shot at glory. Boise State is playing for pride tonight. Their winless season doesn't reflect the immense talent they have on the field and the whole team knows it. On the other hand, LSU has had a season full heartbreak after a scandal took down four of their best defensive players. The Tigers will be playing to show that they are stronger than their past and have enough gas in the tank to pull this one out. Both teams have a plethora of reasons to fight. Who has more fight in them tonight?
Keys to the Game
Boise State
Offense – Let it Fly!
LSU has one significant, obvious weakness: their secondary. Easton Kujabi is the only player they have that can shut down anyone at the second level. The problem for Kujabi is that he has to be in a deep zone all game to cover up the mistakes from the LSU corners. Aidric Berry has had a down year, but he is talented enough to pick apart this weak secondary and keep the ball moving all game. The Broncos have a couple of solid threats in Augustin Hernandez and Ricky Jordan. Look for both receivers to make crisp cuts and get around their man with consistency. This should get the LSU linebackers playing the pass, opening up running room for Joe Friedrich to come in for a change of pace.
Defense – No Easy Passes
Boise has to play the pass every single down of this game. Ray Tatum is one of the biggest QB threats this league has to offer. Expect him to air it out at a high clip with a variety of different targets. Luckily enough, Boise State happens to have a solid secondary that features two lockdown corners and a monster linebacker in the middle. If anyone is going to stop the Tatum – Tetonis tandem (besides their school getting bulldozed), it's the combination of Darius Boman and Darwyn Garcia. These two both have top notch ball hawking ability. If Tatum drops back 50 times like he has the last few games, expect these two corners to come down with a couple of those passes. Lets not forget the heart of this defense, Tylar Jones Drew. This man can be in two places at once – or maybe that's just T.J. White coming in for the assist. All I know is that BSU can rely on this defense to take care of business and set the tone for the game.
LSU
Offense – Let it Fly! X2
We all know that Boise has a stacked pass defense. We also all know that LSU lives and dies by the pass. Despite the matchup, why change that now in your final game? It's time for Ray Tatum to show off that cannon by launching deep balls to Bitzer and Tetonis. Mix a couple of short throws and you're golden. Bring Jack Brown to the outside in some five wide sets and let him use his hands a little bit. The possibilities are endless in the passing game for the Tigers. This is the last chance these players get to wear the purple and gold. Might as well light up the scoreboard the only way LSU knows how
Defense – Pressure the Backfield
The Tiger's secondary is downright terrible. I can't even bring them up without laughing at how bad they are. The only hope LSU has is causing errant throws by getting to the quarterback early and often. Berry has been hit 31 times this year and has this really bad habit of running into defensive ends. Too bad Michael Sudeikis is on the edge, ready to slam one last quarterback to the ground as a Tiger. The linebacker group for LSU also has a little fight to them. They have led this team in tackles all year and come into El Paso looking to do it again. Look for a lot of great open field tackles when Boise runs the read option. Any sort of pressure from the front 7 will help make this game more manageable for LSU.
Matchup to Watch
Jared Tetonis, LSU WR vs Darius Bowman and Darwyn Garcia, BSU CB
A special note to the referees of tonight's game: Please inspect Tetonis's shoes for rockets or other propulsion devices. This man can turn on the jets and burn defending corners, exploiting every mismatch and weakness to his advantage. Unfortunately for him, BSU's two stud corners don't have any obvious weaknesses to speak of. Bowman and Garcia will most likely swap cover duties to stay fresh throughout the game. Both corners can press with the best of them and have some great instincts when playing close. Wherever Tetonis lines up on the field, put the spotlight on this matchup. Expect some physical yet crafty play on both sides, with the winner turning the momentum of the game in their favor.
Prediction
This is actually a pretty somber moment in CFSL history. Two teams are coming into this game knowing that this is it for their school. While most of these players already have a destination in mind, I expect an absolute dogfight out there.  Putting their teams name up in the winners column one last time would mean the world to these players. In addition, Boise has no interest in this winless season nonsense. Their depth and overall talent is better than LSU's, but LSU has a few star players that help even out the balance. Due to Boise's strength being the perfect counter to LSU's strength, I am giving the nod to Boise. This winless season either ends tonight with a win, or goes down in infamy forever.
Boise 30, LSU 24